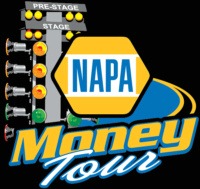 SEMI PRO HIGH ROLLER AUG 2. 2013



MALCOLM CARPENTRY HIGH ROLLER AUG-2-2013 DOOR

MALCOLM CARPENTRY HIGH ROLLER'S AUG 2-2013 OPEN CARS

JR. DRAGSTER HIGH ROLLER AUG 2nd. 2013

DOOR CAR CHALLENGE JUNE 29TH. 2013

2013 JR. DRAGSTER PRIZE POOL PAGE

COVER: INTERSTATE BATTERIES HAS GOTTEN INVOVLED IN NHRA DRAG RACING THE LAST FEW YEARS IN A BIG WAY

BITS FROM THE PITS: APRIL 26/2013.
*Important notice, please use the following number if trying too contact the track this weekend 613-715-1029
*
Well folks its here, the track is open tomorrow for time trials, weather permitting, and our first cruise night of the year, the Pro Fuels Cruise Night 2013. Pro Fuels is of course the fuel of Luskville Dragway and can be delivered right to the track for you through W.O.Stinson & Sons Fuels. They deliver each and every week to make it easy for everyone to get what they need in a convenient manner.

*
Like we told you last week we would be attending last weeks drivers meeting at Mirabel Icar Dragway, where a good turn out of drivers showed a lot of excitement about the inter-track races with Luskville Dragway. The two tracks have very much the same rules including the non use of trans brake in Semi Pro (Mirabel Pro Class) something we have been adamant about for years, foot brake racing is just that foot brake, not Finger Brake.
*
Just a reminder to everyone if your not going out too the track this weekend come on down and visit us at the Custom Classic Car Show at the EY Center near the airport, we will have a assume display of many of our Luskville Dragway cars, and their drivers for you too talk with.

*
Was going through some old Luskville Dragway albums that I have collected over the years looking for some old photos and such and came across a very old Luskville Dragway Logo Patch from back in 1969. I have tried over the years to keep anything that I could surrounding the memories and history of our race track and thought some of you might like too have look at how things looked like back then. This item could be purchased as a decal or a patch to sew on your jacket or ball cap, yes back then ball caps did not come pre logoed. Our history and memories are something that we all should know about and cherish, as this build for drag racing facility has been around since 1969, and will be around for along time in the future. Many very good drag racers have come out Luskville Dragway, and many more will. in the days ahead.

LUSKVILLE DRAGWAY CHARGES INTO 2013 WITH INTERSTATE BATTERIES SUPPORT: APRIL 26/2013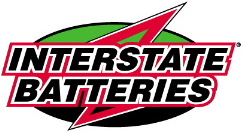 James Locke the owner and operator of the Interstate Batteries company in Ottawa has been a tremendous supporter of Luskville Dragway since he moved here from Toronto with his family to take over the company. James is also someone who totally enjoys the sport of drag racing and makes his annual trips to Luskville Dragway, sometimes spending the weekend camping and enjoying all the aspects that the track has. The green and white Interstate Batteries Company Trucks can be seen going up and down the local highways in our area, servicing and supplying many of this area's garages and dealerships. The Interstate Bat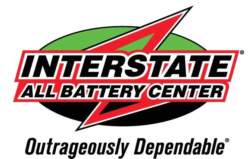 teries Logo is one that is very much a familiar one if you are any kind of Motorsports person as their name has been seen on the sides of Nascar for many years, and more importantly for Drag Racers the side of Mike Edwards NHRA Record holding Camaro. Once again we want to thank James and Interstate Batteries for their support at Luskville Dragway, and would encourage all to think interstate when you are in need of Batteries. When ever you need to purchase a new battery or replace an old one support those that support us and choose Interstate. Interstate batteries is most known for their car and truck batteries, but they do carry much much more, such as the new division of the company called Interstate All Battery Centre's, which is exactly what it says, all types of batteries and accessories. Once again giving everyone a perfect opportunity to support this great advertiser. Interstate Batteries is located on 171 Macfarlane Rd. Unit C. Ottawa, Ontario K2E 6V4 or call 613-798-9700
SPRING FEVER SEE'S SEMI PRO HIGH ROLLER GO OVER THE TOP, ALREADY ALTERNATES: APRIL 26/2013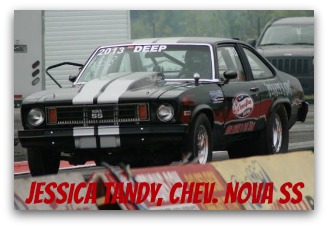 Not sure if its spring fever or just a full moon, but Semi Pro came alive this week on all fronts, commitments for opening day, and entree's into the Bracket Bonanza High Roller race, which is now sold out and working on the next sixteen. Yes with no less than five more entree's into the Semi Pro High Roller event on August 2nd the class has shown some "Spring" in its step so too speak as we get closer too the first spinning of wheels this season. The Tandy Family who have always been big supporters of Luskville Dragway have thrown their names in the hat along with Kevin Morrow, Chris McEvoy, and Chris Collins bringing the tot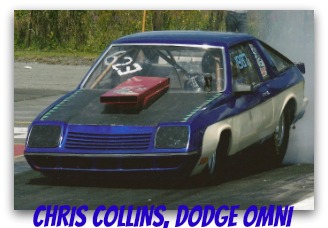 al now too 18 cars. Jessica Tandy who is by the way getting married next weekend along with her Uncle Glen make up a double threat to all other semi pro drivers as these two have many wins under their belts. Kevin Morrow is not stranger to the winners circle and will be a threat each and every weekend this season along with the high roller event. Chris McEvoy who will also be getting married this week, oh yeah to Jessica Tandy also has his name on the list of high rollers, Chris is no stranger to the winners circle at Luskville or his home track Shannonville Dragway. Chris Collins rounds out this weekends entree's and makes one of the biggest weeks for entree's all off season, yes spring is really here. Chris has also thrown his name behind the list for the opening day weekend at Luskville Dragway and the Napa Super Series which again shows great support for the semi pro class for 2013.
ONTARIO/QUEBEC HIGH ROLLER CHALLENGE, OPEN TO 8 ICAR, AND 8 LUSKVILLE OPEN BODIED CARS:

We are pleased to announce that we will be having a 16 car open bodied Inter-track High Roller Race on June 29, the Inter-track weekend with Mirabel and Shannonville at Luskville Dragway. We are billing this as the Ontario-Quebec Showdown and will feature 8 entree's from the Montreal Based I-Car series and 8 Cars from the Luskville/Shannonville Series. It will be a first come, first serve and will be run at the same time as the $5000. to win Door Car Challenge. There has been great interest in the High Roller event and we look forward with great anticipation of one of the greatest events of all times on June 28-29-30. This event is totally separate from the points races that both Luskville Dragway, Shannonville Dragway and Mirabel I-Car Dragway will earn in races following the mornings races. Time Trials will start at 9:00 AM Sharp for the Door Car Challenge, and the Ontario-Quebec High Roller Showdown

BITS FROM THE PITS: APRIL 19/2013...
*
We want to start this week off by thanking everyone who turned out for last Saturdays official kick off too the 2013 season, the annual Drivers Meeting, which was extremely well attended which can be seen by the number of members who signed on for the 2013 campaign. Next Saturday we will headed to Mirabel for that meeting and will bring you any and all news we get.

*
The drivers meeting certainly cranked up the excitement with a couple more sign ups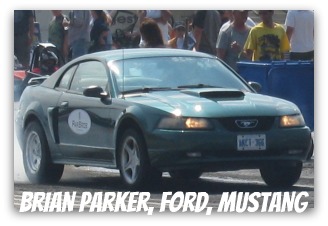 for the high roller race and the door car challenge being held this Canada Day Weekend. Stephen Ballntyne of Luskville Dragway has thrown his hat into the wring of Semi Pro High Rollers who will compete at the Friday addition of this years Bracket Bonanza. Stephen who comes from the Jr. Dragster ranks had a great year in the Semi Pro Chevette and look to continue and build on that success in 2013. The second racer who has added his name to the list is Brian Parker who like Ballntyne is a relative new comer too the ranks of door car racing, although Brian has been too the winners circle a number of times already in his young career. Parker who hails from up north has too do a lot of travelling just too get too a race track, which makes his racing life that much harder. Brian will be attending the Bonanza and leaving his entire racing operation here until the Fall Napa race when he will return, he will also compete at the Elliot Lake Tour event. Rob Graveline a staunch supporter of Luskville Dragway and its programs has added his name too the long list of Semi Pro drivers who will go head too head with each other on August 2nd. also. This gives us a total of three more semi pro racers who have thrown their support behind this event. Even though we had some slow times through the winter for this class it is now filling and filling fast. This leaves us with only 2 spots left in what is the Semi Pro race of the year. Rob is a regular in the Luskville Dragway Semi Pro ranks and has made it very clear he plans on taking a shot at wining the championship this year.

*
So just another week and we will be up and running as long as the weather man cooperates , which she has not done so far this spring, lets hope it is not a sign of a wet summer, as we would like nothing better than a season like last season, with plenty of warm weather. So get ready for April 27th, as we kick off our 33rd season at Luskville Dragway come and join us, Cruise Night Saturday Night as well. Some extra good news for the Semi Pro Drivers coming out of the drivers meeting, May 18-19 will see these guys and gals run for guaranteed purses thanks to Malcolm Carpentry. We have made it clear with a couple of our new directions and programs, that we will be giving Semi Pro a lot of helping hands this season, in return of course the Semi Pro drivers have offered as much support as they can give at getting new racers and new advertisers out too the track.

*
We will be taken part in the Mirabel Drivers Meeting as we have been asked too, like Mirabel, Shannonville, and North Bay where asked to participate in ours. We have always believed in working together and have done so with Shannonville for many years and hope to so with Mirabel starting this season. With invitations being sent out to all three of the other Drag Strips in our area to attend our drivers meeting it is a clear indication that we firmly believe in working together. Some tracks like to build a wall up around their track thinking that they can keep what they call their racers from going else where, but that will and does not work, working together does. We will post any news from the Mirabel meeting next posting, which is next Friday, and we open Next Saturday April 27th, for time trials, street racing and our first cruise night of the year.

*
Please take note that the banquet has been moved to Nov 23rd. of 2013, still at the Travel Lodge but a two week delay of the event for which has become famous for one great party. We have done this in an effort to accommodate everyone we can, and make it possible for all to be there. There is a very important wedding taking place the weekend of the 10th, which many race teams will be present at.
PRECISION CONCRETE FINISHING HAS A CONCRETE RELATIONSHIP WITH LUSKVILLE DRAGWAY: APR. 19/13
Precision Concrete Finishing is more than just an advertiser with Luskville Dragway, yes they are truly more t

han just that as they are racers and good friends. Carl Jessup has been a long time supporter of Luskville Dragway going back too the very early days many, many years ago. Carls Company Precision Concrete Finishing is the company. that has always done the concrete work at the track, including the 330 feet long concrete staring line. Carls racing career is long and documented, with many wins and many championships, driving a varied number of different race cars over the years. Carl was one of the very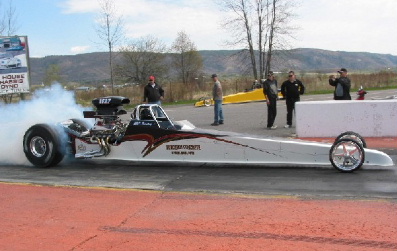 first to carry a cooperate logo on the side of his race car, back in the days when he drove the "Hooters" dragster for ADM Motorsports. When son Kyle took over the majority of the driving duties he too has continued the family tradition of winning and winning lots, both races and championships. To this day either of these drivers are considered a threat when ever and where ever they run, and they have proved that time and time again with numerous wins. Precision Concrete Finishing which is located in Renfrew, Ontario and operates in much of the valley as well as many jobs in Ottawa. Precision Concrete Finishing has held the title rights to the Mulligan Sunday event that takes place each year, and that will continue in 2013 as the event will be held on June 16th and will see super pro running for a purse of $2000. to win. The event is being held on the Napa Auto Parts Weekend with the intentions of having lots of cars because of the weekend it is. BE THERE.
T K ENVIROMENTAL

"FRIENDLY"

AND

A LOYAL PARTNER

WITH LUSKVILLE ONCE AGAIN

: APRIL 19/2013

Like the story above this is too a story of a successful business man drag racer who does everything he
can to make sure Luskville Dragway is successful each and every year. Tad Kaminski is the owner of TK Environmental of Pembroke, Ontario and is also a very good drag racer in the Super Pro Ranks of Luskville Dragway.
Tad and Laura who just also happens to be a very good drag racer in the Semi Pro ranks can be found each and every weekend enjoying the competition at Luskville Dragway during the day and all their friends once the racing is over. Tad who too many would look very much like a season veteran behind the wheel of his Racetech Dragster, but is in all honesty a relative new comer to the open bodied cockpit as he spend most of his drag racing days in a door car. The door which is now campaigned by Laura who has finished very well up in the points each year, as has Tad since moving to the dragster and Super Pro full time. Tad and Laura have other family members that also race at Luskville and on some weekends can see 4 or 5 different competitors in Super Pro, Semi Pro and Jr. Dragsters. Once again this is a unreal show of support from one of our racers who does everything he can to do as much for the track as possible, Luskville Dragway is very fortunate to have this support.
NO ACCIDENT THAT J&S COLLISION WILL BE BACK WITH LUSKVILLE & THE NAPA TOUR: APR. 19.2013


It was by no accident that Jamie Tupper won his first big dollar bracket race at the Napa Tour many years ag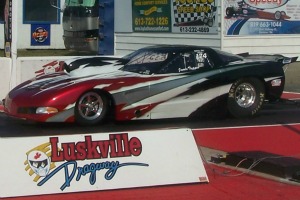 o in Elliot Lake at the North Shore Challenge. And it is by no accident that he has won many, many more since that one way back then, in fact to where today Jamie Tupper the owner of J&S Collision of Tilsonburg, Ontario is considered one of the best Super Pro, Top Sportsman, Top Dragster racers in Canada. Jamie Tupper is a driver who has and will haul clean across the country too support the Napa Tour so it is by no accident that he also supports the program with advertising dollars as he has for many years now. J&S Collision is a repair shop that deals in Automotive body and paint and is a shop that is very busy at all times. Tupper experience and perfection in his day to day running of his shop is very clear in his race car as well as they are some of the best looking cars you will find at any race track anytime. J&S Collision will once again be presenting best appearing car awards through out the season at selected events, a way to reward those that try to have as good looking cars as the J&S Collision Team does.
.BITS FROM THE PITS: APRIL 12/2013...
*Just a last minute reminder that tomorrow is the 2013 Luskville Dragway Drivers Meeting and Practice Tree Competition at Busters Bar and Grill. We hope that everyone will try very hard to be present as this is really the official start to the 2013 season that lies ahead of us.
*Well we knew it would happen and we are glad it did prior too the drivers meeting, The Ogilvie Auto & Fleet Jr. Dragster High Roller Race scheduled for August 2nd. is now a SELL OUT. With the entree of Brooke DeCooman we now have a complete 16 car field for what is the richest Jr. Dragster race in Canada. Brooke who will be in her rookie season will join her two cousins in competition for this very impor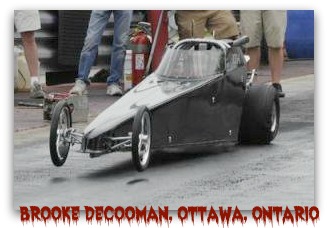 tant title and a championship all would like for their record books. Brooke will have some great experience behind her as she learns the ropes of drag racing, with her Uncle and long time drag racer Ed DeCooman of D&D Performance being her mentor along with her Dad who was also a former drag racer . This makes our 16 car field an all Luskville Dragway entree list, and you know what that means, once again Luskville Dragway will be fielding close to 20 Jr. cars each and every weekend from this area. With a couple of other Jrs. in the Ottawa area that have never been too Luskville Dragway, which is obviously the place to be if you have a Jr. we could see the Largest number of Jrs. at Luskville Dragway than in its history. Yes if you have a Jr. you will want to be part of the biggest and best Jr. Dragster program in Canada, make it a priority for your kid, race with the best race Jr. Dragsters at Luskville Dragway each and every race day.

*
Well now, guess I can still truck with the best of them, Left Port Huron, Michigan on the past Monday, Morning finished driving to pick Derek's new car up at Chromeworx and then drove all the way back to Home arriving Tuesday Night at 1:00 am safe and sound. Extremely pleased with Derek's new Top Dragster and it should be quite an eye full for folks visiting the Classic Car Show as it will be one of the Many Luskville Dragway Cars on display. The boys call these rides road trips and are usually the ones who go and pick up any new race cars we get, however this was a fun trip to say the least, however very, very pleased with the new car and how it looks, good job Chromeworx.
WILLY'S ALIGNMENT BECOMES NEWEST ADVERTISING PARTNER WITH LUSKVILLE DRAGWAY: APRIL 12/2013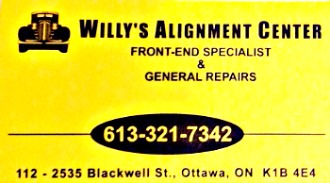 Will Katib is someone i have known since the end of the 1980's, a hard working individual who was operating his own pizza place's back then, a job that required long, long hours of work. Willy was also someone who loved cars, and loved fast cars and drag racing so obviously we had a great deal in common. I can remember many times stopping into Willy's Pizza Place for some great pizza, and a awful lot of drag racing talk. When the big chain pizza's virtually took over and made it hard for a independent to survive Willy went on too something he was also a professional in, and what he was really train
ed for and opened his current business in 1995. Willy's Alignment Center has evolved greatly over the years and today it specializes in front end alignment, but it is a full service auto repair shop, with a little leaning towards performance stuff as well. Located 2535 Blackwell St. unit 112 in Ottawa's east end Willy's Shop is a buy place no matter when your drop by, and to this day I still drop by, and even though we have to order in if we want Pizza, we don't have too order in if we want to talk about drag racing, as besides Willy's you are quite app to run into a number of other drag racers also. And in 2013 Willy's Alignment will become the latest advertisi
ng partner with Luskville Dragway and we are pleased and excited about this new partner. Willy has for all of these years been a avid drag racer and has been a huge supporter of Luskville Dragway for all of those years. Like many of today's current Super Pro Dragster Drivers Willy started out in a door car, a Camaro which turned into another Camaro which finally like all, turned into a rear engine dragster. In 2012 Willy made his latest acquisition and purchased his new Undercover Soft tail Dragster that has made him even more competitive than he has ever been, and a driver that is capable of winning any weekend. Katib Racing keeps his pulse on where he started his racing, in a door car, as he campaigns a wild wheel standing Chevelle along with long time friend and long time drag racer John Forsyth. Willy's Alignment Centre Super Sunday is set for June 2 and will feature Super Pro, Semi Pro, Jrs. and Street Eliminator.
STREET FOR TROPHY CLASS TO BE RE-INTRODUCED IN 2013: APRIL 12/2013
We have ofte
n talked about the evolution of drag racing, and how things have changed over the years and
how things continue to change, and as one old wise lady said, My Mother, Change is good and inevitable and if your not willing to change you will not survive. So with that in mind we are announcing that beginning with opening day 2013 May 18th. we will be running a street for trophy Class each and every race day. Owners of Street Cars will be able to continue running Quarter Mile Time Trials just like they have always done, and will not be required to run in eliminations if they do not want, however there will be no extra charge for running in eliminations other than what they paid to run time trials like they have been doing for the past number of years. The reasoning and the timing for this is two fold and we believe the time is right for street to possibly become a full time part of our every race day, the way it did many years ago. As we have talked about over the years Drag Racers tend to evolve up the ladder of class's , from Street to Semi Pro, and then on too Super Pro. But with the successful introduction of Jr. Dragsters many years ago, Semi Pro has become the forgotten class in the evolution of our sport as most Jr. Competitors go right into Super Pro, we have many of them to prove that. Semi Pro has however become the class with the missing link, that link of a class under them where cars would race and then make the step up the class ladder too Semi Pro. Also the resurrection in the interest in performance cars, whether it be the new performance cars of today, or the old nostalgia muscle cars of yesterday, interest in Quarter Mile Drag Racing has never been greater. Will it work, well time will only tell, bu
t we do know of a number
of young Jr. Dragster drivers that are of the age where they could be testing the water with a street car, just too get some experience in another format of drag racing. If you look at any of the pics from yesterday that we have been posting on Facebook, you are quick too see that back in the beginning days, fast street cars was mostly what you saw at the track, that and maybe a dozen or so of what they called real race cars. Time will tell, but if you don't try you will never know, so we are going to try. Pure street will be just that, driven to the track with street tires only, (no cheater slicks) open headers allowed, all makes and models including sport compact cars which is a large part of today's street scene. If its got wheels and you can drive it too the track then you can run it in the all new Street for Trophy Class at Luskville Dragway in 2013, we are currently looking for a title rights advertiser for this class which would give them the year long title rights too what could be the next big thing. Quarter Mile Street Car Eliminations begins May 18th at the Malcolm Carpentry & Building Construction Opening Day 2013.
CHROMEWORX ULTRA CARS CONTINUES TO MARKET ITS PRODUCT WITH LUSKVILLE DRAGWAY: APRIL 12/2013

When John Parks the owner came on board in 2012 as the first American based company to advertise with Luskville Dragway, we where very pleased with his decision to do so, and we are also just as pleased with the fact that he will be doing so again in 2013. Chromeworx is well know across the US and Canada as one of the premier race car assemblers and has customers across North America too prove it. And the timing of this could not be better as we just got home from John's shop in Leroy Michigan with Derek's new car, and too say it is a beauty would be putting it very mildly. John made the whole process with the new car a great experience. Building a new car was something we have always wanted to do, but with all the horror stories we would here from everyone else who had done so, and their bad experience's with builders, kept us awa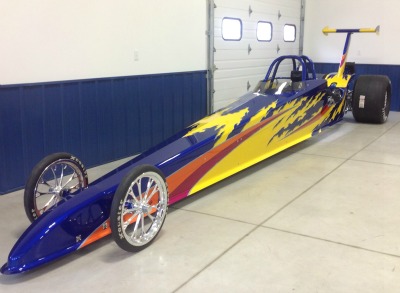 y from doing so. Chromeworx was prompt, on time, on budget, (not one thing was added to the original price and we got everything we ordered) and very helpful with many of the things along the building process way. I can not say enough about this company and the people that run it, and would and will work with them again too build another car.
Chrome-Worx Performance is a Michigan based company specializing in the assembly of top quality dragsters and door cars. Owned and operated by noted bracket and top dragster competitor John Parkes, Chrome-Worx has achieved a new level of excellence over the last 8 years. Chrome-Worx has built high quality dragsters for people all over the U.S. and Canada, as well as two cars in Switzerland. We will always strive to be the best and push our cars to the highest level of quality possible using only the best of the best components and the latest technology.
Chrome-Worx Performance is also your source for a full line of any and all drag racing components. From complete engines and transmissions to valve covers and spark plugs, we sell everything related to drag racing. Custom chrome plating and carbon fiber hydrodiping are also available. get a close up look at the car by going too

http://goultracars.com/complete-cars/item/malcombs-2013-roller-2
BITS FROM THE PITS: APRIL 5/2013...
*
We would invite everyone to check out the new web site for the Elliot Lake Tour Event held in Elliot Lake, Ontario on July 12,13,14 of 2013. The new web site is as good as any of them out there and really deserves a look see by everyone. Elliot has done everything first class from day one 14 years ago and that is very evident in the new web site, www.elliotlakedragway.com

*
The drivers meeting is fast approaching and so is the first weekend at the track, it is very important we get a good turnout for the drivers meeting as it kick starts the season, we will be running a practice tree competition after the meeting is over so come early, have lunch and then have some fun after the meeting is over. Busters Bar and Grill April 13th at 1:00 pm. We would also like to remind everyone that representatives from both Shannonville Dragway and Mirabel Dragway will be present too answer questions. We invite everyone who is also interested in the win a dragster race too
try hard to be there as we will be discussing this in full and will answer all questions and suggestions for this big event.

*
We are pleased to announce that Ian Gould and Bruce Watts will return for the 2013 season with a few more horse power under the hood, and will make an all out effort for the 2013 Semi Pro Championship. This is a team that has shown as much improvement as anyone we have ever seen at the track, and have done so in a very quick pace. The little Mustang that runs out of Custom Auto Care was a much improved racing operation last season, and the boys had the car working as good as any, pulling the wheels like a super stocker each and every weekend. Bruce and Ian have made the announcement with the entree's into the Semi Pro High roller for the Bracket Bonanza as well as the 1st ever Door Car Challenge race in July. this is a team that I would have no trouble in picking too win the Semi Pro Championship, as they have come close and once you have smelled it, well look out this season.

*
Each and every spring you look and hope too see some new faces joining up and being a regular part of the racing family at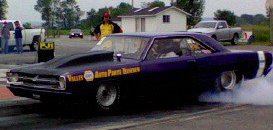 Luskville Dragway, and over the years we have been lucky enough to have that happen. Sometimes we find out about over the winter and some times drivers just show up and join in the spring at the race track. One of those such drivers heading into 2013 is Renfrew, Ontario Racer's Sheldon Dodge. The Valley has produced some incredible Drag Racers over the years going back too the very beginnings of the track and right up until this day, it would take a full page to list the great drivers out of the Valley, and we plan on doing that in a story later on this summer. Sheldon Dodge who yes does drive a Dodge, what else, has let it be known that he plans on running the L
uskville Dragway Napa Super Pro Series this season with his Dodge Dart. Sheldon has been added to our racers profile so make sure you check out this page, if your not on it, drop us a note, if you are on it drop us an update. Good Luck to Sheldon and Denise this upcoming season.
*
Scott Wilson is one step closer to being ready for the new year, as he will enter the Super Pro Frey in the 2008 Undercover Dragster that Derek Malcolm took too the Napa Tour Championship last season. Scott has taken delivery of a 565 Nesbitt engine that was taken directly too D&D Performance to be freshened and check too make sure it was exactly what he bought. Scott will do the driving this season, but look for son Jacob to begin his learning curve this summer also as he is now done with the Jr. Dragster program. Scott has been a busy guy at the track as he has been a big player in the JR. Dragster class which he will continue to be as well as the super pro car, with step son Matt still in the class and a couple more kids waiting to get in.

*
Weather man has not been very cooperative since April started, so not sure if we will be open on the April 20th date, but stay tuned to this site and our facebook page as we will keep you posted. We have lots of regular get ready to open work too do and some unexpected building damage that has to be repaired, nothing too serious just the same old S!?! as every winter.
*
THINKING OUT LOUD, something I should not do as it gets me into trouble, but was just doing some counting the other day of those local drag racers that are now running a blower motor?? and I love the sounds of a blower could it be we could have a 8 car blower cars only field EM, just thinking out loud.
S
PEEDY AUTO SERVICE CONTINUES TO PLAY A BIG PART AT LUSKVILLE IN 2013
: APRIL 5/2013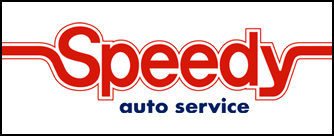 Two years ago Ray Miner put his entire racing operation up for sale and informed us he and his family where taking some time off racing, this was not good news for Luskville Dragway as Ray Jr. and Ray Sr. had been a big part of the track for decades. Needless did we know that the big whole the Miners would leave, would soon be filled and filled in much the same manner and style as their entire racing operation would be purchased by another former racer who had also taken some time off a long time back. Mike Chenier who was a golfing buddy of Ray Jr. bought the
Undercover Dragster, the Jr. the Trailer, the golf cart and the Motorhome, and made it clear he was going racing. Well go racing Mike Chenier and Family did and yes this was truly another family racing operation from the word go, with Mike's wife Monik, and the kids, the sister and many other family members make their way to Luskville Dragway each and every weekend. Yes even though the Miner Family is missed very much, we are very grateful that the Chenier's have taken over that spot in full force. Mike who also owns and operates Speedy Auto Service in Gatineau, was gracious enough to also become a advertising supporter of Luskville Dragway and will continue to do so in 2013 as he will hold his spot on the "Advertising Tower of Power" control tower at Luskville Dragway. What is called Speedy Auto Service started out with a different name many years ago..
Speedy Muffler King opened its' first store in 1956 and was one of the first muffler replacement specialists in North America. Speedy Muffler King understood the importance of building strong customer relationships and was one of the first automotive repair service chains to establish standards of performance to assure its' valued customers consistently high levels of service at each and every one of its' locations across Canada. Over the years Speedy Muffler King expanded its' products and services and in 1993 changed its' operating name to Speedy Auto Service In December 2007, Speedy Corporation acquired Speedy Auto Service. The Speedy Auto Service Gati
neau auto repair shop specializes in offering the very best while-you-wait service for all makes and models of cars, light trucks and SUV's. Although muffler replacement is still a primary service, Speedy also specializes in brakes, shock absorbers, struts and front end repairs as well as the sale of tires, road safety inspections and vehicle maintenance services that include oil, lube and filter replacement. Our Gatineau auto repair shop which is located on 372, boul. Maloney west, takes pride in being able to help keep the citizens of Gatineau safely on the road, because at Speedy you're a somebody. Mike who is very, very busy with the shop found time to do some major changes to what used to be a Undercover Hard tail Dragster, yes the car is now a swing arm soft tail car which will make this driver even more competitive in 2013. Brian White was busy much of this winter doing the work on Mikes dragster which will also sport a much stouter D&D Performance Big Block Chevy, as well as a new paint which will be show car quality. In talking with Mike the last couple of weeks there is no question that no one is more anxious to get back to the track this the "Spiderman Racing Team"
TOP HAT HOME COMFORT SIGNS ON AS MAJOR BACKER OF LUSKVILLE DRAGWAY:APRIL 5/2013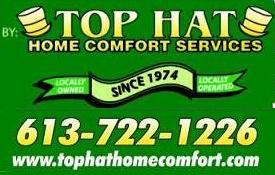 Luskville Dragway is proud to announce that Top Hat Home Comfort Services of 1072 Merivale Road, Ottawa will once again in 2013 like 2012 be a major advertiser. Top Hat owned and operated by John & Deb Holtom is a name that is well known through out the Ottawa and surrounding area, and their very familiar green trucks with yellow lettering can be seen anywhere. Top Hat Home Comfort is exactly what it says, anything to do with your house is what they make comfortable for you. From gas furnaces, to gas fireplaces, from roofing and eaves trough, to chimney cleaning they do it all. Specializing in custom firepla
ces their show room on Merivale Road can give you many idea's for just what your looking for. Make sure to check out their web site to get a complete concept of what this company can offer you, and remember our motto support those who support us. And yes in the beginning days the chimney sweeps would wear top hats, so came the name and the history of this aspect of Top Hat Home Comfort We are extremely please to once again bring a new marketing partner into our family of advertisers and once again show why NHRA drag racing is the place that makes "cents" too put your advertising dollars. John Holtom is an avid race car person and owns and operates one of the best ACT Late Model teams in Canada with son Justin Holtom doing the driving. In fact Justin has won the track championship at Capital City Speedway in 2012, and has always been in the top 3 since his rookie season.
MALCOLM CARPENTRY TO PRESENT OPENIG DAY 2013:APRIL 5/2013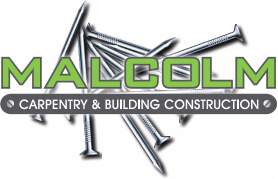 With the racing season fast approaching, opening day becomes the focus of everyone, as a good start toot the season could mean a championship at the end of the season, and a walk too the podium in November. And with that in mind we pleased to announce that Malcolm Carpentry will once again, like the past 3 years be the presenter of Opening Day at Luskville Dragway which will be held on Saturday May 18th in conjunction with the long weekend in May which is from past experience a great weekend too kick off the drag racing summer.
Malcolm Carpentry and Building Construction is an Ottawa Based Company owned and operated by Derek Malcolm. Derek has the combined education and experience to complete to your satisfaction any home project. Derek's attention to detail and qualit
y of workmanship , will turn your ideas into reality, providing a wide range of services from Decks, Fences, Flooring, Siding, Bathrooms, and complete basement renovations. Derek comes with many first rate recommendations and testimonials and is highly respected in the industry. Derek's detail to perfection has had him called into to complete jobs that other can not, and is often called on by companies like Top Hat Home Comfort when perfection is a must. Derek is also a very good drag racer and over the past 15 years has proven that over and over again with many wins, and a number of championship trophies adorning his mantle piece at home, which by the way he put in. Derek will debut a brand new American Chromeworx Dragster this spring, which has been talked about on this web site in detail. Hopes are for the car to be home in Ottawa by early next week, with début set for the Classic Custom Car Show on April 27-28.
Again if you are in the need of any of this advertisers service's please do call and support those that support our sport. Visit Malcolm Carpentry by going too their web site,

www.malcolmcarpentry.com
We would invite everyone too stay tuned as we may have some more exciting news about the opening weekend coming soon.
MORROW RV & AUTO SALES TO SUPPLY LUSKVILLE DRAGWAY WITH CUSTOM GOLF CART FOR 2013. APRIL 5/2013
We are extremely pleas
ed to announce that Luskville Dragway will once again in 2013 have the luxury of riding around on a custom golf cart from Morrow RV & Auto (Kevin's Kustom Karts), as they did in 2012. This is not only a great convenience for the track, but is also a great asset in getting the day too day racing activities done, whether it be looking for drivers, or rushing to fix something on the track, the golf cart has come in so handing that it is hard to imagine not having one. Kevin sells many of these carts, and many of the drivers at the track currently have one, and if you don't give Kevin a call so he can fix you up before the season starts. Kevin can sell you a in stock cart or you can have him pretty it all up with plenty of custom items, like trick wheels and such. Last year Kevin had a couple on display at the drivers meeting for everyone to have a look at and we are hoping that can happen again this season. We are also looking at storage at the track for those that can not haul them every weekend and we will keep you posted on that as well. We also would like to remind everyone that you must have a golf car if you want to compete in the now famous Bracket Bonanza Golf Cart Challenge which will be bigger and better than ever in 2013. Kevin is a strong supporter of Luskville Dragway, so if your in need of a golf cart or you would like rent one for the Bracket Bonanza give Kevin a call at Morrow RV & Auto Sales in Carleton Place, Ontario.