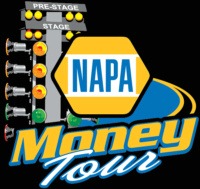 SEMI PRO HIGH ROLLER AUG 2. 2013



MALCOLM CARPENTRY HIGH ROLLER AUG-2-2013 DOOR
MALCOLM CARPENTRY HIGH ROLLER'S AUG 2-2013 OPEN CARS

JR. DRAGSTER HIGH ROLLER AUG 2nd. 2013

DOOR CAR CHALLENGE JUNE 29TH. 2013

2013 JR. DRAGSTER PRIZE POOL PAGE
COVER: TO ALL THE FANS, THE DRIVERS AND THIER TEAMS MERRY CHRISTMAS FROM THE ENTIRE MALCOLM FAMILY
.BITS FROM THE PITS: DEC 21/2012
*
Well another year has come and almost gone, as we head into a very special time of the year for the Malcolm's as I'm sure it is for many others in our drag racing family. For us this Christmas will once again be even more special than last, as we celebrate it with Angie, Jason, Lila & Cole, Derek, Taz, Olivia and Julia. Last year there was 9 of us for Christmas dinner and this year there is 10. Christmas really is a very special time of year for most and is certainly a time when you tend to slow down and smell the roses so too speak, and take time to realize just how very lucky we are to have what we have and live in this great country. So from our houses to your houses we wish for all of you, a very Merry Christmas and a Happy New Year, enjoy your families and this time of the year.

*
As we have done every year at Christmas time, this will be the last posting until the Friday after New Years as we all take a small break from the drag racing world, although we never really are too far away from it at anytime. We hope that everyone will keep in touch with us and keep us informed of things they are doing. We also hope that we see more door cars take up the cause in the high roller events as well as the Semi Pro e
vents, remember you drivers are totally in charge of what happens with the sport of drag racing at Luskville Dragway and the tour. We also hope that everyone enjoys what we feel are very happy, positive stories that we have this week. We have also started to update our drivers profile section, adding new names and bringing things up too date as much as possible. Have a look if your not there let us know you would like to be, if you are there send updates and some pics that you want used. We will be working on this over the winter months so help us out.

*
The announcement of split ladder at the first Napa Tour Event has already been met with applause and additional money, thanks too Wayne Burke and Nordoors Sudbury. The low qualifier on both the closed bodied side of the ladder and on the open bodied side of the ladder on Saturday will receive a cash bonus of $100. each. The running of split ladders at Luskville and Shannonville has shown nothing but positive things for the sport at both of these facilities and we believe it will for the Elliot Lake race also. This low qualifier is just another way of awarding those that try to go fast which as we all know is what drag racing is all about, thank you very much Wayne Burke.
*We are pleased to announce that we have our second entree into the Semi Pro high roller event scheduled for August 2nd and the 32nd Annual Bracket Bonanza next summer. Mike Devenny of Osgood, Ont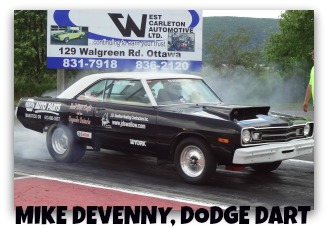 ario will take on all comers in an effort to take home the big prize money that comes with this event. Mike who missed most of last summer do too his job commitments, managed to get a few races in at the end of the season and won the last Napa Tour event race at Shannonville. Mike and the entire Devenny Family are just a joy to have at the track and are always quick to jump in and help everyone at anytime. Semi Pro like last year is the slowest of the High Rollers to get into high gear but as the event approached last year it was a sell out with a waiting list, so you may be smart to get your name on early. Speaking of Semi Pro rumour has it that Kevin Morrow will bring out a semi pro car this up coming season which is bad news for the competition but good news for the class wish needs some new entree's. Could it be that Kevin is already starting to get ready for the day when his son Chevy moves out of the Jr.?? We all need too do what ever we can too get more Semi Pro cars running at our track on our regular days.

*
We will be announcing the signing of a brand new advertiser come the new year, coming from the sport compact world, and that will be the direction of their advertising program with us. We are hard at work too put together a Sport Compact Shoot Out for one of our weekends so stay tuned.

*SOLD OUT
, We can tell you that the Super Pro Open High Roller event on August 2nd. is a complete sell out as of this posting, with one alternate already, the fastest it has ever done so and now we are taking alternates only for this Big Event August 2nd. However IF we could reach 32 open cars then I can tell you right now we would be prepared to do something EXCEPITIONAL, so lets see, the cars are out there and once again its in the hands of the drivers. THIS COULD BE VERY BIG.
THE RACERS OF LUSKVILLE DRAGWAY CONTINUE TO GIVE

: DEC

21

/2012
We have spoken of

ten of

the generosity the race teams at Luskville Dragway

show over and over

, and t

hat time after time they have stepped forward in one way or another to help out at the track

. You will see as we do our off season write ups and advertiser announcements that the racers and the race teams at Luskville Dragway are some of the most giving racers in the land. Whether it be raising money for the new kids playground, making the

Jr. Dragster

program

's

better than anywhere in the country, purchasing advertising to keep the track growing or just being there, yes our racers are a very special group. And with Christmas just around the corner and the most giving time of year with in arms reach, we thought it was the right time for this story. Yes that racers generosity continued to shine when at the end of the season Mike
Ogilvie suggested that we bring our track ambulance out to Ogilvie Auto & Fleet Service in Jasper, Ontario where he and his staff would give it a good pampering. There is no question that this is a huge asset too the track, but

the

ambulance sits around a awful lot and thankfully does not get used very much

,

and we all know that sitting around is a lot harder on vehicles than ones that are used regularly. So getting some tender loving care is something it didn't get much of at the track, and was certainly over do for. Mike and crew have gone over her from top too bottom making sure that everything works and works well when we open back up in the spring of 2013

, including two new Interstate Batteries.

Mike has one of the busiest shops in the country so certainly did not need the extra work, but again showed what makes our group so much different. We would also like too thank L&J Towing who flat bedded the ambulance out too Jasper following the end of the season. L&J is the official tow truck company for the track taking care of all of our towing needs especially on cruise nights. We would like too thank Mike & Vicki and everyone at Ogilvie Auto & Fleet for doing this, and once again showing what sets our racers out in the world of drag racing. I would also like thanks Rob Ballntyne another racer who painted the bus the first year we got her. Too learn more about these companies please follow the links
www.ogilviesauto.com
www.ljtowing.ca
DEREK MALCOLM TO DEFEND TITLE IN NEW CHROME WORX AMERICAN DRAGSTER: DEC 21/2012
Derek Malcolm has had a
number of race cars over his drag racing career, but he has never had anything but an Undercover Car when it came to the dragsters he has competed in

for

the past 15 years of Super Pro racing. Derek jumped right out of Jrs. into a 7 second Undercover hard tail car that he would run in Super Pro to be followed by at least 4 more undercover cars of the four link variety, as well as a Bantam Altered and a short lived 77 Vega. However when Derek climbs behind into his dragster this upcoming season it will be in a Chrome Worx American Ultra Car from John Parkes in Michigan. This will also be the first time in Mr. Malcolm's career that he will have a brand new car, that has been built too his specifications. The 242 inch Top Dragster will have ever

y

trick you can get, including a custom paint application by Todd's Extreme Custom Paints a renowned US Custom Race Car paint shop and will
be painted in more of the traditional yellow theme. The car will look very much like the one on the right but paint design from the one on the left. Chrome Worx is a current advertiser with Luskville Dragway becoming the fist US. based company too do so in 2012, and they will continue to do that in 2013. The company is know

n

for building some of the highest quality race cars on the planet and everyone at ADM Motorsports is anxious for spring to roll around and getting the new car home. Like we did with Paolo Giust's new car a few years ago, we will keep everyone posted on the progress when ever we can.
JAMIE TUPPER DOUBLES DOWN
FOR BRACKET BONANZA HIGH ROLLER EVENTS: DEC 21/2012
Its pretty easy to say that Jamie Tupper is one of, if not thee best Super Pro Bracke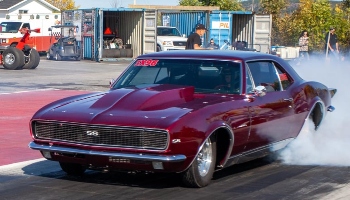 t Racer in Canada

,

and his his long list of accomplishments backs that statement up. From his first Big Dollar win at Elliot Lake, that now seems like ages ago, until the current time Tupper has visited the winners circle more times than anyone else, which
I
think is safe to say. From the early days of the Black Oldsmobile to his current rides, a Undercover Swing Arm dragster, and his awesome Corvette Top Sportsman Car, Jamie has made a point of winning and winning many times. Quite often the man from Tilsonburg, Ontario will enter both cars especially when there is a split ladder or class's for each ride, like last years IHRA National event at Grand Bend where Jamie did just that and won. So it is too no ones surprise that the owner of J&S Collision has thrown his name onto both sides of the ladder in the running of the $10,000 to win Super Pro High Roller event taking place at the 2013 Bracket Bonanza. Yes Tupper will have the dragster on the opened bodied side and the Vette on the closed bodied side obviously hoping to run him self in the final if at all possible. Besides being a great drag racer Jamie and Shelia are great to have around the track as they are a large part of the fun that takes place once the racing is over. Another thing about this couple is how quick they are to help out in anyway they can, whether it be by advertising with the track or lending a race car when another driver is in need of one. Jamie is also one of the Canadian drivers who does not end his season once racing is over up here, as he travels many miles to get where ever there is a big dollar bracket race going on.

With a entree on both sides of the ladder it is possible for Tupper to meet himself in the finals which will pit a closed bodied car against a opened bodied car, and with this competitor it is very possible.
OGILVIE MOTORSPORTS TRUCK AND TAILER A SHOW CASE ON ITS OWN: DEC 21/2012
Mike and Vicki Ogilvie unveiled their new colors for their towing unit this past week and too say
the least, it will blow you away. There is no question that the new look will be looked at many times as it pulls into Luskville Dragway or any race track that it attends. And more importantly is how many people will see this unit going down the road and on its way too Luskville Dragway bringing attention too the track, and our sport. In the old days we all hauled are race cars around on open trailers, letting the rest of the world see what we do, and many time

's

when you where gassing up for example people would come up to admire your car and ask, "where do you race that". Well as the sport evolved to everyone hauling with enclosed trailers we basically started to hide what we do too the outside world and all that was going up and down the road was these white boxes. Well Mike and Vicki have changed all that with their new look as this truck and trailer is sure to attract a great deal of attention

too them, the

track

, there sponsors as

it is heading too

track

and the sport that takes place there, congratulations guys, I know you had to wait a little but it was certainly worth the wait.

.
.BITS FROM THE PITS: DEC 14/2012
*
F
or those of you that watch the Dragmart section of this website you will have noticed that
Pierre Ouimet has listed his semi pro truck for sale. As many of you know Pierre has had some ruff times with his health and sat out the entire 2012 season. But a few months ago Pierre called me to let me know that he would be back in 2013, but that all changed when he found that he once again was having health issues. Pierre has informed us that he has to under go a heart transplant and that racing has to be put on the back burners for sometime. I know that everyone joins me in wishing Pierre a speedy and successful operation and recovery and look forward too seeing him at Luskville Dragway in the near future.

*
More Bracket Bonanza High Roller news as Randy Urslak has thrown his hat into the ring for once of the most prestige events in the drag racing community in this country. Randy who was voted Driver of the year at Luskville Dragway in 2012 is certainly a driver who can win this big dollar race August 2nd. Randy and his Race Tech Dragster has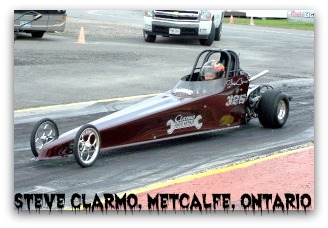 been too the winners circle many times and will be one of the cars that everyone will want to keep an eye on. Randy had thought of selling his multi winning car at the end of 2012 but will continue to run it in 2013 something the competition is probably not happy with. This addition only leaves a few spots for the big dollar event and they will go fast.

*
The Jr. Dragster High Roller also closes in on being full as Steve Clarmo a former track Champion has added his name too the event being contested at the 32nd Annual Bracket Bonanza. Steve is one of the senior drivers at the track in the Jr. class and already has a track championship under his belt, but would like nothi
ng better than to add the a high roller to his resume. Steve who is the son of Super Pro racer Jamie Clarmo, like his Dad runs out of the Clarmo Auto Repair shop in Metcalfe, Ontario, and spend almost every weekend each summer at Luskville Dragway. Steve is a young man who is more than capable of winning the big one, and on August 2 2013 he will take on some of the very best in this class in a effort too do just that.

*
Three of the Luskville Dragway drivers spend last weekend in Buffalo, New York for a Bills Football game, and by the looks of this picture ran into jolly old Santa Claus, (looks like Santa was on a diet). Derek Malcolm, Troy Davis and Kyle Jessup survived the weekend and said a good time was had by all. Word has it that when they ran into the jolly old "fat man?? that all three had wishes to pass on too him. Davis apparently asked for a repeat of the Luskville Dragway Super Pro Track Championship, Kyle asked to be returned too the top of the points standings where he is used to being, and Derek said he would be happy with just a race car for 2013.

*
We will have more on this next week in our Christmas publish but we can tell you right now, we will be having a race for current Super Pro and Semi Pro drivers that have come out of the Jr. Dragster program. So we will need all of you to get your names into us.

ELLIOT LAKE SET THE STANDARD AND SURPASS'S IT EVERY YEAR:
DEC 14/2012
Putting on and organizing an event of any type is much more than anyone can imagine, until they have to do it, whether it be a wedding, a birthday party or a
trip, let alone a major motorsports event. But the organizers of the Elliot Lake Napa Auto Parts North Shore Challenge not only do it, they do it extremely well and have for the past 13 years. Yes the small Northern Ontario Community has set the standard and surpassed each and every year, including 2012 when it was done in the aftermath of the devastating mall collapse that kept most of North America captive for some time. But the community and organizers went forward with an event that the town is now famous for, turning the local airport into a motorsports arena, producing one of the best Napa Auto Parts races and entertaining thousands of fans from all over the country. Many of the organizers in 2012 where quick to say, the drag racing event would go forward and would begin the healing for the community and the sign to everyone that they where moving forward. We have had the pleasure of being part of this incredible happening since its conception more than a decade ago, but never have I been so impressed with the resilience and determination than I was in 2012. So as we head into the 14th annual the excitement is al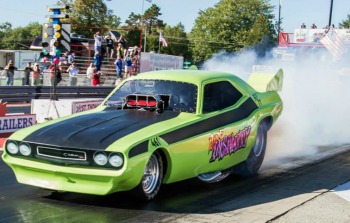 ready at a fever pitch with expectations of the best one ever still ahead of us. The event which will take place July 12-13-14 2013 will have some changes that everyone will be very pleased with. As the race has grown too where it attracts more race cars that most permanent race tracks it has become harder and harder to give everyone enough time on the track. So in 2013 we will be running time trials from Friday morning on giving everyone one extra day of getting set up for the big ones on Saturday and Sunday. And yes we will of course be running the famous Friday Night Gambler races and Night of Fire Jet Car show. We hope that by staring earlier we will be able to give everyone many more time trials that at anytime in the past. We are also looking at running a split ladder for Super Pro which will make for better times for those with Door Cars and Roadsters. These improvements along with the booked in attractions that rival anyone in the motorsports arena should make the Napa Auto Parts North Shore Challenge the biggest and the best ever. So make sure to mark these dates on your calendar as Elliot Lake has always been more than a drag race it's with out a question a motorsports event.
WAWA MAKES IT OFFICIAL AND COMFIRMS AUGUST 16-17-18 2013 FOR DATES: DEC 14/2012

Wawa has made it official, the dates for the second annual Northern Nationals will be August 16-17-18 2013 at the Municipal Airport in this very picturesque Northern Ontario town. There is really no question on the success of the 2012 race as it was the most talked about event anywhere last season, all who took part in the first ever event had nothing but positive comments surrounding every single aspect of the race weekend. From the facility, too the atmosphere, too the fans who made it one of the most fun weekends in the history of the Napa Auto Parts Tour. A race track where you could walk too the Tim Horton's, or the Motel you where stay at made this event one of the most fun weekends ever, watching some of the teams drive their golf carts to town to participate in Saturday Night activities in town pre
tty much said it all. The committee who where responsible did a great job assisted by the folks from Elliot Lake made the weekend come off with out a hitch, and the racing was great as the race track came around quicker than anyone ever thought it would. The year two addition will have everything the first one did with maybe one or two surprise's as the final touches are put on the event. Big Dollar payouts for all class's including $1000. to win Jr. Dragster on Sunday and $10,000. to win super pro, live music Saturday night and of course the return of Diamond Jim and his wild Jet Funny Car. If you took the trip in 2012 you will not need any convincing to return, if you where not part of 2012 I'm sure you will add it too your schedule as you have certainly heard of the great time had by all. Last year the event was the weekend after the Bonanza and that made it tuff for some to fit it in, this year it is two weeks after the Bonanza and should make it a little easier for some, which we hope it does and why it was moved. But there is no question in my mind or anyone who was part of the event last season, this is a must do race if you love drag racing and having a great time doing so.
.
BITS FROM THE PITS: DEC 7/2012
*Just a heads up to all of you drag racing people, we know the winter months can be long so we plan on breaking that up a little with a big dollar Practice Tree party at Busters Bar and Grill. The event will have a professional tree and display, (just in from Portatree), the event will be open too everyone and hopefully everyone will support it as it will be a fun time. The plans are to run a Jr. Dragster class at this event as well as a regular one and a high roller one, just like the real thing. We have not come to a complete defiant on the date but e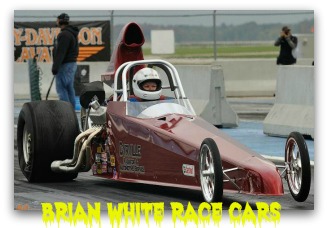 arly February is what it is looking like and we will inform you here and on facebook.


*

This is a message for all semi pro and sportsman racers from Richard Arnold ,Ok semi pro racers or sportsman racers there is a ultimate 16 on the 26 mai entry fee is 250.00 for 2500.00 to win i have already 16 racers that have given there names to race and 3 spares if there are more interested in getting in the race as spares and we get a field of 32 cars i will but the entry fee the same 250.00 and will step it up to 5000.00 to win in semi pro or sportsman class leave me your name on face book or private message will put your name down on the list of racers

.


*
Josee Mongeon one of the sports very best female Super Pro pilots as thrown her name into the ring for the Opened Bodied side of the Ladder in the 2013 Bracket Bonanza High Roller event Friday August 2nd. Joseť who is no stranger to the winners circle at Luskville Dragway has called Luskville her home track for a very long time, first coming with her Dad Bob Mongeon as a daughter, then a driver and now a driver owner along with Husband Brian White. Brian White is of course the man behind BW Race cars which built the dragster that Joseť drives these days.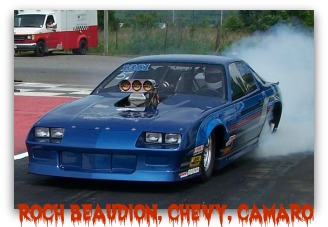 *
We also have the pleasure of adding another name too the door car side of the ladder, as Roch Beaudion out of North Bay Ontario another driver who is no stranger too the winners circle will be part of the big go 2013. Roch has in fact been one of the few to put him and his very fast Camaro into a $10,000 winners circle right at Luskville Dragway. Roch has also been a main stay on the Napa Tour where he has done extremely well also. Look for Beaudion and his Camaro to be a factor in the closed bodied side of the the high rollers race, as well as the final out come come on Aug 2nd 2013. This brings the number of spots already filled to 8 leaving only 8 more up for grabs and they will go fast, we are well ahead of last years numbers at this time..

*
We can also chop one more spot off the Ogilvie Auto & Fleet Jr. Dragster High Roller that will take place the same day as the big guys, August 2,2013. Dan Pillwein the son of Ray Pillwein the owner of Aylmer Performance Automotive is the latest Jr. to take a spot in what was last years very best Jr. race of the yea
r. Dan who is only in his second full season of racing Jrs. did a incredible job in his rookie year finishing well up in the points even though he was unable to run every weekend do to other commitments. Dan will even tougher this season with a last years racing experience under his belt so look for this team to be one too watch not only at the high rollers event, but each and every weekend they are there.

*
With the big announcement of the High Roller Golf Cart race at this years Bracket Bonanza we want too keep the word out there that Kevin Morrow and KKK CARTS will be supplying rentals if there is a need for them. Kevin is working on a great deal for everyone and we will have more on the total package once we get it all sorted out. But you wont go wrong with getting your name in early as it will give you the cart for entire weekend as well as the golf cart race which is going to have some surprises this year. Contact Kevin at the following email to get your name on the early list,
kevin.morrow@bellnet.ca
NAPA AUTO PARTS TOUR RETURNS AS WELL AS NAPA AT LUSKVILLE DRAGWAY: DEC 7/2013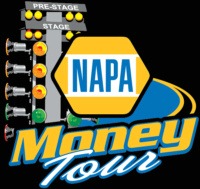 There is really not much we can say other than we are excited and pleased that the Napa Auto Parts Company and associates have committed too the 2013 programs with Luskville Dragway and the Napa Tour. Thanks in a great deal too Keith Graham owner of the Universal Group, the Napa Auto Parts Stores in Eastern Ontario and of course the Napa Auto Pro Service Centres of which there are many. The Napa Auto Parts name is synonymous with Motorsports, whether it be the Nascar of Michael Waltrip or the Nitro Funny Car of Ron Capps, the Napa Name and logo is seen many places in the Motorsports arena. And the Napa Logo and. name will be seen and heard many times during the 2013 season at Luskville Dragway, and the Napa Auto Parts "Show Me the Money Tour". Napa Auto Parts will once again carry the title rights too the tower side scoreboards at Luskville Dragway as well as other locations at the NHRA track in Luskville Quebec. The name and logo will also be seen and heard from many times in 2013 as the Napa Tour touches down in Luskville, Shannonville, Wawa and Elliot Lake where Napa will also carry the title rights to the 14th Annual Napa Auto Parts North Shore Challenge. We will have more info on all of the out of town Napa Tour races in the next couple of weeks and prior to taking our annual Christmas break. Many of our racers who own service centres also own and operate their shops under Napa Auto Pro Service Centre umbrella, which makes for a natural fit for these companies and Luskville Dragway. The Spring Napa Auto Parts Funny Car Show will go on June 15 & 16th and Luskville Dragway which we will have more on as the off season continues, tickets for this weekend will available at all Napa Auto Parts and Napa AutoPro business's in our area.
MIRABEL - LUSKVILLE INTER
TRACK RACES SET AND SHAPING UP TO BE "BIG IN 2013: DEC 7/2012

There is no question that our "Luskville Train" last year to Mirabel for the first Ontario/Quebec Challenge caught the eyes of everyone and too no ones surprise spammed a relationship which has grown greatly since the inaugural event last Sept. With close to 30 teams making the trek from Luskville Dragway to Mirabel ICAR Dragway on such short notice was impressive to say the least, and the event which was cut sho.rt by one day do too a rain out Sunday was an overwhelming success. So with the encourage
ment of the Promoter of the ICAR events, Richard Arnold we set about looking at what we could do too enhance and grow this relationship in too something even better for both facilities and the drivers who compete there. Now working with another race track is not unusual for Luskville Dragway as the story below will tell you Luskville and Shannonville have had a great Inter-Track program going on now for a few years. There is no question that when race tracks work together the tracks are a winner, the fans are winners and so are the race teams that compete as can be seen by the programs that we will lay out here. Our involvement with Mirabel has already generated amounts of excitement I have not seen since the days of the Molson GrandNationals when everyone would get cranked up for the race in Montreal. Now that excitement goes both ways as teams from the Montreal area and teams from Luskville gear up for head to head battles with each other at each others facilities. The Inter-track Series will consist of two dates at Mirabel for Luskville Teams earning points in the Napa Auto Parts Track Series 2013, and the two dates at Luskville Dragway for the Montreal teams will earn them points in the Series Trailers Montreal. These events like last years Ontario/Quebec Challenge will pit the very best from Luskville Dragway against the very best teams in Quebec and will kick off on May 25-26 w
ith a two day competition featuring Super Pro, Semi Pro (Sportsman), Jr. Dragsters, St.reet and three special high roller events which are already sold out. The High roller events will feature 16 open bodied cars and 16 closed bodied cars as well as 16 of the best sportsman cars, these events are separate from the points races in all three of these class's. The Inter-Track competition will then head too Luskville Dragway for June 28-29-30 where once again Super Pro, Sportsman, and Jrs. will compete for points as well as a special program over and above the regular events much like what went on at Mirabel. The Series Trailers Montreal teams will return too Luskville Dragway on Aug 30-31-Sept 1st for the second event at Luskville Dragway and then Luskville Teams will head to Mirabel Sept 21-22 for the Second Annual Ontario-Quebec Challenge race. This will give an opportunity for drivers like 2012 Super Pro Track Champion Troy Davis to face off with Series Trailers Montreal Champion

Marco Laframboise, and Sportsman Champ Mark Thompson to go head to head with Montreal Sportsman Champ Kevin Ouellette, who both drive Dodges by the way. If these series are supported and the Shannonville Partnership continues to grow then it is my total belief we will see car counts like we have never dreamed off before at all three race tracks, which is good for everyone. There is also talk of a over all prize for the points winner out of the four race series which is being worked on as of this writing.
SHANNONVILLE - LUSKVILLE PARTNERSHIP GOOD FOR BOTH TRACKS & CONTINUES IN 2013: DEC 7/2012

We are also very excited to announce that our great relationship with Shannonville Dragway will continue in 2013 as we will continue our inter-track series that has been so successful for the past two years. As you can tell by the expansi
on of inter-track races too include Mirabel Icar Dragway we are now involved with the two drag strips that are our closets neighbours. This alone shows that others have watched and believe in what we have always preached, work together and it works for everyone. Shannonville is track that we have always been close too as many of the racers from that area have called Luskville their second home, and this relationship goes back too the days when the track was laid out to encompass the back stretch of one of the road courses. We actually worked with Al Lebeau (who now owns St. Eustache) in the lay out, the booked in shows when it first opened and races that benefitted all who where involved back then. Today the relationship is even made closer with the involvement of Al Ray, John Chatwood and the Parkhurst Family, as we have been racing and partying with these folks through three generations of drag racing. So once again in 2013 we will have two points race for Luskville Dragway points at Shannonville (plus the Napa Tour Event) as well as they will come too Luskville for two weekends that count towards the Shannonville Championships in Super Pro, Semi Pro and Jr. Dragsters. The dates for the points races at Shannonville for Luskville drivers are July 6-7, Sept 14-15 (Napa Tour Event points for both tracks), and Oct 5-6. Points races at Luskville Dragway for Shannonville teams will be June 28-29-30, as well August 24&25. These events for both tracks have played a significant part in the success of both tracks and their bottom line at the end of each season, and the support of all is greatly appreciated for these events.