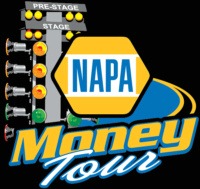 SEMI PRO HIGH ROLLER AUG 2. 2013



MALCOLM CARPENTRY HIGH ROLLER AUG-2-2013 DOOR

MALCOLM CARPENTRY HIGH ROLLER'S AUG 2-2013 OPEN CARS

JR. DRAGSTER HIGH ROLLER AUG 2nd. 2013

DOOR CAR CHALLENGE JUNE 29TH. 2013

2013 JR. DRAGSTER PRIZE POOL PAGE

DRIVERS MEETING APRIL 13TH BUSTERS BAR & GRILL
COVER: RICK STONIER IMPRESS'S EVERYONE WITH HIS WHEELS IN THE AIR LAUNCHES AT LUSKVILLE DRAGWAY

BITS FROM THE PITS: FEB 22/2013

*
By all accounts the Busters Bar & Grill Practice Tree competition was an over whelming success and fun was had by all including some folks who traveled a long distance to get there. Frank Mark and Frank Jr. came in from New Jersey, The Tupper's where there from Southern Ontario, Trevor Tandy brought the girls down from Belleville and Richard Arnold came in from Montreal. Now add in all the regular Luskville Dragway crowd and you can just imagine fun and clowning around that went on last Saturday Night. But even amongst the great fun there was some serious racing going on with some big winners and some big money handed out. Congrats to former Luskville Dragway Jr. Dragster track champ Jacob Wilson for his big win in the Jr. Dragster class over Landyn Urslak. The Top Bulb race was a big entree list and a big purse with first place winner taking home $500. Russ Adams was loaded down with all that money after defeating Trevor Tand
y in the Finals. Congrats too the winners, Thanks too everyone who came, Good Job Derek and Troy and once again Thanks to Busters the official Sports Bar of Luskville Dragway,

*
With the Practice Tree Competition behind us we now have the drivers meeting on the agenda for April 13th at Busters Bar and Grill beginning at 1:00 pm. This is a opportunity for drivers and crews to bring forward new thoughts and comments for the track management, and is the place for discussions whether positive or negative, and is an opportunity to here from both sides of the fence. BE THERE. last year set an all time high for drivers registration and we hope that we can surpass that this season and keep the ball rolling.

*
We are looking at our second Sport Compact Challenge event to go on Sept 8th. but really need to sign up a advertiser to help us make this happen. We really feel that there is a huge increase on the sport compact front and see where these guys are really tearing up the quarter mile. We will work very hard this season too keep this program going and if you are some
one who loves this type of racing please give us a call and get involved and help make this season the best ever for the sport compact class. We will also be trying to add one more special event for this class in the middle of the summer sometime in July so stay tuned and sign up.

*
Julie Dube is definitely taking this season off but makes it very clear she will be back and will be there as a spectator when ever possible. Julie sold the big block D&D Performance engine to a racer from up North and news has it that the chassis may be heading north also only not as far as the engine. Rumor has it that a current racer from Pembroke is in the works of purchasing the car and we will keep you informed as things come together. It is certainly bad news that we will use Julie for a while but is good news if the car goes where we think it is going as it keeps it close to home.
STONIER AND ALAIRE FILL FIRST 16 ON THE DOOR CAR SIDE HIGH ROLLER: FEB 22/2013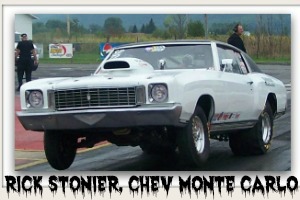 With all the talk about hitting 32 cars in the open field for the High Roller events we have kind of missed out on the fact that we have filled up the first 16 spots on the door side of things which opens the door side wide open for 32 cars there also. Rick Stonier of Kingston, Ontario and Patrick Alarie from Luskville take us too our first 16 cars in the door side. Pat has sat out most of the last couple of summers as he work day and night redoing his Mustang with the hopes of running more Super Pro in the future. Mr Alarie is a local racer who found it even more difficult than many who take some time off as Luskville Dragway is literally in his back yard and even when he was not there watching he could here the racing going on from his patio. Pat has pretty much redone the car from top too bottom and cant wait for spring to get here so he can get out too the track and finish the set up. Rick Stonier who works for the Canadian Armed Forces takes the 16th and final spot in the first sixteen is another driver who could win it all. Rick who has had to put his racing on hold every once in awhile as he gets shipped over seas to full fill his duties with the military follows the Napa Tour and is a contender where ever he goes. Ricks hard charging, wheel standing Monte Carlo hails from Kingston, Ontario and calls Shannonville his home track, but can be seen many times at Luskville Dragway as well as the Napa Tour. Rick has a new car in the works so it could be that one that we see this summer, but no matter what car he show
s up with he will be a factor in the out come of the race.
NOW, can we hit 32 cars in the door class, YES it is very possible and would send a message loud and clear to the rest of the racing world that DOOR CARS are alive and well and competing in Super Pro. There is the car count too do so, hell I could list another 16 cars that are in the area and are very competitive, so all we need is too convince them that they need too join up. We like to feel that we are doing as much as we can for door cars, and what we really need now is for the door car contingent to sign up and take the program to a whole new level. Some of speculated that some day down the road Super Pro could be come two different class (Door Pro and Dragster Pro) most door car guys would love that, so now we need the door car guys to show their stuff, take one for the team or how ever you want too put, but it can be done.
COORS LIGHT TO CONTINUE AS OFFICIAL BEER OF LUSKVILLE DRAGWAY: FEB 22/2013


2013 Will mark the 32nd season that Luskville Dragway has been operated by the Malcolm's and over three decades of an association with Molson Breweries the parent company of Coors Light these days. And that association will continue in 2013 as Luskville Dragway will continue too be a Coors Light Track. Coors has been around drag racing and motorsports in General for many years, going back too their involvement with Top Fuel Drivers like Darryl Gwyn and Dan Pastorni as well as there association with Nascar and the Coors Light Pole Winners. Speaking of that, Nascar has too be very excited about the Last Weeks Danica Patrick win of that very Coors Light Pole as they want very much for the female factor to play a bigger part in their sport like it does in Drag Racing.
PEPSI CONTINUES AS THE OFFICIAL SOFT DRINK OF LUSKVILLE DRAWAY MARKING 32 YEARS OF SUCH: FEB 22/2013


As we head into our fourth decade of running Luskville Dragway we are very pleased to take many of those companies that where with us in the beginning into the fourth decade also, including Pepsi the official soft drink of Luskville Dragway for 32 years. Like Molson's, Pepsi was there in the beginning and we would like to think they will be there until the end, with a history of Motorsports involvement Pepsi as long been involved with drag racing which we have pointed out many times in our write ups around this time of the off season.
KING O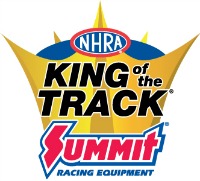 F THE TRACK TO INCLUDE LUSKVILLE, SHANNONVILLE,TOUR & MIRABEL WINNERS: FEB 22/2013

One of the biggest prizes a drag racer can when, and one he cherishes for life is winning the famous Wally trophy that the National Hot Rod Association puts out and can only be won at a NHRA track. And once again this year drivers who race at Luskville Dragway will have a couple of opportunities to win these as will a number of drivers who compete at Shannonville, The Napa Tour and Mirabel. Because of our relationship with all of these other venues, the winners in Super Pro, and Semi Pro at any of the Luskville Dragway events, the Shannonville inter track events, the Mirabel inter track races, and the tour events at Eliott Lake and Wawa will all qualify for the King of the track race too be held Friday Afternoon of the Sept Long weekend race at Luskville Dragway.
BITS FROM THE PITS:FEB 15/2013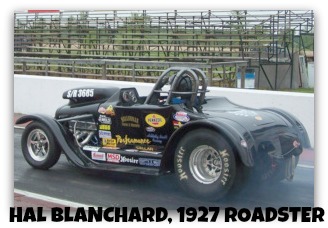 *
Hal Blanchard returns too the race track in full force in 2013 and has become the latest racer to add his name to the August 2nd $20,000. high roller event, which is shaping up to be HUGE. Hal has entered his 27 Roadster too the door side of things and will be gunning for the other competitors in this class. Hal who hails from Belleville and calls Shannonville his home track is a great supporter of Luskville Dragway and the Napa Tour. Hal joins Brad Silverthorn, and Rob Lang on the roadster side of things, taking on some of the best door cars the Napa Tour has to offer.

*
And the good news keeps coming this week as Patrick Alarie will return to action this year after setting out a season, which he will quickly admit was much harder on him than he thought it would be. Pat would come too the track a few times but said that was even harder than not racing, watching others do what he loves to do. Patrick has done a huge number of updates on the car with hopes to move to Super Pro like a few other former Semi Pro drivers, everything will depend on testing as a number of chassis adjustments will have to wait until track time. Patrick has completely redone the wiring with a K&R Super Duty Wiring Kit, added a pro cube delay box, air armed compressor, dual air pro stage, throttle stop, new intake, cam, lifters, springs. Pat has also added his name to the Door Car Challenge at the end of June as well as the Door Side of the High Roller on August 2nd. which really makes this side of the ladder start too fill up fast and makes one wonder if we couldn't hit 32 door cars. Just think 32 door cars and 32 open bodied cars would make first place price money $25,000, once again the destiny of drag racing is in the hands of the drag racers them selves. $25,000 to win just imagine

*
Just so there is no confusion over inter-track dates for Luskville Dragway Drivers with Shannonville and Mirabel please note Luskville Dragway schedule for that information, and please ask any questions at the drivers meetings. Dates for Luskville Dragway drivers at Shannonville are July 6-7, Sept 14-15 (Tour Event), Oct 12-13. Races with Mirabel are May 25,26 and Sept 21-22, we are also working with Mirabel with the hopes of a Napa Tour Event if not 2013 next year for sure.

*
Please note the date change also for the TCP Sport Compact Challenge as it has been moved too June 22nd to accommodate other scheduling. We are doing everything possible to make this a big event along with our Title Rights advertiser, who we will have a special story on in the weeks ahead.

*
Ok folks its here, the biggest practice tree party of all times this Saturday Night at Busters Bar and Grill, join Derek and Troy of Luskville Dragway and many of the racers that race there each weekend. Special Jr. Dragster shoot out, High Roller events, door prizes, and lots of great food and cold beer, BE THERE.
BUSTERS BAR & GRILL THE OFFICIAL SPORTS BAR OF LUSKVILLE DRAGWAY IN 2013:

FEB 15/2013


With this weekends Winter Nationals Practice Tree competition coming up, we felt it was no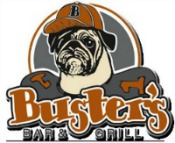 better time too announce the return of another one of our Major Advertisers for 2013. Since taking over Luskville Dragway in 1980 we have always bee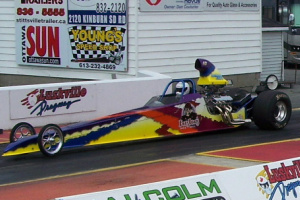 n involved with a sports bar as a back too the Bar Location. And once again as we head into our 32nd year of running Luskville Dragway we are pleased to say that that tradition will continue as Busters Bar and Grill for the third year in a row, as they will be the official sports bar of Luskville Dragway in 2013. Yes going back too 1980 we would go back too the Luskville Hotel, For Years we where involved with Puzzles Sports Bar where the name of "Back to the Bar" really started, back then if you won a race you got your picture put up on the wall at Ed's place, it was called the Wall of Champions". Yes those where very good days and the atmosphere was awesome and that is exactly the feelings you get with Busters, food is good, service is great, parking is plenty and the atmosphere is astounding. Besides being the official sports bar Busters Bar and Grill will also carry presenters rights to the Malcolm Carpentry 2-4 weekend with Title rights to the class's on Saturday. Of course we will be heading back too the bar on Sunday Night for some celebrations and some special fun. And of course you don't have to wait until the back too the bar party too take in some of the good things at Busters as we promote support those that support us at all times. So head out there tomorrow night to what is looking to be a huge event, which means lots of fun, with friends you have not seen all winter, there will be lots of door prizes. Derek is even bringing back some t-shirts compliments of Immokalee Dragway in Florida.
BELLEVILLE STARTER AND ALTERNATOR BEEN BUSY, BUT BACK ON BOARD: FEB 15/2013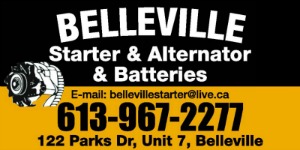 For Hal Blanchard the owner and operator of Belleville Starter and Alternator saying that he is glad 2011 is behind him would be putting it very mildly. Operating a successful business is a full time deal in itself and running a drag race operation as a hobby around that is another full time deal. Coming off a great 2011 which saw Hal peak with a huge runner up at the Elliot Lake Tour event in the middle of the summer, things looked pretty great. However a month later the season came to a grinding halt as after a huge wheel stand at Luskville Hal grazed the guardrail doing significant damage to the little roadster. More work, just what he did need as the business had now out grown its old shop and a move was necessary and was put into place. So with all of that happening the repairs of the roadster was put on second and with not enough time to do it and get the new shop up and running 2012 other than a one ou
ting that did not go the way it was suppose Hal spend the season as a spectator. However with 2012 behind them the new location at 122 park street unit #7 up and running the way it is suppose to be, work was full steam on the car to be ready for 2013. The 27 Roadster was stripped down too the bare bones and reassembled with no bolt going unturned. Hopes are high for a return to pace that Hal was on in 2011 before the accident that "literally" set his racing back a year. The good parts of this story continue as Hal has signed back on board as a associate advertiser with Luskville Dragway and in particular the Napa Tour Event at Shannonville on Sept 14-15th, a drag race that has set all records for drag racing at the eastern Ontario facility. Hal is also proud to announce that they have also launched a new web site
www.bellevillestarter.ca
and would invite everyone to take a visit and check it out. I would also like too mention that besides his advertising commitment Hal quite often will show up with a custom starter to give a way or extra cash for a best light or best package. Yes Hal is the real package and we are very happy that he is back in full force, and wish him all the best in the 2013 racing season.
BITS FROM THE PITS:FEB 8/2013
*
Pat Kohl makes the bits from the pts section again this weekend as he as been re added to the Semi Pro High Roller at this years Bracket Bonanza, and no this does not mean he is just moving back from Super Pro, he will Join Dave Gould as a double entree in both Super and Semi. Pat will really join Gould as they will both drive the same car in the Semi Pro High Roller class as they put forth a team effort to take home a big share of the money. Both drivers are entered in Super Pro Door side and both drivers are entered in the Semi Pro High Roller ladder, it will be interesting.

*
The first sport compact challenge will come on June 8th with two class's being contested, stock sport compact and Mod sport compact which will obviously be a all out anything goes class to determine the fastest import car in the area. Stock will be what it says driven too the track and stock tires that came on the car when it was bought or repla
cement tires that are not of the slick design. There will be a prize purse for both class's as well as awards and our plans are too have more than one of these as we see the increase in all out sport compact modifications, like a number of years ago.

*
We got too take in some drag racing last weekend while holidaying in Florida, and what was great about it was the fact that a number of the guys we race with all summer where also there racing in Immokalee and the double header IHRA Pro Am event. Tom Orr who went too the semis on Sunday in Top Dragster, Jamie Tupper who went too the quarters in both top dragster and top sportsman on Saturday where there. Joe Passero was also there with his wheels up 68 Camaro and did well also, as everyone will agree any drag race is more fun when you have drivers to cheer for. Jim Morrison another Canadian from the East Coast won Super Comp and runnier up in Super Gas, Morrison is an amazing heads up racer who spends most of the winter in Florida chasing the winners circles.

*
You probably noticed that Bill Harling has asked us to hold off on a pic of his car on the Super Pro high roller p
age, well not only will Bill's ride have a new look, but also some new horse power. Look for Bill to install a new Big Block that should make the car much, much faster and will probably qualify Bill for some Wheels Up Wednesday postings.


*

Things are moving along right on pace with the build on Derek Malcolm's new Chrome Worx Ultra Car out of John Parkes Shop in Michigan, this is the new colors, as the dash had to be painted prior to being installed. These colors besides being on the car will be on the shifter, glove box and hand brake, So far so good as we have been extremely pleased with every aspect of the new car construction.


*

ATTENTION ALL YOU DRAG RACING GOLFERS,

as Derek and Troy have put a golf tournament together also for June 8th. A bus will pick everyone up at the track and take them too the course and will bring them back too the track. So the idea is for racers too bring their rigs too Luskville get picked up there, that way no one has too driver " I wonder why". Prizes and awards will be in store and we will have more info on this as we get more put together, the lads will talked to many of you at the practice tree competition.
AUT0VATION
INC. CONTINUES SUPPORT OF LUSKVILLE DRAGWAY:
FEB 8,2013

One of this area's leading performance shops, AUTOVATION Inc located at 507-11 Sweetnam Driver, Stittsville, Ont. just off Hazeldean Rd in Ottawa's west end has singed back on as a leading advertiser with Luskville Dragway for 2011. Derek Lamoureux the owner operator of this very successful business is with out question one of premier car guys in this city, and a specialist when it comes to import performance. AUTOVATION Inc. has been providing great service and exceptional value since October 2nd, 2002. Word of mouth about their tremendous service has brought them up to 8 bays and 5,000 square feet of shop to take care of your needs. Their team includes 8 motivated people: two technicians, Derek and Mike, two apprentices, Shoddy and Jack, our assistants Pierre and Tyler, and one counter person, Dillon. Together they can meet and exceed your expectation in automotive service. Thei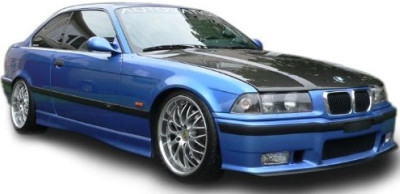 r service team will go to any length to insure a proper repair with an honest price. Autovation is your complete automotive service facility with all the necessary equipment and diagnostics tools to repair all makes and models. Here is just a small list of performance work they can do for you Custom exhaust system installation, bending/stainless steel systems/ welding, Super/turbocharger installation, Controller/ECM Tuning and Installation, Unichip Installation and Tuning just too name a few.

Autovation also provides a host of specialty services from aftermarket exhaust fabrication to performance upgrades. Autovation is able to provide services that not only fit your budget, but also meet your performance goals as well.Owner,

Derek

Lamoureux

is not afraid to get behind the wheel of race cars either as he frequently runs in the Enduro Racing at the local stock car track and can be seen quite often at Luskville Dragway with his turbo charged BMW, which is very, very fast.

Derek and his team are also responsible for many other sport compact cars that race at Luskville Dragway and will play a big part in the sport compact challenge that is coming up on June 8th.

AUTOVATION Inc, will have the title rights to not one but two cruise nights for the 201

3

racing season which are listed in the track section of this web site. For more info on AUTOVATION Inc. please visit their web site at www.autovation.ca
THE AUGUST 2ND HIGH ROLLER'S REACH NEW HIGHTS: FEB 8/2013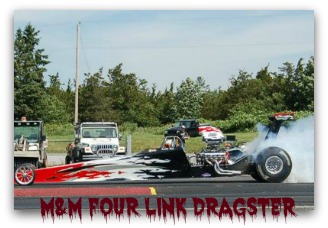 The numbers keep coming in and they keep going higher and higher as we head towards that magical number of 32 cars, don't get me wrong we are a long ways away but we certainly believe we can reach it and we certainly hope we do. Reaching 32 cars in the open bodied side of things means a $20,000. first place prize for the winner if they go on and beat the door car in the finals. It will be the richest purse in Canadian Bracket Racing history and will be worth the price of admission for the 32nd. annual Bracket Bonanza. This week the Ray Bros Construction entree of Al and Becky Ray are the latest too add their name to the open bodied list bringing us too 23 with only 9 spots left too go, and there is easily that many more dragsters around that have not added their names yet. Once again this is a race for the drivers as every penny that the drivers put into the purse goes directly back too them, and lets face it anyone can win, but you have to have a ticket too do that.
Marc Thompson and Darryl Jensen have tickets, as they have added their names too the list of Semi Pro hopef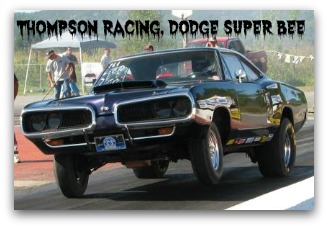 uls that will be shooting for a big win in their Semi Pro High Rollers class. This is two drivers who both have a winning record with Marc and crew chief Claire entering the 2013 season as the defending track champs in the Semi Pro Class. Marc who took over full time driving duties has proved he was and is ready to do that and will be one of the cars to watch. Jensen has a rack of wins under his belt with his Randy's Performance backed Chevelle including championships and tour wins. Also adding their names too the Semi Pro list this week is another top rated driver from this class Ian Gould. The Watts and Gould team have been very strong since coming on the scene a few years ago and last year came into their own proving to everyone that they could take their Ford powered Mustang to the winners circle any time. And the Jrs. High Roller moved too one spot only left with the addition this week of Dylan Wheeler and his silver bullet Jr. Dragster.
.BITS FROM THE PITS:FEB 1/2013
*
There has been some interesting developments since our last posting as we have received word that Pat Kohl is switching his high roller entree from the Semi Pro Ranks to the Super Pro ladder for the Bracket Bonanza. And that this many time winners circle driver has also thrown his hat into the ring of fire at the June 29th. D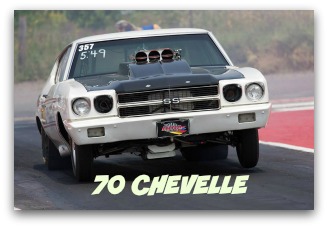 oor Car Challenge which is part of our inter-track races with Shannonville and Mirabel. Pat Kohl has been a main stay in Semi Pro for years now and along with Fred Ellis have been the two drivers who have been considered the best there is in this country when it came to foot brake racing. Pat has tabled in Super Pro once and a while but will now jump in with both feet after acquiring a new race engine that will make the Chevelle run much quicker. We firmly believe that the introduction of split super pro ladder played a part in this decision and believe once again that it shows what a great idea this was and that it will be in the future. We firmly believe this changes the face of drag racing at a local level and that many other tracks have followed suit. We can see the face of things in our sport changing over the next few years and we believe that this switch by Pat Kohl is only the beginning as more door car semi pro drivers move to Super Pro with the split ladder programs.

*
Some regular Luskville Dragway and Napa Tour competitors will be racing at Immokalee Dragway in Florida this weekend so we will try and get some pics and info up too everyone as we get it, so stay tuned to our facebook page for updates.

*
With the Door Car Challenge taking place on Saturday, June 29th prior to the regular Super Pro, Semi Pro Enter Track points races, we are lo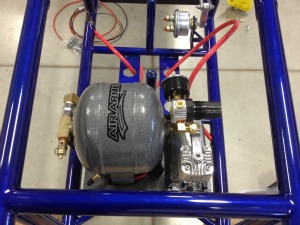 oking very seriously at a high roller open class for dragsters and altered's. We will be talking with some drivers over the next couple of weeks to get an idea of what they would like to see, before we kick it into high gear, but our plans would be to run both prior too the actual po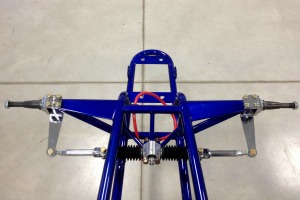 ints races.

*
Last this week we bring you a couple more pics from Chromeworkz Ultarcars and the build for Derek Malcolm's new Top Dragster, this will be something we will bring to you each week, if we have something new too High Light one of our Advertisers. Many more parts arrived this week and he installation of the K&R on board compressor was done as well as some of the many chrome front end parts where installed. Completion is not until April 2nd so it is going to be a long process, but we have been kept informed of every advancement on a regular basis.
WINTER NATIOALS PRACTICE TREE COMPETITION BUSTERS BAR AND GRILL FEB. 16TH @5:00 PM "BE THERE"
D&D PERFORMANCE HA

VE

LEAD THE WAY IN DRAG RACIN

G

LOCALLY BEFORE LUSKVILLE DRAGWAY:

You will here us from time to time mention the pioneers of drag racing in our area, going back too the days

well

before Luskville Dragway was

even

buil

t

in 1969. Two of those individuals are the owners of one of the leading performance engine building shops in Ontario, Rolly Doucette and Ed DeCooman (D&D Performance) have been drag racing and building engines since 1968. Starting out in a Fina Service Station in Hull,

and

then moving to a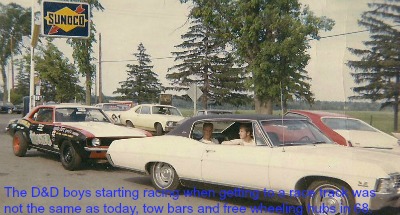 Sunoco Gas St

.

ation in Gatineau the duo's first venture into the drag racing world was in a 1968 Camaro that ran in the Super Stock D class, yes back in the days when most drag cars ran standard transmissions. With the winning ways being noticed on track Rolly and Ed quickly started a performance customer base as they moved to a 1969 427 powered Camaro that on

c

e again competed in the Super Stock D class where they promptly qualified 15th out of 48 cars at the US Nationals in Indy. The team also competed in the eastern Canada/US Super Stock Circuit that was huge back in those days and wound up finishing second in the series where Rolly was voted Driver of the year. In 1970 they opened their D&D Performance Shop working and in most cases driving customers cars including a 1969 Nova in A/Stock, in 1971 they would compete with a Hemi Duster out of Labonte Chrysler competing in the C/Gas class and winning their share

races

over local and national competitors. Back then the car dealers

where

right into the sport as they felt what won on Sunday sold on Monday so times where good, and more and more customers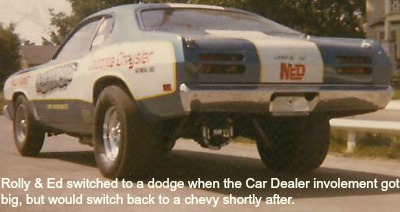 started to depend on D&D Performance. In 1972 The D&D Boys went back to a SS/D Camaro that was a customers car, but in the end Rolly and Ed ended up buying it, the trailer and tow vehicle and kept on racing. Right around that time things where getting busier and busier at D&D

,

so it was decided that they would move the shop to Ontario and its current location in Chesterville, Ontario. During this time the car was switched too A/MP and sold to a customer so the boys could concentrate on the move and getting established in Chesterville. Ironically the Camaro would resurface at the hands of Ron Atwill who would become a customer of D&D and Ronny would race the car at Luskville Dragway for many years. In the later years after moving to Chesterville they would also campaign and establish themselves as people that new how too make a Buick Run. After Ed's Brother had them build one (yes the same brother that is returning too the sport with his two daughters in jrs. this season) and before long they had taken it over. They set numerous records with the car at NHRA events running 1/10ths below the current records, making it a hot commodity and sell it they did. The Atwill connection would show up again after Ric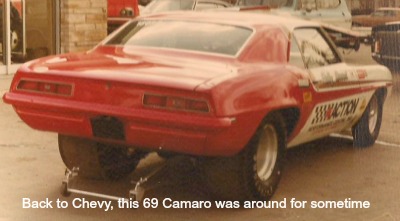 k Atwill would purchase a ex pro stock Camaro that Rolly would once again be tagged for the driving duties. The racing played a big part in the building of their business, but as the demands of the business grew the time too race grew less. Today their state of art shop in Chesterville, Ontario is home to some of this area's best racers, as well as racers from all over Ontario and Quebec. Equipped with a dyno

,

each and every engine gets its time on it before it ever leaves the shop for competition. The wins have been many for drivers like Derek Malcolm, Troy Davis, Russ Adams, Al & Becky Ray, Jamie Tupper, Paulo Giust, Darren Frasso, Mike Chenier, Willy Katib, John Forsyth, Julie Dube, and Grant Honeywell just too name a few.
These days also

,

Ed DeCooman finds himself at the race track with his grand kids tuning and crew chiefing on the Jr. Dragsters they run, taking this half of D&D in a full circle and back too the track each and every weekend.
MORE AND MORE HIGH ROLLERS AS WE INCH CLOSER TOO THE MAJICAL 32 CARS: FEB 1/20
13

It will take the help of everyone but we really feel we have a great chance to hit the 32 car open field for this ye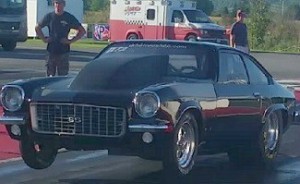 ars Bracket Bonanza high Roller Event August 2nd. of 2013. And with the addition of Willy Katib this week we have inched ever closer to the magical number of 32 which will give us the richest purse in Bracket Racing History in Canada, something we are going to try very hard to hit. We have also been able to add a Wally to the winner of this special race which has become part of the Oldest and Richest Bracket event in this country and a race that attracts drivers from all over. Willy Katib who runs out of the D&D Performance Shop in Chesterville became a lot more competitive after the purchase of his new Undercover Dragster in 2012, and will be one too watch in his first ever entree into the High Roller Event. We really hope that all of the remaining open bodied car owners will step up and help us plus all the current entree's make this happen.
We are also very pleased to announce that one of the very best Super Pro Door Car racers out of the North, Dan Allard has thrown his name on the door car side of the ladder for the August 2nd. event. Dan who was one of the original drag racers out of the North going back too the days of Earleton, spend some time in Semi Pro where he won his share of races and then moved to Super Pro with acquisition of his new Chevrolet Vega, where he has also been a winner
a number of times. Dan who hails from the North Bay area was also a key factor when the airport event was brought too that city, and has been someone who has also traveled to Luskville Dragway on many occasions to take part in the drag races there. This entree along with the earlier mention Pat Kohl entree brings our number's too 14 on the door car side of the ladder, which we should have no problem in filling out, so if you want too be part of this event then get your name into us.
The Semi Pro ladder had some significant action this week also and it too is filling fast as we have two new entree's to announce this week, and we know of at least 3 more commitments too be announced in the weeks ahead. This is with many of last years big name drivers not getting their name on it yet. Dave Gould has replaced the loss of Pat Kohl as he is committing to running his Volvo Semi Pro, Small Block Powered race car in that class, like he did last year at Shannonville and where he went on too win the class. Dave is joined this week but former Rookie of the Year driver Laura Lapointe of Pembroke and her low rider Dodge powered Duster. Laura is one of a number of females who have already thrown their names in the High Roller Hat making for what is sure too be a very, very interesting Friday afternoon, evening at this years 32nd. Annual Bracket Bonanza.
We can also add Kevin Morrow to the June 29th Door Car Challenge Event which will feature one the richest door car purse's of all times and the richest purse for a bracket racing event of this type. Kevin who is the door pro points champion for the past two years at Luskville Dragway is a familiar face in the winners circle and is a driver to keep an eye on for sure. This numbers have been slow coming in for this event but we fully expect that too change as the Inter Track weekend with Mirabel and Shannonville nears. We do have some more advertisers to add to the list but are hoping to get the numbers up before we do that, in an effort to keep the off season snow ball rolling.
ELLIOT LAKE NAPA TOUR EVENT TO LEAD THE WAY AGAIN IN 2013: FEB 1/2013
If you look on a geographical map you will see that Elliot Lake is right up there in Northern, Ontari
o, but if you look on a drag racing map, its right at the TOP when it comes too putting on a great drag racing event. So as we head into the 14th year of this race in the small northern community, the drag racing committee is hard at work to make sure that once again they out do them selves from previous years. Headlining this years event will be the return appearance of Rick Kopp and his "We Install it" race team out of Southern, Ontario. Rick will be stepping it up again this season as not only will he be bringing Buffalo, New York's Dave Levearnace and his equally wild, Blown Super Charged Dragster, but 2013 will see Rick also bring his Nitro Nostalgia Funny Car. These show cars are only part of the show as "Diesel Dave" will be back with his Nostalgia alcohol funny car, Nitro Mike and his awesome PT Cruiser Wheelstander, Stunt Bikes as well as the always present Jet Cars. This is just part of what is being worked on as this
years event is set to once again set all kinds of records, and attract cars from all over our country and the US. The race is the envy of many full time race tracks as over 400 race cars and spectator numbers that out do many full time facilities. Yes Elliot Lake has always out done a job that is better than anything, any where, how many people remember the year they actually had fairies wheels and merry go rounds. There is also some new attractions that will be added and will be very kid oriented to make the younger set something different and entertaining to take part in also. 14 years and still counting certainly says it all to what many would have said could never happen when it was thought of back in the late 90's.