RACE NEWS 2014
COVER SHOT: THE WIDE ANGLE PHOTO GIVES YOU A SMALL IDEA OF WHAT TYPE OF CARS COME OUT OF AUTOVATION INC.

BITS FROM THE PITS JAN 30/2015
*
The winter racing series will begin seriously in Florida this weekend as Bradenton Dragway kicks things off with the Street Car Nationals and I will try and get my first winter fix of the sport we all love. Plan on taking in this event for the first time and hopefully will have some pictures next Friday. Word has it that Jamie Tupper and others from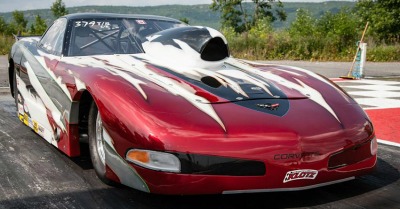 up home will make the annual trek to Immokalee Dragway the following weekend (Feb 6-7-8) for the IHRA double header kick off event. Racers like Jamie Tupper and Joe Passero have made this a annual thing over the years and wish I would have been able to make that race but will not be able to this year like we have in the past. Tom Orr is hoping to get some runs in the weekend of Feb 13-14-15 as he heads to Orlando Dragway to take in the first NHRA Points Meet of the season. With lots of emphasis being put on Top Dragster and Top Sportsman with NHRA in 2015 this will probably be a big event for Shawville's Tom Orr Racing. The NHRA Points race is also an event that many other's from our part of the drag racing world tend to attend also, so it will be a big outing for Canadian Racers in the sunny south, Gators only a month awa
y.

*
The off season is never quite, maybe not as loud as a drag strip in the summer time, unless you happen to have been at West Carleton Automotive this past week when some dyno runs where taking place. In particular when Ralph Coe's 622 cu. in. Dodge went on the dyno as it nears conclusion and time to be installed into Ralphs Dodge Polara which lots an engine at last years Fall Bracket Finals. Ralph is hoping for a full season this summer and hopes to lay down some fast times with the new combination. Ralph and his 1964 Dodge Polara is a popular car especially amongst the Dodge Boys, and Girls, you just don't see that many cars like this one at the drag strips any more, so we are very lucky to have it as part of the Luskville Dragway contingent.

*
Even though it is a couple of months away, we would like to once again inform all of those planning on attending this years drivers meeting at Busters Bar and Grill, that it is April 11/2015. We would also like too inform all, that everyone purchasing their membership for the Napa Auto Parts Track Series 2015, at the drivers meeting will also receive a complimentary NHRA souvenir race cap. There will also be some special draws for door prizes making for a fun afternoon for all.
AUT0VATION LEADS THE WAY IN INOVATION AS WELL AS GENERAL REPAIRS: JAN 30/2015

Derek Lamoureux is not just the owner of Autovation Inc he is a hands on technician who makes sure everything leaving the shop in d

one right and the costumer is happy with all aspects of the work. Autovation is your complete automotive service facility with all the necessary equipment and diagnostics tools to repair all makes and models. Their service staff will help you plan for your automotive service needs and place you in the right direction. They appreciate your feedback on their services so please feel free to e-mail them at

info@autovation.ca

This e-mail address is being protected from spambots. You need JavaScript enabled to view it

or call them at 613-831-8714 with any concerns you may have. Autovation Inc. has been providing great service and exceptional value since October 2nd, 2002. The exceptional work that comes out of the shop has brought them to 8 bays and 5,000 square feet of shop space. The team includes 6 motivated people: three Class A Licensed technicians, Derek Lamoureux, Lee Barnes and Cory Smith

, and

Dylan Buch, who sits at the service-counter/front-desk. In the background, our office managers Krystina Harris and Sean Gilchrist keep the paperwork flowing. Together they can meet and exceed your expectation in automotive service. Our service team will go to any length to ensure a proper repair wit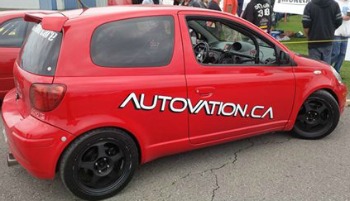 h an honest price. Autovation provides a host of specialty services from aftermarket exhaust fabrication to performance upgrades. Autovation is able to provide services that not only fit your budget, but also meet your performance goals as well. Derek Lamoureux is also an innovator when it comes to pushing the bar when it comes to performance and can quite often be found testing his work at Luskville Dragway or other motorsports venues in our area. Near the end of 2014 Derek showed up with something really different, a 2005 Echo with two yes two 2.0L MR2 JDM Motors, with a Six speed, LSD, Turbo'd Front engine air to air intercooler, and quickly went out and ran a 1\4 12 sec, 113mph pass. Yes this is a shop that is more than your average shop and is definitely run by car guys. Autovation Inc will once again be involved with Luskville Dragway as a major advertiser and a big supporter of the very popular cruise nights of which they will host two in 2015.
DOOR CAR HIGH ROLLER FOR THE BONANZA GETS SOME BIG NEWS: JAN 30/2015
A lot of information lately has been centred around the Big Dog Shootout at this years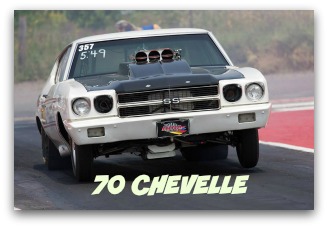 Bracket Bonanza and the Big Bucks Semi Pro race at the Malcolm Carpentry Opening Weekend. But don't think for a moment that we have forgotten about the Door Car High Roller which is also part of the 34th Annual Bracket Bonanza as this weeks new entree's shows loud and clear. Leading the door car contingent is Roch Beaudion of North Bay who is a fairly regular racer at Luskville Dragway and has been too the big dollar pay window a couple of times. Roch and Nancy follow the Napa Tour and take in as many races as they can over each season with Luskville getting most of those visits. Beaudion's Pro Stock Style Camaro is one of the fastest door cars at the track and lays down straight as an arrow pass, time after time. Another d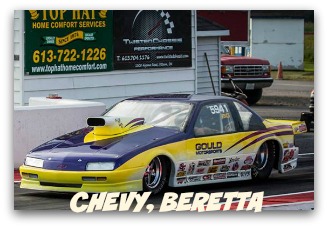 river who runs a very fast door car that looks very much like a pro stocker is Dave Gould of Kingston, Ontario, a driver who is long over do for a BIG Dollar payout. Another driver who is certainly no stranger to the Luskville Dragway and has enter the competition is Pat Kohl of Killaloe, Ontario. Considered one of the very best foot brake racers during his time in that class, Pat was one of those drivers who give Fred Ellis a run for the money every time they raced together. After moving to Super Pro two years ago the same success has not happened, at least not yet, as Pat has spend a couple of seasons making more than one change to his very, very familiar white Chevelle. However in the second half of last season everyone could finally see that Pat and his friends where getting a handle on the high horse powered car and rounds where starting to come his way. Predictions are that 2015 will be the year that Pat gets back too his winning ways and that is not good for the competition at all.
FLASH BACK FRIDAY, THE TUPPER RE-BUILD BETWEEN ROUNDS A BIG HIGHLIGHT OF 2014: JAN 30/2014
We are going too try and do this type of article as often as we can, as long as we can find pict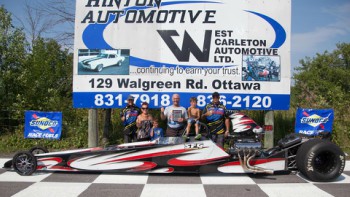 ures to go along with the story, so with that in mind we bring you our first " Flash Back Friday" article.
With word that Jamie Tupper would begin is 2015 Drag Racing season very shortly, it was easy to think back to one of the most interesting highlights of 2015, the between rounds rebuild of Tupper's Dragster at last years Bracket Bonanza. It has been documented on here many times on how many big wins Jamie Tupper has under his belt, but I don't think no race was as exciting as the 2015 Super Pro Bracket Bonanza event. Even though Tupper would ultimately have too settle for the runner up spot, getting to the finals was the kind of story that drag racing is made of, and the kind of commodore that exists at Luskville Dragway. After winning his round in the quarter finals, Jamie would realize that the gear set in his dragster rear end had broken, as he pulled from the ticket booth he immediately pulled into the ADM Motorsports Pit area. Once there and word went out that he was in trouble, many a fellow racer quickly went into action to repair the car and get back in the lanes for the Semi Final round with the Angers from Montreal. This was not an easy task as the picture well shows, as the entire rear-end was removed and a new one installed. Well with at least a 12 drivers doing everything they could to get Jamie ready, ready he was and on time to take the semi final win and move too finals. And even though this incredible story did not have the ending that Jamie would have liked, as Randy Urslak would take the win in the finals, this was certainly one of the stories that stood out from the 2015 season. It showed the determination of a racer and a group of racers who all helped make it happen, and helped write a piece of history at Luskville Dragway. They say a picture is worth a 1000 words and I think this picture speaks for itself.
BITS FROM THE PITS JAN 23/2015
*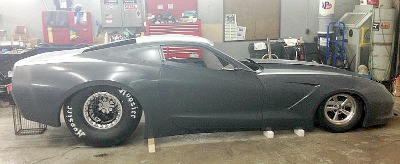 We lead this weeks Bits from the Pits off with a shot of Paolo Giust's brand new G-Force Race Cars Pro Mod Corvette, and it is a beauty, it looks fast just sitting there. Paolo is another of the many local racers who have grown up and honed their skills at Luskville Dragway, and gone on to succeed at other levels of racing, either at NHRA, IHRA, PDRA or other professional circuits. And like some of those that have, Paolo has never forgotten where he started his drag racing career, and still does race (top dragster) to this day as he comes to Luskville when he can to run his dragster or help his boys run their cars. Paolo and wife Shannon are also major advertisers with Luskville Dragway through their "Chew That" pet care stores. The new car will be painted Black, of course, and plans are to be out as soon as possible with the April date at Rockingham their goal for the beginning of the PDRA Pro Mod Season.
*
And although this next story is not about a new car, it is about a former Luskville Dragway Car that was a regular at the track and is being reborn with the hopes of making it back too the track sometime this summer. The former Super Stock GTO was a regular and competed on a regular basis well into the 80's, but was then sold and kind of lost. When the car was discovered you can tell by the pic on the right, that it was in bad shape, however it started right up and was runable. It will be a very interesting day when this car makes its way back to its home.

*
As we kept telling people all of last year, "the face of motorsports is going to be different in the years ahead" and another example of that this past week as one of the most successful stock car tracks was sold and will be closed. Barrie Speedway is the latest to fall by the way side and it wont be the last race track to do so, as it gets harder and harder to vi for spectators who have so much to choose from these days. Last year alone, 10 paved short tracks closed in the state of Indiana, not a good sign with such a large population base, unlike us in Canada who dont have any where near the demo to draw from. http://www.ontariooval.com/?p=37085
CLARMO AUTO REPAIR STANDS STRONG WITH LUSKVILLE DRAGWAY IN 2015: JAN 23/15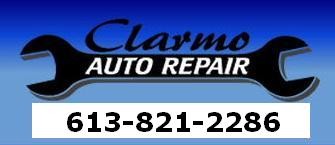 Once again the financial involvement of Luskville Dragway racers, who own successful business's is front and centre as Jamie Clarmo owner of Clarmo Auto Repair has signed on for the 2015 racing season as a major advertiser. Clarmo Auto Repair which is located in Metcalfe, Ontario is a full service Napa Auto Pro Center which takes care of all of your automotive needs. Bringing years of expertise to the shop each and every day is Jamie and his staff, one of which is another regular Super Pro Racer at Luskville Dragway (Randy Bellefeuille). The day to day general repairs get the same attention as does the 200 mile an hour race cars that these technicians drive, which means they get the very best service around. Jamie Clarmo the owner of the shop is a veteran Drag Racer who has won more than his share of BIG races, as well as many regular weekend battles. The Family which makes Luskville Dragway their cottage most weekends do so like so many other families that come too the track, the entire family, including the pets, a motorhome and a camp site like a camp ground, which quite often has a number of quests. Jamie's young Steven is also a NHRA Drag Racer and has done so for a number of years in the Jr. Dragster Class, but what he will do this up coming season is still up in the air, as Steve has grown a lot more than expected over the winter and they are not sure if he will be able to get back into the Jr. Some talk has been floated around that he might make his way to Semi Pro a little earlier than expected, which could add a whole new demission too what is already an incredible Jr. Dragster Graduating Season. Besides running a successful business, and running two successful drag cars Clarmo does even more as when ever he is called into duty he is a member for Paolo Giust's Chew That Pro Mod team which sees them travel all over, Ontario, Quebec and the US. So as you can see this is a very sought after person, whether you need your grocery getter fixed, or your Pro Mod maintained, Jamie Clarmo can do it all.
ELLIOT LAKE SET TO ROAR FOR THE 16TH YEAR IN A ROW, NITRO COMES TO THE NORTH: JAN 23/15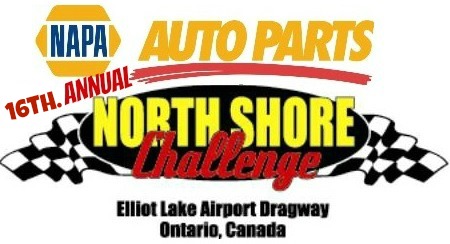 People often ask me when they find out that I have been doing this drag racing thing for some 40 years now, how do you keep doing it, over and over, doesn't it get boring, and of course I answer HELL NO! And I think last season when we pu
lled into Elliot Lake to celebrate their 15th year of producing what many call the most successful Airport race of all time, it hit home loud and clear, I still love this stuff. And the 15th annual was exciting and nothing more exciting than have for the first time ever a full fledged TOP FUEL Car being part of our show. Smax Smith was incredible, and the smell and the sound of a Top Fuel car blasting the air and the excitement you could see in the fans drove home just how great this sport of NHRA Drag Racing really is, and why you never get tired of it. Well once again we head back to Elliot Lake for the 16th annual Napa Auto Parts North Shore Challenge, and once again I feel the excitement already. A race that many could not believe it even happened back in 1999, but a race that has survived, grown, and prospered over the past decade and a half. For Many Racers Elliot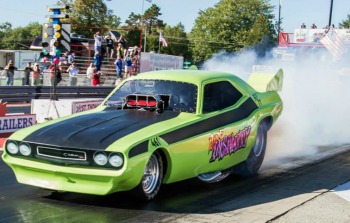 Lake is what they call the Christmas in July trip of the Napa Auto Parts Tour, and for many from Southern, Eastern and Northern Ontario, as well as a few from the US it is a race they would not miss. The event which takes place on July 17-18-19 will once again feature some of the biggest paying bracket purses in Canadian Drag Racing, some of the wildest booked in feature attractions, and an atmosphere that is duplicated by no one and no race track any where in the country. Once again returning to being part of the entertainment package will be the incredible Jet Trains of KC Jones, this show alone is worth the price of admission. Besides the Jet Train KC also brings along his Wheel standing Train which the fans loved last season.
A LARGE GROUP OF JR. DRAGSTER GRADUTES LEAD THE SEMI PRO CHARGE THIS WEEK:JAN 23/15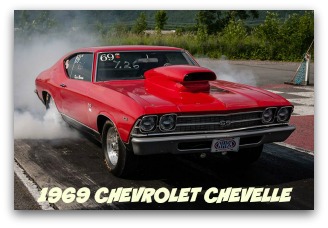 Could this be the break out year for Semi Pro, some think so, and so do I as we hit 20 early entree's for the Big Buck Semi Pro race at this years Malcolm Carpentry Opening weekend May 16-17. Yes there has certainly been a lot of excitement surrounding Semi Pro with the all the good news announcements concerning the raised TDL TRUCK REPAIR Points Fund, the Fireball Trans give away, and even more to come later on this season. So it is not really a surprise that we are doing so well with early entrees for the first weekend of racing in the 2015 season. Some rookie drivers make the list this week, and they will have some even more big news to digest in a couple of weeks, and some seasoned veterans make up the top 20 already committed too the event. The young lions lead this weeks parade as 3 of the six entree's are Jr. Dragster Graduates who are moving up to Semi Pro in 2015, and who will be racing all season for something special as well. Chevy Morrow the s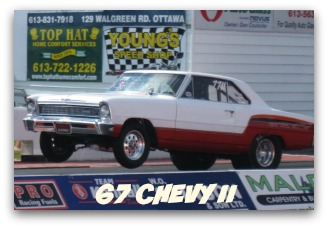 on of Kevin and Trish Morrow of Carleton Place started his learning session late last season and showed immediately that he was not going to take long to catch on too the door cars and semi pro racing. Chevy went a number of rounds at a two day event near the end of the season showing he was ready for his Rookie Year in 2015. The second former Jr. Dragster pilot to put his name on the Rookie's list and the May 17th. list is Dan Pillwein who is also a second generation drag racer, following in his father Rai Pillwein's foot steps. Dan who like Chevy, got a few races in last season but did not get enough events in to stop him from competing as a Rookie in 2015 along with a number of other drivers. Pillwein will of course compete in what many call one of the nicest cars at the track, the families 1967 Chevy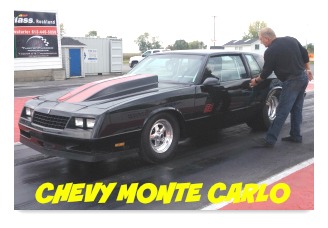 II. The Newest Jr. Pilot to make the jump, and the one who will come into 2015 with the least amount of testing is Dylan Wheeler, who will compete in a Monte Carlo in 2015. Dylan did manage to get a couple of weekends of testing in before the track closed last fall, but did not get any actual competition under his belt. But if his test sessions are any sign this young man will be very competitive in no time, and will be part of what we believe will be the best year ever for Semi Pro. The Driver's who gets us to 20 cars kicks off with veteran Luskville Dragway campaigner Jim Hewitt and his trusty and true 66 Chevelle. The West Carleton Powered Chevelle has been a staple at Luskville Dragway for many years now, and the Hewitt Family continue to be a large part of most race weekends. Two Northern drivers who we will have some more exciting news to report on in a week or so take us to the Magical 20 cars are Robert Ferguson and Collin Petersen currently of Wawa, Ontario. These two drivers are another perfect example of the great things airport races have done for the sport of drag racing. Robert will be running his trusty Trans AM while Collin will have the new corvette ready, if all goes well to replace the Camaro of last year. The race which we hope will hit 32 cars could set the standards for Semi Pro racing in the future so there is no doubt that being part of it is important if you are someone who wants Semi Pro and Foot Brake Racing to grow. The excitement that surrounds this race reminds of the first ever door pro race we held 5 years ago which saw over 32 cars make the call for the event held the same weekend as this first big dollar Semi Pro event will be held.
BITS FROM THE PITS JAN 16/2015
*
The Semi Pro Big Bucks Shootout has kind of stalled out around sixteen, I hope this is just a blip in the action as we try real hard to make Semi Pro a much better class in 2015, but we will need everyone's support to do so. Semi Pro has asked for more attention, and I think we have shown we are going to do that, but if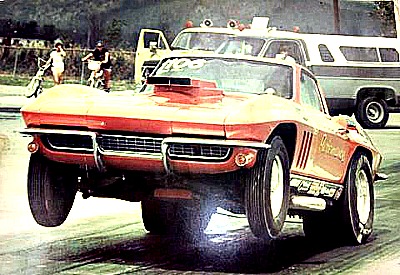 you are a Semi Pro driver, and you want to see bigger and better things for your foot brake class then you need to get behind programs like the May 17th. Big Dollar race.

*
We announced last week that there was some exciting news coming for graduating Jr, Drivers in 2015 which will include drivers like Chevy Morrow, Jacob Wilson, Dylan Wheeler, Randi Lyn Urslak and Rachel Ogilvie. But also coming in the weeks ahead some great news for the Jrs who compete on the Napa Tour Jr. Series which will include May 16-17, August 1-2 and Oct 10-11 at Luskville Dragway, as well as July18-19 at Elliot Lake and August 8-9 at Wawa, stay tuned.

*
We are adding anoth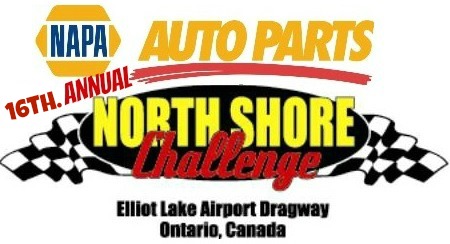 er pic from the past to our "Blast from the Past" section, Danny Pantuso who was a regular back in the 80's drove this wheel standing 65 Corvette at Luskville Dragway. The car was a fan favorite and could be seen almost every weekend. Danny was a regular back then, also opened Pantuso Performance Speed Shop back then, these days he rides around in a Ferrari, and continues to run is Napa Auto Pro Service Centre in Ottawa.

*
We have been getting a lot of questions about the dates of the Elliot Lake Napa Tour Race, please note that JULY 17-18-19 are the dates that have been posted on our web site, and these are the confirmed dates for this event, we will have a full write up in the weeks ahead so stay tuned as all details are finalized. Just remember its only 8 hours to Elliot Lake to race for some of the biggest prize money in Big Dollar Bracket Racing. Look for their web site to also have plenty of updates over the next little while.
EXTREME AUTO CARE & PERFORMANCE RETURNS FOR SECOND SEASON: JAN 16/2015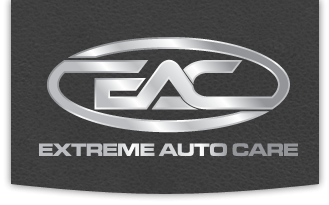 EXTREME AUTO CARE & PERFORMANCE located at 1439 Youville Dr. Unit 8, Orleans, Ontario. This is a company that can take care of just about any of your automotive needs, from performance builds to general repairs, from custom detailing to winter rust proofing

...

,
from custom detailing to custom exhaust. Yes you might call this shop the big box store for cars as once you visit you will quickly see that any part of the automotive business can be taken care of it right here. Extreme came on the scene last year with Luskville and made quite an impact as they had one of the biggest cruise nights of the season which saw tons of money and awards given away which they plan on continuing in 2015. This is also a company that owners g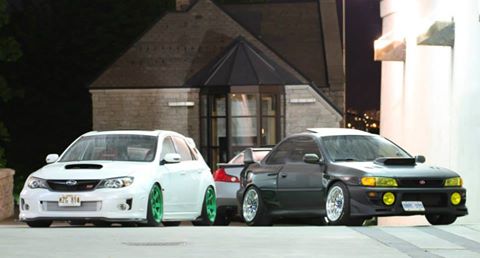 et very involved as Will and Sharon both where part of the big nights at the track and without a question I think it would be safe to say that this year's will be bigger. The winter time see's this shop just as busy as the summer and car season with auto starts, heated seats, rust proofing and of course performance stuff that some like to get a early start on the spring with. We are "EXTREME"ly pleased that Extreme Auto Care and Performance has signed back on for not one but two Cruise Nights and also the possibility of being involved with our year end Spooktacular Cruise Night Saturday Night as well. This company puts a ton of time, effort and money into making their cruise nights special and last years events where prime examples of this.
BIG DOG SHOOT OUT REACHES 16 CARS EARLIER THAN EVER LOOK OUT 2015: JAN 16/2015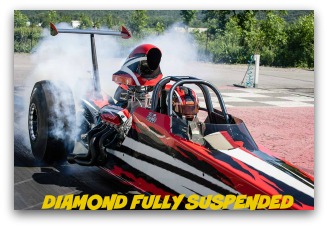 You can tell that everyone is anxious for spring, and if the barrage of entree's this week for the Busters Big Dog Shoot Out is any indication they are more anxious than ever. Leading the way to what is our earliest ever to hit the magic sixteen cars his the Angers Bros of Montreal, two drivers that are no strangers to Luskville Dragway and certainly no strangers to the winners circle at the Western Quebec Track. Fred and Frank Angers run one of the winningest teams of race cars in this country and everyone knows when they pull in they pull in too win. Fred Angers is the 2014 Series Trailers Montreal, and he along with his brother are quite capable of winning the big one anywhere they go. The Bros who campaign two brand new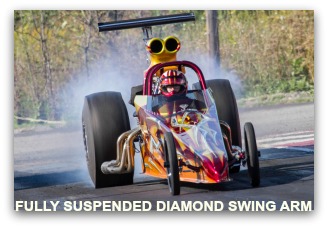 and almost identical Diamond Dragsters have shown time after time they are set on win mode all the time. Joining the Angers is another driver who has a winning combination and history as well as a number of track and tour championships to back that up. Renfrew, Ontario's Kyle Jessup a second generation drag racer will be doing double duty at the July 31st Big Dog Shootout as not only will he be driving one of Mike Ogilvie's entree's but he will also be driving the family Undercover Dragster as well. Kyle has won just about everything you can except the Big Dog Shootout so this could be the year when he adds that title to his list of accomplishments, considered one of the best drivers out there look for Jessup to be contender in both entree's. Denis Souliere will complete the top sixteen this week as he too will bring his brand new Diamond Dragster to the party with the hopes of taking home the golden ring. Denis is another driver who has won his fare share of races and knows his way quite well to the winners circle at Luskville Dragway and would like nothing better than too add a Diamond to the ring of gold at the Busters Big Dog Shootout. With many local drivers still to add their names to the list of drivers it is quite easy to see that this years event could quite well be the biggest ever, and that is good for the event and good for the sport.
AIRPORT EVENTS H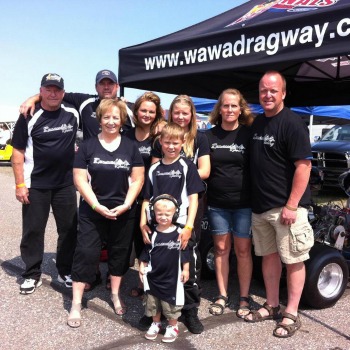 AVE CREATED MANY DRAG RACERS AND STILL DOES:
JAN 16/2015
When we started airport drag racing events back in 1995 in the small town of Earleton, Ontario I don't think anyone would have even imagined what kind of impact it was going to have on the sport we love so much. Yes there was some drag racers in the North who would travel to Luskville Dragway when ever they could, but today there is 100's of drag racers, and drag racers who can win where ever they go. The evolution of the cars and the equipment is something we have talked about over and over but it has never stopped, and every time we moved to a new town with a new race more local people would get involved. From Earleton, to Kirkland Lake, and then North Bay it was obvious to see the growth, and this was good for everyone in drag racing, as many cars and equipment was bought by the growing numbers in the North. Next was Elliot Lake where when we arrived there in 99 there really was only Bruno Serre in Blind River a little town down the road and today there is a dozen or more drag cars in a retirement town of 12,000. Then it was on to Wawa, where there was a very small contingent of racers who would travel to other places, but here too the trend would continue with one after another new face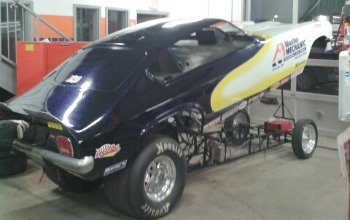 s joining the drag racing community. The impact of the airport events continues to show its stuff with growth and no one family is a better picture of this than Ray and Jody Renaud of Wawa. First it was one Jr. Dragster, then it was two, then it was a new Jr. then a Maverick Semi Pro, then a Super Pro Altered and Now a Vega Econo-Funny Car has been added to the stable. Yep Ray and Jody have bought the Vega Funny Car the Perry Carey had for sale in Southern, Ontario with the plans for Jody to get her drag racing feet wet this spring, starting the Long weekend in May at Luskville Dragway. Power will come from a Collin Peterson prepared small block Chevy, which will be driven through a two speed power glide transmission. The Little Vega is something very much different that what most have and will be a welcomed addition to the local sport and the Napa Tour.
BITS FROM THE PITS JAN 9/2015
*
Once again we want to remind everyone of a few things, The Busters Bar and Grill Winter Nationals Practice tree competition with prizes like no other year, getting your name on the May Big Bucks Semi Pro R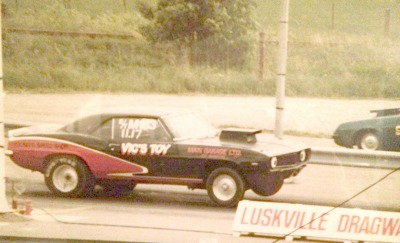 ace, show you want semi pro to grow, and of course getting your name on the High Roller events at this years Bracket Bonanza.
* We are adding a new addition to the "Blast from the Past" gallery page of this web site, as we continue to never forget where we came from, and where we are going. Back in the early 80's first generation Drag Racer Vic Miron was a regular at Luskville Dragway, first with a Camaro that was called black rat" and then repainted to look like it does in the picture. Vic along with Ray Lehouillier owned and operated a service center on Richmond Road which was called V&R Service Center, which could be seen on a couple of Arnie Malcolm race cars. Vic and Ray where very helpful with a number of racers, including my self, and also gave birth to some second and third generation Drag Racing people. Tim Miron who drove for ADM Motorsports and continues to this day to work the stating line at Luskville Dragway on Major Events, and Terry Miron his brother who drives a rear engine dragster, which HIS son Justin also some times drives. This is a family who continues to this day to be a big part of NHRA Drag Racing and is a perfect example of our history and how generations continue to be drag racers.
*
Here is a sneak peak at the new colors of one of our regular Dragster Competitors at Luskville Dragway, the car is not completely done yet but you can see by this little peak that it is going to be pretty cool looking. The new look for this new car is really going to turn some heads, and the owner has a couple of other surprises for everyone come spring time and opening weekend. We will have a full blown picture of the new paint once the car is completely done, engine is back in and you can see the whole picture.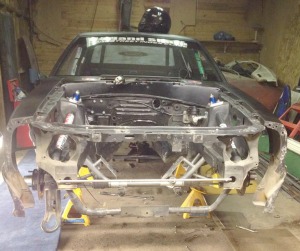 *
And continuing with that thought of upgrades Patrick Alarie called to let us know that he is doing a major do over on his Super Pro Mustang in an effort to be even more competitive in 2015. Pat is a member of the door car side of things at Luskville Dragway and is upgrading the cage of his mustang as well as new floor pans, and firewall. Patrick does all the work himself and as the picture shows he is well underway at his Luskville, Quebec home. Pat is also scheduled to see some Semi Pro competition in 2015 wheeling Chris Collins Dodge in that class when ever possible.

*
This just in as we go to print (or publish) so too speak, a three car Northern, Ontario drag racing team moving to our area and will call Luskville Dragway home. This would be a permanent move with them opening a business and calling this area home. In this business of running a drag strip, if one new car moves to the area and joins our family it big news, but when word that a three car team is, that is HUGE news. This would add at least two super pro and one semi pro to our regular race days which it don't take a genius to figure out, is great.

*
Some HUGE NEWS coming for this years Jr. Dragster graduates!

*
Coming to a track near you: https://www.youtube.com/watch?v=NqN09e3HJLY
SPEEDY GLASS CONTINUES ITS STRONG SUPPORT OF LUSKVILLE DRAGWAY IN 2015: JAN 9/15


Dan Couturier was a busy man last summer, in fact for the past two years, as he finished up the construction of his new Speedy Glass Rockland Shop and got ready for the grand opening in the summer of 2015. But even during the sale of his Gladstone Ave. Store, to the opening of his new shop in Rockland one thing stayed the same, his advertising support of Luskville Dragway. Even during the time when he did not have the new shop open and was in the process of building the new shop he continued to be a major advertiser at the NHRA Sanctioned Drag Strip located just 20 minutes from Ottawa, in Luskville, Quebec. Dan who has strong ties to Luskville Dragway now operates one of the nicest shops in this area and is working hard at building up his client list in his new location a few miles east of Orleans. He is also an avid Harley person and always has his bike at the track when Speedy Glass Rockland Cruise Nigh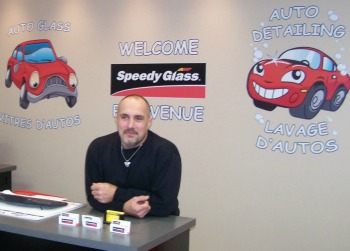 ts roll around. This outing usually includes his father who was one of the original drag racers at Luskville way back, in fact Dan is restoring a 1969 Firebird as a tribute to his fathers drag racing days at the track. Dan's support for this area's motorsport crowd doesn't just contain Luskville Dragway as a couple of regulars and regular groups at the track have also always benefited from the support of Speedy Glass Rockland. Speedy Glass Rockland will continue to be a major part of the Tower of Power at Luskville Dragway with his 4x16 Sign facing the pit side of the track and being very visible in most if not all of any pictures that are taken. Speedy Glass Rockland will also carry the title rights to the August 15th. Cruise night as well as the Mustang Shootout on Sunday August 16th which usually includes the Gatineau Mustang Club. We are working hard to also have Dan and his following be part of the big Napa Auto Parts Spooktacular Weekend Oct 10-11 as we try to get as many of our regular cruise supporters involved in what is shaping up to be a HUGE Weekend. Speedy Glass Rockland is located at 2770 Chamberland St, Unit #2 Rockland Ontario K4K 0B2

613-446-5050 or visit them on the web clicking on the logo.
DOOR CAR HIGH ROLLER FINALLY GETS A START FOR THIS YEARS BONANAZA: JAN 9/2015

With all the excitement
around the Semi Pro Big Bucks Race in May and the Busters Big Dog we have not had m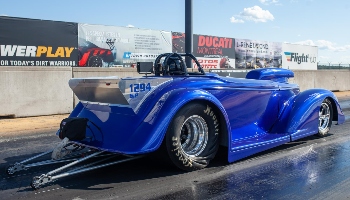 uch inspiration for the door car guys to get going on their high roller at the Bracket Bonanza. The event will be quite different in 2015 as it will be a completely afternoon deal on Friday July 31st, and will have an entree fee of $250. with no run off between the winner of the door side (which will include left steer roadsters) and the dragster winner. But one of the advantages for the door car guys and gals is they will be able to run in the Big Dog High Roller event that night if they so choose, and as one racer already has entered, and we know there will be more. The race will start time trials at 12:00 pm on Friday with Eliminations going at 3 pm which will give everyone plenty of time too time trial, race and relax or get ready for the Big Dog Shootout. We can also tell you that the winner will be running for lots of money plus a NHRA Wally, as both the door car high roller and the Busters Big Dog Shoot Out will be run fo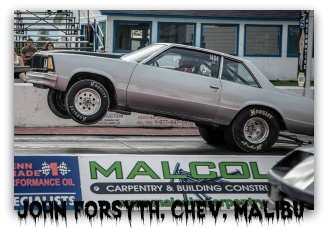 r this famous trophy. Kick starting the door side this week is Montreal racer Dan Lanctot who will return with his 77 Vega, which has been too the winners circle already last season in its new car year. Dan is no stranger to Luskville Dragway running there a number of times over the years of being a drag racer and almost with every car he has ever owned. Lanctot has what many would consider one of the trickest Vegas you will find anywhere in the country and very much looks like a Pro Stock Vega. Dan's first competition to sign on is ADM Motorsports an their S-10 Pro Stock Truck which the team members will decide who drives come race day. ADM could quite well have two entrees come race weekend as plans are underway to add a door car to the team that would compete in Semi Pro most of the time but would be set up to run some Super Pro Door Car shows as well. Another competitor that all these guys will go up against is John Forsyth and his wild wheel standing Malibu which thrills the fans each and every weekend at Luskville. Forsyth is a veteran of Luskville Dragway going back to racing there from the very beginning of the current managements running of the facility.
THE STREET CAR SCENE HAS JUST ABOUT GONE FULL CIRCLE, PERFORMANCE IS IN: JAN 9/2015

The Street Car Scene at Luskville Dragway has always been a huge part of the track that was constructed in 1969, when its easy to say Detroit was at the peak of building high performance cars. Back then they had a theory, what won on Sunday, sold on Monday and every manufacture,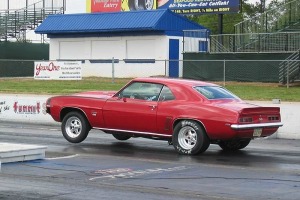 and every car dealership was involved in Drag Racing. Race day Sunday at Luskville Dragway would see a barrage of Camaro's, Mustangs, Cuda's, Challengers, Super Bee's, Road Runner's, Chevelle's and GTO's it was like going to a modern day car show back then. And yes back then it was only Sunday, hence the calling that was used on many radio Stations, "Sunday, Sunday, Sunday Luskville Dragway, Be There. But then came the "made for oil company profits" make believe oil crisis, and the end to High Performance cars that you could buy out of the show room. Of course as we all know today, as we enjoy the deflation of gas prices like no other time, and the admittance that oil is in such a supply that we will never run out. And as we go in full circle which we do on so many things, whether it be bell bottom pants or high performance cars, what goes around comes aro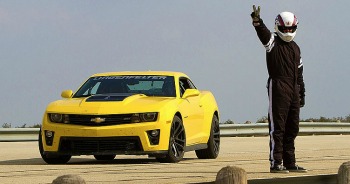 und and once again the manufacture's and breaking their backs to see who can build the baddest, show room sold high performance car. Ford, Chevy, and Dodge are all in a race to see who can capture what has always been there, the need for speed from the car enthusiast of North America. And once again, as the cover shot of this web shows, we are seeing more and more of the high performance cars of today, that is driven on the street, showing up at the drag strip and showing up at Luskville. And now with the Dodge Hellcat (over 700 hp), the new High Horse Power Mustangs, Corvettes (650 hp) and Camaro's it is almost like the 60's when you could basically buy a drag car right off the show room floor. This is one advantage Drag Racing has always held over other motorsports especially stock car racing, where everyone can associate the performance cars in the showroom and taking them to the drag strip.
BITS FROM THE PITS JAN 1/2015


*
OK, the holiday season is behind us and now its time to start the count down to opening weekend a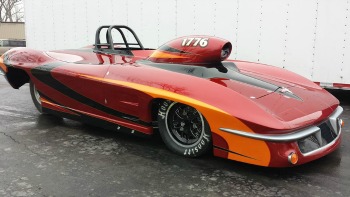 t Luskville Dragway, we have lots of things underway and lots of work still to be done. I hope that everyone got what they wished for at Christmas, and like they say, be careful what you do wish for. A couple of drivers did get what they wanted as two new rides have been announced for 2015, one by Tom Orr of Shawville, Quebec who has added a incredible looking Undercover 63 Corvette Roadster to his stable of race cars. Tom currently campaigns a brand new Undercover Top Dragster, a Dodge Avenger Top Sportsman and now a 63 Vette Roadster. The new car which is painted just like the dragster, both done at

Scott Jahren

shop in Buffalo, New York, and both looking very good as the pic shows.
And just as Christmas eve was rolling around word came in that one of the winningest drivers in this county, and a guy who knows how to buy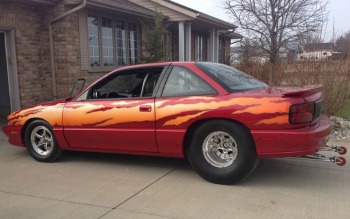 race cars added another one too his stable. Jamie and Sheila Tupper who have probably won more drag races, especially big dollar events than anyone in this country, bought this F.J. Smith Olds Achieva. Plans for the new car are still under wraps but one thing I can almost assure you of, this car like the rest will be a winner. One thing I cant pass up on pointing out, Jamie's first big dollar win came in Elliot Lake a long time ago, in a OLDSMOBILE.
The third new car announcement comes from the Sweet Bros of Napanee who have purchased Mike Digby's ex super pro 68 Camaro for competition in 2015. Work has begun at hunting down a big block power plant to go under the hood of what is a great looking car. The Sweets call Shannonville home but hopes are that they will get to Luskville Dragway for a few events in the new season.

*
We are pleased to announce the dates for the 3rd. Annual Busters Bar and Grill Practice Tree Competition, February 28th, and of course held at Busters Bar and Grill. This is quickly become a big party during the off season, and has friends from across , Ontario and Quebec as well as a few from the US, get together to have some fun, do some practice tree competition and maybe even have a drink or two together. As in past years there will be lots of prizes, as the boys (Derek and Troy) have worked even harder this year on that side of things. As in Past years there will be a class for the pro's and one for the Jrs. and then of course a High Roller deal for anyone who wants. If past years is any example we should have a great turnout, as even drivers from Sudbury have indicated they will take part in the affair, and arrange to pick up race engines at the same time. Make plans to be part on another one of the great family style event that Luskville Dragway is Famous for.

*
We have had a couple of suggestions for the Door Car High Roller at this years Bracket Bonanza, and we have taken both of them into account will implement them, Lower entree fee ($250.) and making sure the final is run prior to darkness setting in, and both of these will be part of the program this season. A number of the Door Car High Roller guys like the race to be over before dark, as they have too look through a windshield unlike the open cockpit guys and gals.

*
Now that we are back to business we can also let everyone know that if you are planning on attending the Malcolm Carpentry Opening weekend at Luskville Dragway we will once again be having NHRA SFI inspection certification done. If you would like to get your chassis certified send us a e-mail or phone call to get your name on the list for this. SFI is strictly your chassis, has nothing to do with your belts, your engine or anything other than the actual chassis of the car.

*
We ran out of time this week, but we will be adding a couple new entree's into the "Blast from the Past" gallery section next week, so make sure to tune in.
D&D PERORMANCE CONTINUE THEIR LONG STANDING SUPPORT OF LUSKVILLE DRAGWAY: JAN 1/2015


As someone who has watched the Canadian Drag Racing scene for more years than I like to admit, I have seen many things come and go, many things change and many things grow. One of those things that I have seen grow in leaps and bounds, is D&D Performance of Chesterville, Ontario one of Canada's premier and leading Machine Shops, and performance engine building business's. Rolly Doucette and Ed DeCooman, the owners and operators are two gentleman that I have h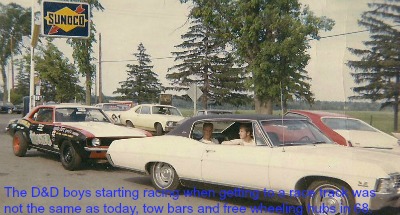 ad the pleasure of knowing for a long time. My first introduction to this duo was obviously through Drag Racing, from seeing them race at the track, from driving by their Shop in Gatineau, where as a young person I would anticipate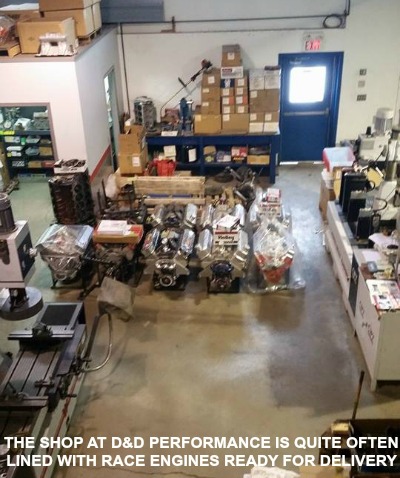 what race car would be sitting outside that day. Yes Rolly and Ed are two of this area's original Drag Racers, they where there when Luskville Dragway opened its door, and they are still there to this day, granted in a much different way than back in 1969. Its been a long road from back in those days, when they flat towed their race cars, to Luskville, Desoronto, Cedars, Naipreville, Sanair as well as others, building motors for the cars they raced. Today they build motors for a list of customers that is longer than someone's wish list at Christmas and a list that includes track champions, Tour Champions, and more big dollar winners that you can count and the list goes on, and on. Yes from their humble beginnings in a small shop in Gatineau too today where they can be considered one of the biggest suppliers of race engines in the country. Something else that is quite noticeable even today, is the fact that D&D can be seen at the Drag Strip almost every weekend, if not every weekend. This is a large part too their continued success as they are always around to help, and look after their customers which has shown with the growth of D&D. Today the shop in Chesterville is a state of the art affair with every engine leaving the Dyno once it is done and ready for delivery. The drag racing portion of this company is also much different these days, as Ed has three grand children who compete in the Jr. Dragster Class at Luskville Dragway, which keeps the tradition going. This is a company who has grown with the sport of drag racing, but they are also a company that continues to give back too the sport through their support of Luskville Dragway, and will continue to do so in 2015. Rolly and Ed are very loyal to Luskville Dragway and its racers and that shows in the customer base, and we hope that everyone will take that into consideration if you are in need of any of their services or products. You can learn more about D&D by visiting their web site, www.danddperformance.ca or calling them at the shop 613-448-3502, do it you wont be disappointed.
RANDY'S PERFORMANCE WEEKEND, GOING TO BE WILD WITH THE ADDITION OF HWY 43 CAR SHOW: JAN 1/2005

One of the bigge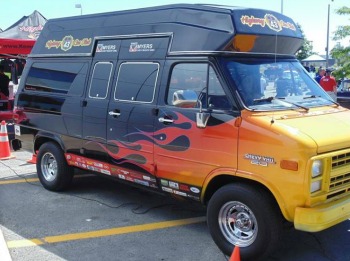 st weekends of the year for the past many seasons, has been the Bill Gaw Memorial Weekend presented by Randy's Performance Automotive of Kemptville, which has also always included the Jr. Dragster NHRA National Championships. Well the 2015 seasons version is going to be bigger than it ever has been as we have added a car show by the Hwy 43 Car Club as well as a special Nostalgia Dragsters Match Race. First of all the event which will see the gates open on Friday Morning at 8am, with test and tune starting at 6 pm that afternoon, and running until 10 pm. Saturday will see day one of the two day event kick off with Super Pro, Semi Pro and Jr. Dragsters who will be competing for their own Wally's. The addition of the Hwy 43 Car Club which has many connections to the Late Bill Gaw and Bills Competition Engines will play a big part, and with the club being one of the largest in Canada its quite possible that we will be quite full. The Highway 43 Car Club started as a mere idea for our President, Rod Rafter. He s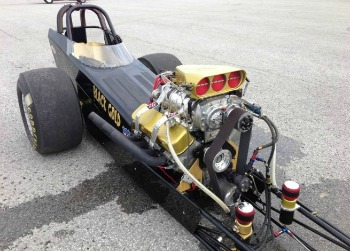 aw the need for a club that connects all of the small towns along the infamous Highway 43; towns such as Winchester, Chesterville, Kemptville, Merrickville, and well beyond.
Picking a name was simple, the Highway 43 Car Club was a catchy, unique name that was truly a great representation of our membership. The Highway 43 Car Club was formed over the winter of 2007/2008, with the help of new and old friends, the club's identity came to life. Check out more on this club by visiting their web site www.highway43carclub.com . We haven't stopped their either as we have also added a special Match Race of Nostalgia Drag Cars including the "Black Gold" Blown Front Motored Dragster of Southern, Ontario's Perry Carey. We have been working on the second car but have not nailed someone down as of yet but stay tuned as we work hard at making this weekend bigger and better than it ever has been.
SEMI PRO BIG BUCKS RACE GET'S SOME FAMILIAR FACES: JAN 1/15
As we head down the home stretch towards another season of drag racing at Luskville Dragway, the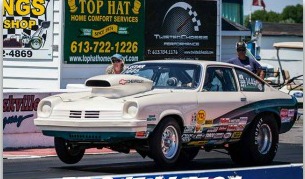 anticipation for what we believe will be a break out year for semi pro is picking up. And the excitement for the Big Bucks Semi Pro Shootout on Malcolm Carpentry Opening weekend gets even higher, and we kick off the new year with barrage of entree's, as its quite evident that the holidays are over and its time to start thinking about drag racing at Luskville Dragway once again. The first person to be at the top of the 2015 entree list was the gentleman who ended up on the top of the podium when it came time for the 2014 Napa Auto Parts Track Semi Pro Championship. Mark Thompson leads the way in 2015 with the addition to his name for what could be one of the biggest Semi Pro Races ever at Luskville Dragway. Following Mark is entree who followed him in the points in 2014, but was a contender all season long, Darryl Jensen wheeling his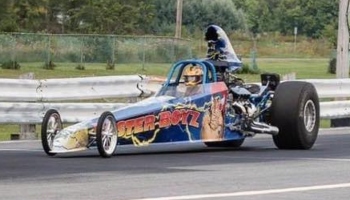 Randy's Performance backed Chevelle. Darryl who has many trips to the winners circle also intends on getting his young son used to driving this summer, as yet another young gun will be doing some Semi Pro races in 2015. Jacob Wilson who is another one of those young guns has also added his name to the list driving his Chevy Powered Mustang, which he barely got his feet wet in last season. Jacob along with Dan Pillwein, Chevy Morrow, Dylan Wheeler, Rachel Ogilvie are all former Jr. Dragster pilots who will be competing in a upper class in the new year, and they will have something to run for, "Coming Soon". Also adding his name this week is Claude Ruel who returned to the drag racing wars last season, and although his great little Vega is for sale, he was quick to point out that he will race it if he doesn't sell it. We are hoping that if it does sell it sells to someone locally, Claude who has told me that because of some minor health issues, he finds it hard to compete every weekend, so would like to see someone with the car that will. This little Vega is a slick little car and would make a GREAT semi pro ride for someone, however as Claude said he will race it this summer.
2014

JULY

AUG

SEPT

OCT.

NOV.

DEC.