RACE NEWS 2016
COVER SHOT:

THE POSTER SAYS IT ALL , 35TH ANNUAL BRACKET BONANZA IS SHAPING UP TO BE "HUGE"

BITS FROM THE PITS: JULY 25/2016
*T

he Bonanza is only a few days away, so we thought we should start reminding everyone of some of the things that will be in place and will be HEAVLY enforced.


1.The parking of everyone will be done by a member of the racetrack staff and only when the staff is present.
2.NO other vehicles in the pits except race cars and ONE tow vehicle for that race car, NO OTHER VECHILES will be allowed in the pits and this will be very, very heavily enforced. Please do not use the excuse that we are just dropping something off as that WONT get you in. We will need every ounce of space we have.
3. Thursday will be for parking and registration and we will have both gates open, again everyone coming in MUST be parked by an attendant. Registration on Thursday will take place at the restaurant but we do insist that driver and ALL CREW MEMBERS come and register and have your arm bracelets attached.
4.All indications are that this will be the BIGGEST BONANZA ever so we hope that everyone will w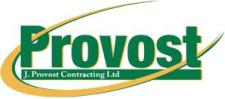 ork with us to help it run smoothly.
5.With both gates being open you have the choice of wish one you come in, but that should also be based on which side of the pit area you wish to park on.

*
We also hope that everyone keeps in mind that two weeks after the Bonanza, the Napa Tour moves back north for the second time this summer as we all head too Wawa, Ontario for the 5th. Annual Provost Nationals. This is an event much like Elliott Lake where the town and those that live there welcome you with open arms. Things kick off with registration and a huge kick off party on Thursday, gates open Friday morning with test and tune Friday afternoon.
THE NAPA AUTO PARTS BRACKET BONANZA PRESENTED BY OTTAWA DRIVE SHAFT & STEERING: JULY 25/2016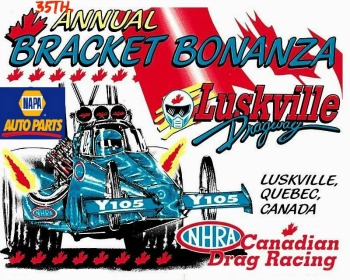 Yes this years Bracket Bonanza is the 35th time that we have put this event on, but the race that takes place these days is nothing like the one day affair that took place in 1981. Back in 1981 it was a one day race that featured a first place payout of $1000. to the winner of what was called the Money Class, way back then. The cars came from all over and it was a big turnout for what back then was an unheard of prize pool, as for the most part back then we raced for very little.
The event, the date are all very significant to me at least, as they all had a reason. I grew up in a small town where most of everyone's older siblings would work away form home in the summer time, most for construction companies all over Ontario. These guys made great money and of course bought fast cars that they would bring home with them when they came back on the weekends. And they always came home the long weekend in August, for nothing else but to show off their cars and attend the Catholic Church Picnic which was held in Griffith, Ontario. The important thing about Griffith was the fact that this was also a place where we had a quarter mile strip marked off on Hwy 41. If you drive through there today you cant miss it, as it is a stretch with pine trees on both sides "kept the noise down". My love of cars had started long before I left home, so I would also take in the picnic and then head over too the pines with my older brother, who had a 396 SD Beaumont, and get my fix of fast cars. The event, which was as wrong as you can get, but back then it didn't seem so, was something that was etched in my mind. You would see almost every make and model of performance car that they build back then, and at one of the bench race sessions while the guys where standing around I over heard one them say "what a Bonanza" of cars we have here today, that too stuck in my mind. So when we took over Luskville Dragway in 1981 putting on an event in memory of where it all began was very important to me.
Today of course the race has grown, and grown to be the richest deal in this country, grown to 4 days instead of one, grown with live bands and a steak bar-b-Que for those that come, and grown to attract drivers from as far away as New Jersey and Pennsylvania. So yes this is a very important weekend for me and my family, not just from a financial point of view, but also from a nostalgia point of view, as well as since of pride. I am a person who believes in fate, and if you do also one has to think that a Catholic Church Picnic may have had a lot to do with me being involved in Drag Racing.
PLENTY OF LOCALS AT BIG DOLLAR RACE AT ESTA SAFTEY PARK RACEWAY: JULY 25/16

For the past two years ADM Motorsports along with many of the racers that we race with all summer long head off to Esta Safety Park Dragway in Cicero, New York for the New York State Championship. For ADM Motorsports coming into the 2016 event meant we where coming back as defending champions as Troy Davis not only won the Saturday $10,000. but runner upped in the Sunday $10,000. But it is also a opportunity to go to a race where the pressures of running the event and making sure that the equipment and everything else is working like it should be is not our job, at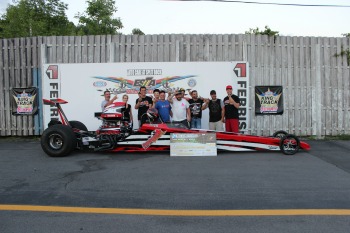 this event we are just racers, and it only happens once a year. To be there almost as a Canadian Team with racers from Luskville, Shannonville, I-Car and Naipreville is kind of like our Olympic drag racing team. So as we rolled through the gates we where parking with many familiar names from home, and many more rolled in as the night went on. The first winner of the weekend was Dick Stanton as "Tricky Dickie" won the draw for a paid weekend entree fee, which promptly saw Dick move up to Super Pro with the help of Jamie Bridge who dove right in and installed a delay box in Stanton's Cavalier for Saturdays event. Well for Dick and many of the Canadians the day did not go the way they had hoped for, except that is for Frank Angers who made his way too the finals where he was defeated by a local dragster, who had been on a tear for the past little while. Joel Lapieirre also made his way to the winner circle in the high roller door car race, and Russ Adams made his way to the finals only to be beat by Marco Abruzzi in the finals of the Dragster high roller race. So even though it was not a Canadian who won the big one Canadian racers played a big part in the outcome of all races at this event, Sunday is another day.
Once again Sunday was a bright sunny day with plenty of heat as it has been for a lot of the past week, time trials where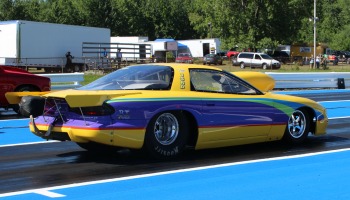 underway at 10am and after one time trail eliminations started. As things started to roll along and the car count was down to around 32 some interesting possibilities where shaping up. There was still a good crop of Canadians still left in competition, Russ Adams, Al Ray, Frank Anger, Darren Frasso, and Derek Malcolm who was in twice. When the field got bumped down to 7 Russ was still in and so was Derek twice with the ladder line giving him the possibility of meeting himself in the finals. HOWEVER, that was not to be as his first quarter final run saw him tree his opponent only to have the engine drop a valve at the mile an hour light and nose over allowing the other driver to drive by him. His next pairing was against Russ Adams who like Derek was having a good day, but for Derek the good day would come to a complete end as Russ took the stripe and the win light. Russ would go on to end up in the Runner Up spot with a local racer like Saturday making the Canadians have to settle for second best, by the way that was the first time that an US based driver had won this event. Frank Anger Who had runner upped on Saturday was also in line to run off against the door car side winner for a Abruzzi Racing Convertor and here Frank did the job and won the race. So all and all a good outing for the locals, and a great time was had by all, a number of drivers at the event indicated they would be coming to the Bracket Bonanza and after all that too was part of the reason for taking part in this race.
For some though the excitement was not over for the day, as Denis and Jill Souliere had Motorhome trouble on their way home, with Mike Ogilvie, Troy Davis and Randy Bellefeuille coming to the rescue. Friends helping friends is what our sport is all about,

Al Ray debut his new and very
slick looking Chevy II.

Joel Lapierre was the door car
high roller winner Saturday

Marco Abruzzi was even in attendance
passing up a points race for ESTA

This guy was the first USA based
racer to ever win this event

the nice thing about visiting anothe
drag strip is the different cars you see

Russ Adams had a pretty good
weekend runnering up on Sunday
THE ELLIOT LAKE EXPERIENCE, IF YOU HAVENT HAD IT YOUR MISSING OUT: JULY 17/2016
When ever someone mentions the word Daytona you know they are talking about the 500, when someone mentions Indy you know they are talking about the Nationals, and in the drag racing world in Canada, when someone mentions Elliot you know they are talking about the North Shore Challenge Drag Race. If you have never experienced it you may not know what I'm talking about, but for 17 years this airport venue has come to be known as the best one in Canada. From the time you arrive and see all the checker flags hanging from the hydro poles through out town, until the last race car makes its way down the race track, this town in totally wrapped up into the event and making sure that all that come have a good time. The atmosphere that has been born and grown here tends to be what brings racer after racer back to this event, to the point where the super pro car count out does any racetrack in Canada on this July weekend ever summer. Watching the transformation of the airport into a full out drag strip is spectacular in itself, and with over 350 cars packing the runways now turned into pit area well you get the picture I'm sure.
1. We arrive on Wednesday evening the main trailer with all the equipment and the boys arrives at noon on Thursday, by now the city employees have most of the barriers up, and the security fencing is starting to take place as well as the beer tent and beer gardens. Work begins on stringing wiring that is usually permanent at racetracks but not at airport venues, rolls and rolls of wiring is run to the finishing line censors, scoreboards and win lights. The Control tower which is also portable has been put in place and in here computers and more wiring is installed and run over head to the starting line and ticket booth. Its a big operation that Derek and his team have been doing since 1995 in Earleton, although the timing systems have changed over the years a number of times. In the early days when we first started in Earleton we would even fly a Daktronics technician in from California to help with the set up and operations of the systems, over the years the boys have become very knowledgeable in the systems and that is no longer done. Thursday Night sees the entire ADM Motorsports Team enjoy dinner at one of the restaurants that is involved with the race, and over the years many of them have. Another thing that goes on in town on Thursday night is a very well organized burnout contest that is held in the No Frills Grocery store parking lot as you head into town, another example of how everyone gets involved.
2.Friday is a time trial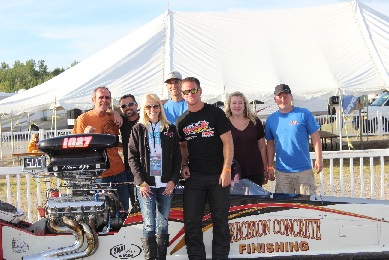 day, which will allow everyone to get as many runs in as they can, the weather forecast is calling for some showers so as we head into the day we are not quite sure what lies ahead, however we do know that we will have to receive and park over 350 race cars, bikes and sleds. It is now Friday morning and we do know what the forecast is as showers went through threw the night, and it was still sprinkling as the morning dawned, as the weather man continued to rain on our parade trough out 2016. But all was not too be lost as by 12 pm cars where making there way into the staging lanes and time trials where underway right on time. Two Gamblers races got underway at 5 pm with over 2000 to win in each class up for grabs a great number of racers where battling for the win. On the Super Pro side of things Kyle Jessup who has been on fire this summer would make his way to the finals where he would meet Roch Beaudion who was back out racing after some bad luck with his motor a few weeks earlier. The final round went to Jessup who has certainly had a great year so far this season with a number of trips to the winners circle. Fred Ellis would show everyone once again why he is considered one of the best if not thee best foot brake racers of all time with a win over Dan Sproule of Sudbury. Chicago Rush Dan Sullivan closed out the show with a track record setting run which had everyone smiling.
3. Saturday's forecast was for wall too wall sunshine and that is what dawned come Saturday Morning as by now the pits where full with a record turnout of race cars, all vying for the big dollars Saturday and Sunday. Racing got underway right on schedule infact it was 5 to 8 when the first pair of cars rolled down the racetrack and by 6.30 Saturday night everyone had made it down the track more than once for sure. The Jr. Dragster program was a pretty good field with close to 16 car vying for the top position, and when all was said and done it was Ethan Scott from Sudbury, Ontario taking the first place spot, as he met and defeated Rebecca Wellwood for the big money.
The Canadian Tire King of the Street saw Mike Labelle beat Jay Talbot for all the money and all the prestige that goes along with winning one of the biggest street races of the year. Labelle and Talbot are both tuff customers and was too no ones surprise that these two guys made their way to the finals. In the Semi Pro class over 111 competitors made their way to the line for the first round and when all 111 of them had been down the track as many times as they could it was Claude Trudell from Sudbury who would claim the top prize. The sled and bike class was another class that saw an increase in the overall count and here the winner would be Daven Shael over Travis Shaule in a all sled final.
Super Pro was a good day for Kyle Jessup, who with out a question has been the hottest driver in the country for the last little while. Kyle who has been on a roll since the beginning of the season, had to roll through some big names to get to the finals including close buddies Derek Malcolm and Troy Davis on his way to meet Ed Fantasia in the finals. In the finals the gift gods where looking down on Kyle as Fantasia accidently turned off his delay box prior to going to the line. Before he could realize what had happened, Jessup was sitting in the winners circle, at a 5000 race for the third time this season.
4. Sunday forecast was a whole different ball game though as the weatherman made it very clear we would not get through the whole day with out some showers, so to say things where put on fast track to say the least. Hats have to be taken off to all the staff and the racers who did everything they could to make sure the race got in, and got in it did. In fact as the Chicago Rush and Jordan Parniak made the last exhibition run of the day the showers started to fall, but all class's where completed and all payouts where made. The Jr, Dragster class was the first to declare a winner and that winner was none other than Ashley Ogilvie who would meet and defeat Julien Laporte for the win. Cody Newman a kid who got hooked on drag racing with the races in the North and finally made it too the winners circle for a 1000. pay day. The Sled/Bike class was won by Justin Prevost who got a single to the winners circle when his opponent Serge Lapieirre could not make the call. The Semi Pro Class had some of the best foot brake racers in the country present, notable names like Fred Ellis, Bill Nolan, Dick Stanton, Claude Trudell, however it was a new face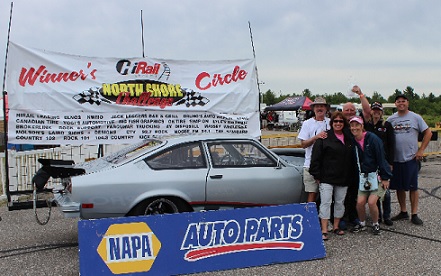 making his way to centre stage for the first time ever. Lyon Martel would take his strong running Camaro too the finals where he would meet and defeat fellow Northern Don Lamontange for the big win.
Super Pro which saw the numbers get bumped up with more cars coming through the gates was a very strong class to say the least, with many big dollar racers being some of them. Heading into the quarter finals names like Kyle Jessup, John Simeoni, Lewis Gagne, Carson Zygmont, Derek Malcolm, Jacques Millette and Jamie Tupper, Many of these drivers had won a big dollar race so you can only imagine how competitive it was to go even one more round. Derek Malcolm would go too the line against Jacques' Millette with Millette taking the first spot in the finals. Tupper would make his way too the finals with his win over Simeoni setting up a all door car final for the fist time in a long time. With Tupper taking the best light off the line it was his win light that came on at the stripe, as he made his way to a spot he has been too before, the winners circle. A few minutes after the last pass of the day the rain started to fall and everyone agreed that we just got er done on time, but we did get er done.

Yep this is Derek and Troy at the
first ever Elliot Lake race in 1999,

This is what things look like as the
work starts to transform the
airport into a drag strip.

Dan Sullivan and the Chicago
Rush Jet Car reset all ends
of the Elliot Lake track records

Dave Wagner and the PureInsanity
Funny along with Jordan Parniak

Ethan Scott was the Jr. Dragster
Winner on Saturday

Ashley Ogilvie did her job on
Sunday winning Jr. Dragster

Mike Labelle pick up a cool $1000
For winning he Canadian Trie
King of the street Class.

Another example of how good the
Northern Racers are is Lyon Martel
who won Semi on Sunday

Justin Provost won his class on
Sunday and everyone was all
smiles in the winners cirlce.

Stunters Inc. out of Toronto was also
part of the weekend of entertainment

How good was the traction justask the
owner of this awesomelooking camaro

Cody Newman of the Sault was
the winner of the gamblers race
MIKE OGILVIE TO BE COVERED BY KENDALL OIL LIQUID TITAIUM: JULY 18/2016
Don't think many will disagree with me when we say how much Mike Ogilvie and his family have added to Luskville Dragway with their presence each and every weekend for the last 5 years. A racing family who play a big part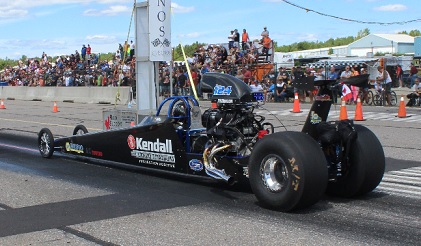 in the weekend to weekend, whether it be on track, in the pits or after the races are over. My mother use to say that through out your life you will meet good people and some not so good, their is no question that Mike, Vicki, Rachel and Ashley are what my Mom and I would consider good people. She also use to say that good things happen to good people and this week we are pleased to announce that Mike Ogilvie has landed a major advertising agreement from Kendall Oil Liquid Titanium. Mikes blown big block Dodge will carry the colors as will major placements on the truck and trailer. Mike will be quick to tell you that John Armstrong and W.O. Stinson and Sons another major advertiser at Luskville Dragway played a major part in this happening. This is such a good news story for Mike and his family, but is also a good news story for drag racing in whole and especially Luskville Dragway where a local driver has shown that cooperate backing is still out there. Ogilvie will carry the colors well this season as he has been making some thunder with his supercharged dragster, going plenty of rounds and picking up a win early in the season. We congratulate the Ogilvie Motorsports Team on their signing and also more success for the rest of the season.
IN THE WORLD OF DRAG RACING A MANS WORD USED TO BE GOOD, NOT ANY MORE: JULY 11/2016
I felt it necessary to write this after what has unfolded this past spring with Lou Pereira and his jet car Terminator. As many of you know, Mr. Pereira was scheduled and had a signed agreement to run at Luskville Dragway on June 11-12, and was also contracted to run at 3 other races for us this summer. However, Mr. Pereira decided that he was not goi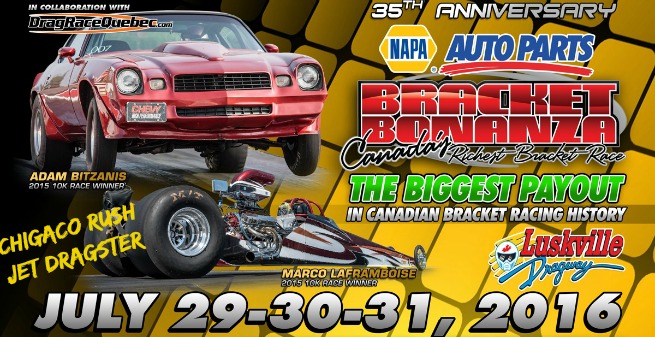 ng to run at Luskville on June 11-12 the Napa Auto Parts Weekend, one of the most important weekends of the season for us. Not only did he not show up, after assuring me on the Wednesday prior that everything was good to go, he did not call to say he would not be there, did not return phone calls or messages from me or a number of fellow racers who thought that he might respond to them. He did not contact me until over one week later, only to say that he did come as he was run down, gave no excuse for not calling, no excuse for not responding to the multiple phone and facebook messages and no excuse for not warning us he had no intention of showing up. Needless too say I quickly reviewed my options and got jet cars to replace all bookings I had made with him. I also informed Mr. Pereira, by way of letter, of the TERMINATION of the agreements with Luskville Dragway and with the venues I am responsible for due to HIS breach of the agreement during the June 11-12 weekend. Since that time many things have happened which has ultimately assured me that we made the right decision. If you had two daughters being married one in June and one in July and you had booked the same band for both, if the band did not show for the first wedding, did not call or give you any for warning, would you count on them to show up for the second wedding, I think not. Now Mr. Pereira is posting on facebook that we are false advertising, using a flyer that we had designed and printed prior to HIS breach of the first agreement and when we still assumed Mr. Pereira was a man of his word, which obviously he is not. When drag racers like Herb Rodgers, Larry Dobbs or Barry Paton said they would do a show at your track, THEY WERE THERE, you never had to worry about them as THEIR WORD WAS GOLDEN. That is not the case today as we deal with people like Mr. Pereira. As the old saying goes, shame me once shame on you, shame me twice shame on me. Mr. Pereira will never get the chance to do it again. So NO the Terminator will not be at Luskville Dragway's 35th Annual Bracket Bonanza but Dan Sullivan of the Chicago Rush will be.

BITS FROM THE PITS: JULY 11/2016
*
Dave Gould has sold his very fast and great looking Berretta to a racer in New York State and will comp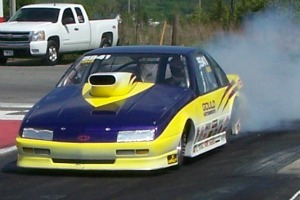 ete with his other car for the remainder of the season. Dave who is a semi regular at Luskville Dragway is looking for a car to replace the sold unit, something along the lines of a Camaro or Chevy II is what he is looking for. The Berretta was popular with the fans with its very fast low 5 second runs, and its very great looking paint.

*
Speaking of sold cars, Gerald and Chris Dennique have sold their yellow Dart Swinger to a racer from Kirkland Lake, and quite quickly replaced it with a Camaro that should be ready for the Bracket Bonanza. The Dennique's have traditionally run Dodge but Chris says he doesn't care what it is as long as it goes fast and straight. And when it comes to cars for sale unusually there is a few of them at this time of the year, the biggest name one of course is the Corvette of Jamie Tupper, which has won many races as well as best appearing car awards.

*
Chalk another weekend up to Mother Nature, and she is certainly winning the battle this summer, a summer when we need to be open as much as possible, the weather lady is dong everything she can to see that, that doesn't happen. Not much we can do but grin and bear it and move on too next weekend where right now the long range looks good for Luskville and Elliot Lake.

*
As the Bonanza nears the excitement grows as more and more racers indicate they will take part in this years 35th running f the oldest and richest race in this country. Three high profile Quebec racers who are part of the Canadian Bracket Super Tour will throw their names in the hat for this years Big Go. First is Jerome Beaulieu of Quebec City who pilots a very slick American Dragster. Jay is also the man behind Drag Race Quebec, and Octane Performance a speed shop in Quebec City. Jay is also the man who is responsible for much of the art work and design you see on many flyers, posters and super checks, he is also someone who promotes the drag races we are involved in very well. Jerome's Teammate Kevin Poitras who drives a wheel standing Super Pro Truck on the door car side of the Super Pro Ladder. Kevin is a regular on the Super Tour and this will make his first visit to Luskville Dragway where he will return in Sept for the Super Tour event. The last driver to enter the fray this week is no stranger to Luskville Dragway in fact the last visit saw him march to the winners circle of a big dollar Semi Pro Event. Fred McDonald will bring he wild wheel standing Camaro to the biggest race of the season and is a driver who could be sitting in the winners circle come the end of each race day. Fred has already visited the winners circle on two occasions in this years Canadian Bracket Super Tour, joining Kyle Jessup as the only two to double up. These names along with indications from many other that they will be part of this years event only has one wonder JUST how big could it be.

Jerome Beaulieu will be on hand
with his Octane Performance Digger

Teammate Kevin Poitras will also
bring some Octane to the party

Fred McDonald has two big wins
already this season, he will be tuff
NAPA AUTO PARTS TOUR STARTS THIS WEEKEND IN ELLIOT LAKE: JULY 11/20

This will be the 17th year that the airport in Elliot Lake, Ontario has been transformed into a full tilt NHRA Drag Strip with three days of racing which include some of the largest payouts in Canadian Bracket Racing. Looking back to that first year and to today has one be very amazed at what has gone on with drag racing in the North. The first year saw only a handful of rookie drivers from the area trying too compete against what was around 150 cars in the first year. Today with over 300 cars, many of them now very competitive No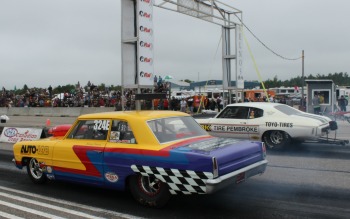 rthern Ontario competitors who over the past 20 years have become some of the best NHRA Drag racers anywhere in the country and capable of winning any where in the land as well. The Elliot Lake Event is just that, it is so much more than a drag race, with feature attractions like the Chicago Rush Jet Dragster, Stunt Motorcycle Acts, Funny Cars, Kids play land and much, much more. For many racers from all over Quebec and Ontario this is a must race event, as its not just the prize money its the good times that is had by all. It usually starts on Thursday Night with a visit to the Fireside Restaurant, the Burnout Contest in the No Frills Parking lot, the bench racing sessions and the greeting of old friends who in some cases have not seen each other since the last race in Elliot Lake. For anyone that has not seen what goes on to transform the airport into a drag strip, you should come early and just watch how the city employees, and a ton of volunteers get er done so to speak.
BITS FROM THE PITS: JULY 4/2016


*
Now that this weekend is behind us, things really kick into high gear as we get ready to hit the road once again for what we call the summer tour, starting with our first NAPA AUTO PARTS MONEY TOUR in Elliott Lake on July 16,17,18. This is the oldest airport venue and the one that many really look forward too as it is with out question one of the most fun events of the year. Now before we go any further lets make it very clear even though we will be on the road for most of July, Luskville Dragway will still be open every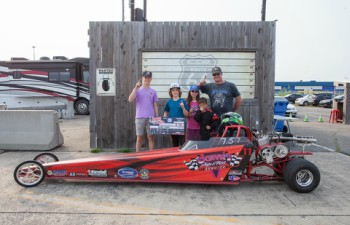 Saturday for time trials and cruise nights Saturday night when we are gone. After the Northern swing too Elliot Lake we will make our way back to ESTA Safety Park Dragway to defend the great showing by Luskville Dragway racers last year, and too promote some of them supporting our event the following weekend at Luskville Dragway and the Bracket Bonanza. Lets be honest we did not get a single racer from ESTA after 30 or 40 of us went there last year, lets hope that is not the case this year. Supporting each others big events is important but only if it works both ways and we really hope it does as we like going to Esta but it is a two way street. Of course after ESTA is the Grand Daddy of all Big Dollar Bracket Racing the 35th ANNUAL Bracket Bonanza, which if all signs are correct, will be so huge this year we may have too borrow the farmers field to park cars, (lets hope).

*
I would like to take this opportunity to thank the Northern Racers who have been coming to Luskville Dragway in big numbers of late, we want to thank all the racers of course. However when drivers haul 4 and 6 hours to be part of our regular weekend racing, I don't think anyone would mind us shouting out "KUDOS" to them. Sudbury Racers and North Bay Racers have always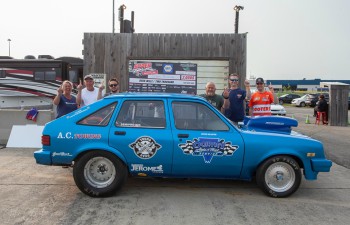 played a big part in what goes on at Luskville Dragway and that was very evident once again this past weekend. These drivers along with the great group that came from Montreal (Angers, Paradise, Adam Bitzanis, Marco and Serge) made this weekend this past weekend the huge success it was. We hope you folks had as much fun as we did having you with us, and we hope your part of the 35th annual Bracket Bonanza.

*
Randys Performance, Bill Gaw Memorial weekend was not shaping up for title rights holder Randy Urslak after it looked like he had taken the rear end out of his very strong running Racetech rear engine dragster. However with help from many (reminiscent of the Jamie Tupper between rounds thrash a few years ago) the car was repaired Saturday evening during the cruise night. In fact he and Mike Ogilvie once again came out and did a side by side match race to cap the evening off. This is part of the sport at Luskville Dragway that many don't see, as everyone seems to come to each others aide no matter what the situation.

*
It was great to have Jim Barry and his Julie Dube driven street roadster back too the track this past weekend. Jim has been battleing a few health issues but is winning that race also, this is a car that is a fan favourite and is exciting to watch. Julie went a number of rounds before bowing out in her first race of the summer, we can only hope that they are part of the Bracket Bonanza.

*
Points are up and its close in all class's going to be a crazy season for the points chase's and another one starts in Elliot Lake in two weeks.

*
Look for a HUGE announcement out of the Ogilvie Motorsports camp that is not just good news for them but will send a message to everyone about cooperate names on your race car. We hope to all the details in the next couple of weeks but it is good for Ogilvie's, good for drag racing and good for Luskville Dragway.
RANDY'S PERFORMANCE, BILL GAW MEMORIAL, AS BERNIE SANDERS WOULD SAY, IT WAS HUGE: JULY 4/2016

There is no question that there has not been a lot of rain this season, you can see that by the grass or the fact that there is no grass around Luskville Dragway. But it also seems that every little bit of rain we do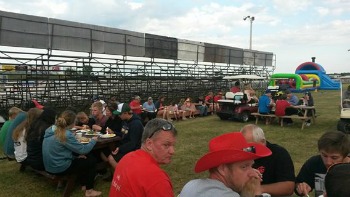 get has fallen on our parade so to speak, as it did to start things off on The Randys Performance Bill Gaw Memorial Canada Day weekend. This did not however dampen the spirits of everyone that was at the track on Friday to take in the Canada Day Celebrations. Well the little bit of rain became a lot of rain, but the troops kept on going, and partied well into the night, the big bounce land was a huge success and it kept things busy until most went to be. Saturday morning dawned with a cold wind, and few more showers but with time trials not starting until noon, things where ready to go on time. With three trips down the track most where ready for eliminations, but with out question some more than others as some new faces made their way to the finals in all class's. Jr. Dragster would come down to a battle between Ashley Ogilvie and Ben VanNoppen with the D&D Performance Jr. taking his first win of the year. In Semi Pro it was a all North Final as Pat McCaftery took on Dan Sproule with the little silver S-10 taking the in and the $500. that went with it. Super Pro was quite a story with close to 30 cars going to the line for first round. Going into the semi's it would be Randy Bellefeuille going up against his boss Mike Ogilvie with Ogilvie taking the win light with a great reaction time. In the Finals it was Mike against Adam Bitzanis for all the Money and in this round Ogilvie took no hostages with a .001 light and the win light. We often talk about how Luskville Dragway races seem to have a 1000 stories and this one was no different. Mike Ogilive who is good friends with Randy Urslak could not have picked a better race to win. And right after the win they went to work fixing the rear end in Randys Dragster so he could compete on Sunday, and fix it they did.

Ben VanNoppen made it too the
winners circle for the first time in 2016
and was joined by many there.

Dan Sproule has made a lot of
friends at Luskville Dragway already,
as he runs for the championship 2016.

This was a BIG win for Mike Ogilvie,
parts where flown in from California
this week, just to be ready.
Sunday July 3rd had the sun come up with out the clouds and the showers which certainly had the staff smiling, and the first thing in order this day was the presentation of the Randy's Performance souvenir Canada Day Jr. Dragster Nationals T-Shirt. Time trials got under way at 10.30 with everyone getting two this time around. This would be the last Napa Points Race at Luskville Dragway until the Bracket Bonanza so everyone was gunning to go into the summer tour with a win, and that was evident as eliminations got underway. The Jr. Program which was a big part of this weekend was the first to sent someone to the winners circle and that someone would be the younger brother of Saturdays winner as Nate Vannoppen met and defeated Landyn Urslak for the win in Jrs, Nate's big brother Ben won on Saturday. Semi Pro was another great story as Steve Ballntyne took the win over Wes Clarmo, even though the win for Steve was big news for many to see Wes Clarmo do as well as he did was spectacular. Wes puts 110% effort into his kids Jrs. and try's to keep his semi pro Mustang in the mix, and today he did both.
Super Pro had a 1000 stories, and obviously we cant tell them all but the big one was Jamie Clarmo going to the finals against Fred Angers and taking the win light and the big pay check that goes with it. Jamie who was back in a car for the first time in a while did a great job mowing down the competition on his way to the big pay check window. Other stories well there is many of them and not sure where to start, So we will save them for another day. THANK YOU



Nate Vannoppen made it a sweep for the D&D Jrs. with his win on Sunday.


Steve Ballntyne is back on track with
his Semi Pro Chevette with another win



Jamie Clarmo made his first trip too Luskville this summer count.
2016
MAY
JUNE