RACE NEWS 2016
COVER SHOT:

ONE TO GO UNTIL THE LAST SUPER TOUR EVENT, AND THE FOURTH NAPA TOUR RACE + JET TRUCK

BITS FROM THE PITS: AUGUST 29/2016
*
Big news for this up coming weekend is the King of The Street Shootout Saturday Night, it is tim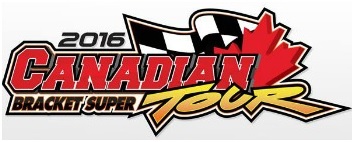 e to put up or shut up so too speak as we are going to find out this coming Saturday Night just who is "King" of the streets. The race will take place after the Napa Tour, Canadian Super Tour races and will be part of the Jet Truck Night of Fire event. We have some very fast street cars and this weekend we are going to find out who is the best of the best, if its got an ownership its a street car, slicks, open headers, nitrous, blowers and super charges are all in, run what you brung and hope you brung enough.

*
Again we remind everyone that both gates will be open for parking Thursday, all teams parked by management, once in place go too restaurant to register. If you want your unit pointing south come in th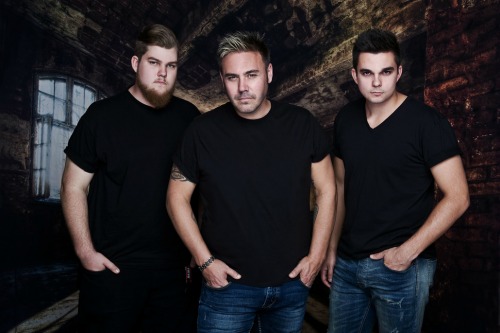 e gate by the tower, if you want to be pointing North, the gate off of Tremblay road. We will try and get as many back into the same spots they had for the Bonanza as that seemed to work well for most, Gates will open again Friday Morning for entree's use the same thinking when coming in. We plan on a gamblers race Friday Night, and we will start time trials on Saturday Morning at 9 AM. as we will on Sunday. This is a weekend that has the potential to be larger than the Bonanza car count wise as it is also two tours that will touch down at the same time, so we will need every inch of space we have. NO other cars allowed in the pits, race car and tow vehicle THATS IT.

*
Banquet, yes Banquet tickets are now available from Diane in the Restaurant and will be for the remaining of the season which is fast, fast, fast coming to an end. I would remind everyone that the new venue for the banquet that we where in last year does not hold an unlimited number of people and only so many tickets are available so get them early, NONE will be available at the door. I would also remind everyone that the color YELLOW is the theme this season, lets hope everyone gets in the mood, special prizes for those that do.

*
We can now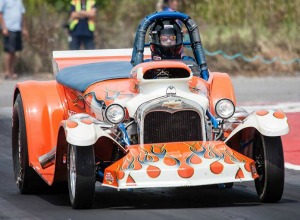 confirm that this area's most popular band will be part of the 2017 Bracket Bonanza, AMBUSH, has signed on to be the entertainment package for Saturday night of the Richest Bracket Race in Canada. This along with other major changes including a increase in the payout, and the big money race going on Saturday should go a long way in making what was already the best bracket race in Canada, even better.

*
Wow the good news just keeps coming, as another new super pro ride has been confirmed not only for the remainder of the season but for next year as well. Scott Wilson has bought Ed Laporte Semi Pro Truck and former Jr. Dragster pilot Kenyon Paine will drive the truck for the rest of the season. But the good news doesn't stop there as we are all excited about the news that Tad Kaminski has bought Brad Silverthron's Roadster and will return too the drag racing wars in 2017 with it. Tad and Laura have been a BIG part of Luskville Dragway and not having them around every weekend has been noticed by everyone and they have been missed by all. Having the Roadster stay close to home is great news and having it in the hands of these folks just doubles the good in the phrase good news.

*
With sunny skies and great temperatures it was no surprise that the Speedy Glass Rockland turned out to be one of the better cruise nights of the season so far. Dan

Couturier

the owner of Speedy Glass has not been very lucky the last couple of years as the weather man has been a little unkind, but not this season and it showed with a great turnout. The day started off good with a great showing of fast street cars, as well as a number of race cars testing and getting ready for next weekends big Super Tour/Napa Tour event.
POINTS BATTLE'S "COULD" ALL BE DECIDED THIS WEEKEND, SOME FOR SURE: AUG:29/16

Two years ago we switched our points systems to what they are today, 200 for live round wins, and 100 for buy back round wins, and boy does it work, just look at what is happening in most of the points battles this year at Luskville and in the tours. Heading into this past weekend Derek Malcolm and Mike Chenier where tied for the lead in Super Pro with others banging on their door. In the Super Pro Napa tour Jamie Tupper leads but that is not a sure thing with four days of racing left even Jamie knows anything can happen. With the hottest driver around Mike Chenier breathing down the back of Jamie's neck you can bet that Tupper will come to the party the long weekend in Sept and I-car, with a number of guns. In the Canadian Bracket Super Tour, yes Kyle Jessup has the lead but with 5 drivers sniffing down his neck and only 4 live rounds separating him from six place driver Derek Malcolm here two anything c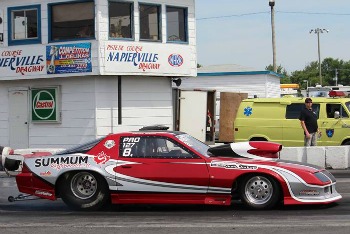 an happen. The semi Pro ranks see's Jim Hewitt with what looks like a solid lead over 2015 champ Steve Ballntyne, but here two anything can happen with as many races left that there is. The Jr. Class at Luskville Dragway will come right down to the last day you can bet with Ashley Ogilvie battling off last years champ Landyn Urslak in an effort to leave the Jr class as a champion. On the Napa tour upstart Dan Sproule is doing his best to become the newest Semi Pro Champ with two entree's sitting second and third he is trying hard to catch Fred Ellis who leads the pack. Fred who is trying to regain the championship he lost to Bill Nolan in 2015 will be strong heading down the stretch. In the Canadian Bracket Tour one of the best foot brake racers out of Montreal, Fred MacDonald leads the way in Semi Pro but a number of drivers are breathing hot breath down the back of Fred's neck. Cyrville Laflamme, Rob Graveline, Yves Poirier and Erick Corriveau all are with in Striking distance of the leader. The Canadian Bracket Super Tour, AC Towing, Montreal Trailers Jr. Dragster championship will also be decided this weekend with Landyn Urslak, Naomi Ballabey and Ashley Ogilvie all in a dead heat for the title. This weekend is going to be just like ABC use to say, the thrill of victory and the agony of defeat, as unlike baseball or hockey, drag racing only has ONE person as the champion.

Ashley Ogilvie is trying hard to go out
on top of a number of points titles as
she moves to the big cars in 2017

Jim Hewitt could make Hewitt Family history with a championship
in Semi Pro in 2016

Derek Malcolm has been the track
Champ for a few years, but Mike Chenier is trying hard to end that domination.

These two Montreal area drivers will have a big say in the outcome
of the Super Tour, Super Pro Title



Fred Ellis is pulling out all the stops to regain the Napa Tour Semi Pro Title after dominating for years




If Jamie Tupper wins the Napa Tour Championship, a lot of folks will be surprised to see he did it in the Vega


Kyle Jessup has won more money
than anyone this season, and he wants the $5000. for the Tour Title also.

Fred MacDonald will have to watch
his every move this coming weekend if he wants to hold on to title



2015 Luskville Dragway Jr. Dragster track champion Landyn Urslak is trying hard to be the 1st Super Tour Champ.
WEATHER MAN COULD NOT HAVE BEEN MUCH MORE WRONG THAN HE WAS: AUG29/16

We have often talked about how wrong the weather man usually is, and this past Sunday was a perfect example of just that, as a forecast for showers, rain and thunder showers for Sunday NEVER materialized, kind of. Yes closing out the Speedy Glass Rockland Cruise Night had all of us, including myself confident that we would be going home early on Sunday. Speaking of the cruise night it was not the biggest of the summer but was the second biggest, so hopes are still high that we can beat this years record for street cars on a Saturday night. However after waking up around 5am and looking outside it was pretty evident that once again the weather man was WRONG. So time trials got underway right on time, and eliminations act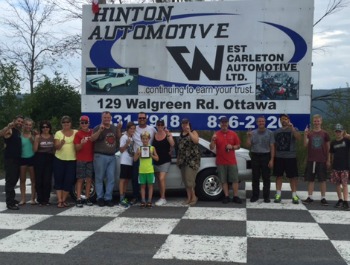 ually got going a little bit ahead of time as everyone didn't want to take a chance on the weather which still had the prediction of rain in the afternoon. As things wound there way down to the semi finals a number of big names where sitting on the side lines in a race that was not overwhelmed by entree's as you can imagine with the weather man being our anti PR person. The Jr. Dragster show was its usual turnout minus only one or two and it boiled down to veterans going at it in the finals, Ben VanNoppen and Landyn Urslak would take each other on with VanNoppen taking the win and the cash that went with it. In the Semi Pro Finals Wes Clarmo was once again the centre of attention as this rookie was on his way to another final, only this time he finished the job and took the win. So now the story ends, as the weather man wins out with the finals in super pro undone, Mike Chenier and Troy Davis will come back to finish what they started, next Friday night before the gamblers race. Following the race a large group made their way back to Busters Bar and Grill for a back to the bar party that was a blast.

BITS FROM THE PITS: AUGUST 22/2016
*
Yes the summer is almost over, but we still have some very big weekends to go before that and all we can hope for is some good weather, as that has been the fly in the ointment all season. Other than the Malcolm Carpentry Opening weekend, and the Bracket Bonanza the weather has played a part in making our season not one of the best all season long. So with that as a back drop we remind everyone that the D&D Performance Fall Bracket Finals is just around the corner and it will be set up just like the Bonanza. NO CARS other than the tow vehicle and the race car will be allowed in the pits, (please don't ask to be an exception as there will be none). come in the gate that best fits which way you park, if you have never been come in the gate off of Tremblay road, this just make for much easier parking and much less confusion. Just a reminder there will be a cruise night Saturday Night so after the races are over, please put your cars in the trailers to give us as much room for street cars as we can get, if the weather is good we could set some new records once again.

*
Just a reminder also that the King of the Track will contested on Sunday Sept 11 and will part of the Randys Performance Bonus Bucks Day, with all in competition have a shot at the Wally and king of the track. You must win your class, Super Pro or Semi Pro and then winners will face off for the Championship. I would also remind everyone th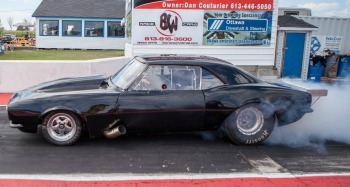 at it will also be our final back to the bar party, and ALL payouts and presentations will take place at Busters Bar and Grill, support those that support us.

*
Something that ran under the radar a little bit at this past weekends Chew That Super Weekend, was the 101 for Ladies in Racing put on by Shannon and Paolo Giust, and which was very well attended in the Luskville Dragway bar. Shannon had a full house of Ladies who by all accounts had a great time, as Shannon and Paolo went through the do's and don'ts of drag racing with a full power point show. I cant not thank Paolo and Shannon for not only financially supporting Luskville Dragway, but for their incredible moral and vocal support as well, it would be easy to say that Paolo and Shannon are the Wayne Young of today. Should also be noted that Shannon made some shake down runs in her new Camaro drag car looking better on each and every pass, it didn't stop there as anyone stopping by their pit area was able to watch the Hip Concert from Kingston Live, which many did.

*
Jon Chen "Johnny Nitro" also liked the new pavement as he reset the track record for street bikes with a blistering 8.91 run as he was tuning up for next weekends Speedy Glass Rockland Cruise Night and Bike Shootout.
WEATHER MAN HAS EVERYONE CHEWING ON THEIR LIP: AUG 22/2016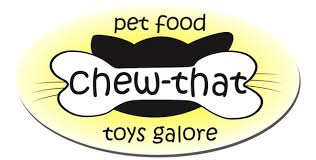 Like most of the season the Chew That Super Weekend was affected by the weather man, its seems like that is all we have been talking about this summer, rain out after rain out, and this makes 7, not a record by one shy of being just that. I some time wonder how we have gotten so many important races in with the way the weather is not cooperated, but all three of our Napa Auto Parts Races are in the books with only two left. And three of our Super Tour weekends in with only one left, now don't get me wrong we have had rain problems at all of these events except the Bonanza, but we where able to get all events in and complete.
First of all we all would like thank Paolo Giust and Shannon Giust for everything they do for Luskville Dragway, financially, morally and verbally this pair go above and beyond to help make Luskville Dragway a special place and they do a dam good job of it.
The pits did start to fill however on Friday Night as everyone was anxious to get back to their home base after no racing at Luskville Dragway for two weeks with the crew on the road up North. Saturday morning dawned with lots of sunshine and more cars coming through the gates even with the chance of showers in the Saturday forecast. Well the chance of showers did happen but not enough to even dampen the spirits of anyone as only a short delay was required until the skies cleared up for the rest of the day. As racing wound its way down the ladder the jr. program was shaping to be Ben VanNoppen and Brody Bellefeuille with Ben VanNoppen taking the win. The semi pro class saw Wes Clarmo had a win light back to Rai Pillwein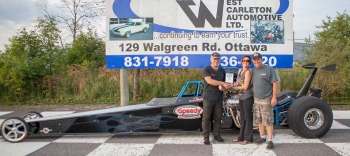 the semi finals after taking the better start. The other semi final saw Jimmy Hewitt the points leader take out Mark Thompson to set up a all Chevy Final
In Super Pro Kyle Jessup would take the win over Derek Malcolm as Derek would break out by.001 , who would then move against the winner of Mike Chenier and Jamie Clarmo. The winner there was Mike Chenier who has been a on a very hot streak of late. In the finals Mike Chenier would take the win over Jessup who has also had a good year but not enough this time around. What should be pointed out as well is the fact that Clarmo was not driving the familiar Orange Dragster as he was actually breaking in his sons new 1980 Malibu which was a beauty with orange and black. So with that all behind us we all set back a little and watch another cruise night unfold, with the forecast for rain on Sunday some late night partying did take place.

Rai Pillwein was also a happy racer
as he put points leader Jim Hewitt
on the trailer in the finals

Denis Black had the new Roadster
working flawlessly after only
a few weekends out.

Ben VanNoppen is having a great
year as he made his way back to
winners circle also.

One of the greatest sights to see
this weekend was Ralph Coe
coming through the gates

the 10.5 Outlaw Cars put on quite
a show for everyone and gave all
a taste of what's to come in 2017.

All kinds of good signs for the future
of our sport, like Steve Clarmo's new
semi pro ride that Dad was breaking in.

BITS FROM THE PITS: AUGUST 15/2016
*
This is with out a question been a busy season even though we have now been rained out 6 times Luskville Dragway this summer as another cruise night was washed out by Mother Nature, while the Napa Tour was touching down in Wawa. And now we head home to the "Chew That Weekend" which produced the biggest cruise night of 2015. The weekend will feature two days of racing, for super pro, semi pro and Jrs. with a cruise night Saturday Night, and Big Bucks for Sunday. We would also like to point out that this is also a Busters Bar and Grill back to the Bar Party, seems like its been a long time since we showed our support for one of our great advertisers. And after a regular Sunday to regroup, we present what could just be the biggest race car count of the summer, The D&D Performance Fall Bracket Nationals, which is a Napa Auto Parts Money Tour event as well as a Napa Canadian Super Tour Points race. So with out question the Long week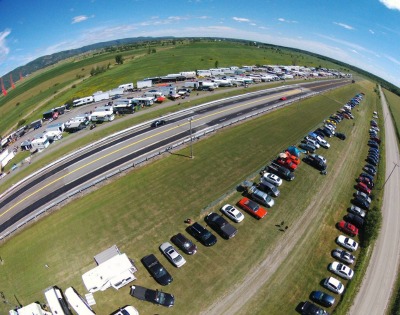 end in Sept which will also feature Rick "Hollywood" Kopp and the Phyro Jet Truck could reset some records for sure.
*Just a reminder too everyone that the rules about street cars and extra vehicles that was a huge success for everyone at this years Bracket Bonanza will once again be in place for the upcoming D&D Performance Fall Bracket Finals, which could see a larger car count than the Bonanza as it is not only a Napa Tour race, but a Canadian Bracket Super Tour event as well. We where tapped for space as everyone present could see, and needed every single inch of space we could muster up. We are working on some extra improvements and with any kind of luck will help out a little come the long weekend in Sept. But if we get the weather like we did for the Bracket, "look out".
*As we stated last week, we are already working on more improvements, and the 2017 schedule with a great deal of emphasis on the 36th. Annual Bracket Bonanza Aug 3-4-5-6/2017. We will be pulling out all the stops to make sure that we set more records and have more happy customers in 2017 than we did at the most successful Bonanza we ever had this past season. A number of changes that have already been discussed and will be put into place, which will include FRIDAY afternoon for the High Rollers, Friday Night for the Golf Cart Race, A name brand band, Bigger Payouts with SATURDAY being the BIGGEST of the weekend. Make know bones about it, from the moment the 2016 addition of the Bonanza was almost over, changes and ideas where being tossed around for the 2017 version, in an effort to make it even better than 2016.
*Fox Sports should be applauded for their television coverage of NHRA Drag Racing, I have to be honest when it was announced I thought here we go again, with all words and no Action. The fact that they let Mike Dunn go didn't make my support any stronger either, BUT I was wrong, the coverage i have watched so far as been almost as good as Diamond P Productions (remember them) in fact I have to say I think they have brought the coverage a long ways, and their analysis portion are good. I would like to believe that this coverage was part of the reason loyal Football advertisers like Poppa John's Pizza signed on with Leah Pritchett, as did others. Drag Racing is not easy to televise as there is a lot of down time and for motorsports fans who are used to only having down time, after a big accident (circle track racing) this is an issue. So I am pleasantly pleased with what i have seen so far, probably have to put a few more crashes in to attract the non loyal drag racing crowd, but do what ever it takes to introduce more and more people to Championship Drag Racing and I'm all for it.
*It never stops, look for some BIG NEWS surrounding the Canadian Bracket Finals at I-Car Sept 23-24-25th, sure it will make everyone 10 times happier than they were before the announcement. Good things
*Besides the horrendous crash by Chris Burry on Friday of the Provost Contracting Northern Nationals there was plenty of other carnage as well. Kyle Jessup blew his transmission up just prior to the Burry crash and with the long down time for clean up was able to get a borrowed trans from Mike Chenier in the car with help from many. Rachel Ogilvie was the next when a gear set busted in her dragster, the ironic of this was they took the gear set out of Chris Burry's crashed dragster and put it in Rachel's car. Then to top it off, Burry's team mate Mark Giullmette blew up his trans in the blown big block Chevy dragster.
WAWA 2016, 5th ANNUAL PROVOST CONTRACTING NORTHERN NATIONALS: AUG 15/2016
1
. Headed out for the Northern Nationals in Wawa, Ontario right on time and under bright sunny skies, after spending Tuesday night Sault Ste. Marie we arrived in Wawa early morning Wednesday once again with the sun still shinning. However the out look at this point of the week was for a mixed bag of things for the weekend, but we all know now wrong they can be, but different scenario plans where going through my mind just the same. The main goal would be too get all three days in, but everyone knows that sometimes you have to make adjustments because of mother nature.

2
.Thursday dawned and for once the weather man was wrong as although the skies where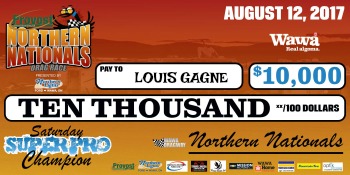 cloudy only a few showers occurred over night, and cooled things down for set up day number two. The rest of the team arrived around 3pm and so did the race cars start to arrive for pre race registration, and the kick off party Thursday Night at the Wawa Motor Inn. As racers started to arrive you could feel the excitement start to build, and with the weather forecast getting better the excitement meter was pushed even higher. But don't get me wrong it did rain during the set up, infact for the first time since 1995 it rained hard as bleachers where put in place, control towers were erected, and fences and guard railing was installed. By the time darkness came there was what looked like a drag strip starting to unfold, the rain did also put a damper on the annual race car parade, but that being said it did not put a damper on the fun in the Wawa Motor Inn Bar.

3.
So with the Thursday rain behind us Friday dawned bright and pretty and the pits filled quickly as once again the North was prime for NHRA Drag Racing. Time Trials got underway at 2 pm with everyone getting there fill of time shots as run after run where made pre seeding the Gamblers race. However everything did not go as well as planned with that, as about half way through the super pro rounds Chris Burry who was making a time shot in his rear engine dragster was involved in a accident that had everyone's mouth dropping. Approaching the finish it looked like the left front wheel broke off the car sending the car into a horrific barrel roll which saw the car tumble 6 to 8 times on the asphalt before coming to rest. The only good news coming out of this story was the fact that Chris was not injured at all, and was out of the car and walking around by the time we reached him. The car however was a total write off, with not much left to salvage but some parts, and that is another story. Kyle Jessup would use the down time from the incident to replace a broken transmission and go on to defeat Chris Manzo in the finals for the super pro gamblers title a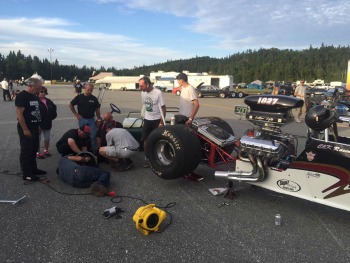 nd $1000. Semi Pro would see two drivers from Kirkland Lake go to the finals as Alan Siebart would meet and defeat Paul Robilard for $1000. first place prize package. Jr. Dragster gambler was won by Madison Millette and the Street Shootout was won by Pat Fowler. All in all a great day, HOWEVER what had been a great forecast for Saturday on Friday became a bad forecast by Friday Night, so fingers where crossed for Saturday morning and what the weather man would bring.

4.
Saturday morning dawned and for once or twice, the weather man was wrong again, no rain until well into the day even though it was suppose to rain first thing in the morning, so it looked like things might actually get done but that was not to be as rain did hit around 5 the time it was suppose to clear up. So with things in all class's down too controllable numbers and the rain falling hard the decision was sent out for the completion to happen Sunday Morning prior to Sundays race. So lets just press the button to Sunday Morning for Saturdays finishing up, and set the stage as nobody was given a time trial, things would just continue where we left off from Saturday. The first big win would go too James Dumont who would defeat Ashley Ogilvie fo the Jr. Dragster title, Sled/Bike Class would go to Brandon Knobel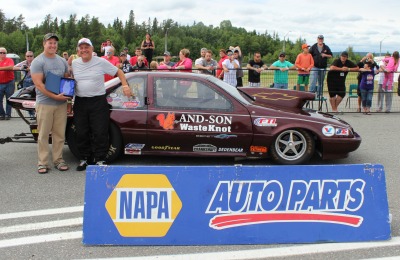 who would defeat Dave Leslie. The $1000. King of the street championship was Gregg Hall who beat up on Devin Smith in the Finals. Super Pro had 14 cars carried over from the rain out but only two could make there way to the finals. But it was Veteran drivers who would come to the line for the finals of Super Pro where Mike Chenier would defeat Jamie Tupper for the $5000 pot. Jody Dalcourt of Elliot Lake was the big Semi Pro winner on Saturday for his first $2000. win.
5.Sundays real deal would kick right off following the completion of the Saturdays race, and here everyone was given two time shots to get things sorted out. After a number of minor delays things got going along very well and even though we basically did two races things wrapped up right on time at 4 pm. The Big winners this day where as follows, Jr. Dragster would see Ashley Ogilvie pick up $1000 in the big pay day race, Kim Grant of Kirkland Lake in the Semi Pro event, Dave Southam in Sleds/Bikes. The winner of the $10,000 Super Pro Pay Day was none other than Bill Yorkchuck and this with out question was the high light of the weekend for many, as this is a man who is like but all.


The Chevy Rebellion made its first
trip ever to Wawa, and put on a
great show for all that where there.

Gregg Hall was the big $1000. Street
Car Champion on Saturday, driving
a" Corvair"

One of the most popular racers on
the Napa Tour is Fred Ellis, who did
not for a change pick up a win.

Mike Chenier was joined by many
in the winners circle of his first ever
$5000. Win.

Jody Dalcourt From Elliott Lake
took home Saturdays Semi Pro
crown and $2000.

Jordan Parniak has come a long way
in his D&D Performance powered
funny car.

Ashley Ogilvie is trying very hard to make
her last year in a jr. a memorable
one, and she's doing a good job

Kim Grant From Kirkland Lake was
the Semi Pro Winner on Sunday
in a "Javelin"

Sleds dominated the Sled/Bike Class
which may see some changes for
2017 to even playing field.
BITS FROM THE PITS: AUGUST 8/2016
*
Wow the big one is behind us, and like it is every year the weekend after always seems to be so dead, its kind of like the day after Christmas. You wait all year for Christmas to get here, and then "boom" its here and the day is over and the day after seems really, really dead, that's the feeling the weekend after the Bonanza gives most.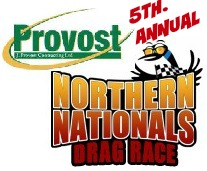 However when you step back and regroup, things don't stop as we head out later today for Wawa, Ontario and the third stop on the Napa Auto Parts Money Tour. Looking foreword too the Bonanza is always fun, hoping for great weather just too see what kind of turnout we can get, and quess what, this year we got the weather, and this year we got the turnout we dreamed for. So now we look forward too this weekends Wawa Northern Nationals, the week after that is the Chew That weekend, which produced the biggest cruise night of 2015, two weeks later The Fall Bracket Nationals and the Bandit Motorsports Jet Truck Show the long weekend in Sept, The Bracket Finals at I-Car and the OCTOBERFAST at Luskville, oh I quess we don't have to get withdrawals just yet after all.

*
JUST how much bigger could the Bonanza have been, well just count the local guys who did not show up, You know we often talk about the southern Ontario racers who shy away of the Bonanza because of the stiff competition, but how about those right from here who decided to not buy a ticket. Now yes there are some who just could not be there and we understand that, but there where some who passed the big one up for no reason but they thought they could not compete, that did nothing for the betterment of the sport we all love. But that being said most would agree that this years Bracket Bonanza has a high mark to live up too and for us to work for to be better next year, and I can tell you right now that we have already started and we will out do this years in 2017. We can tell you that Friday will be a full race day, the golf cart race will be Friday Night and will carry a HUGE purse, a name brand band will be brought it, one that will attract others, and the BIG MONEY DAY will be Saturday with Sunday being the $10,000. day for Super Pro.

*
As most racers know Luskville Points races don't happen for a couple of weeks, (Chew That Weekend 20-21) and if your not coming too Wawa with us, there is a racetrack just down the road that has an event, Shannonville is open on the August 13-14 weekend. A number of Shannonville drivers have been at Luskville Dragway supporting us, so if you can and your not on your way to Wawa give it some thought, take the trip and show them some support. "Trevor" says 100% guaranteed fun, and I know Trevor and he never lets us down on that.

*
So heading into this past weekend it was a real wind down for all of us after the Bonanza, but yet the show must go on for those that want to test and for the street car folks who have had nothing for two weeks. And yes you can always count on Luskville Dragway for something different even on a off weekend. Chris Tapp who is known as the guru of import performance owning all of the track records for years now when he campaigned cars in that class. Well Chris showed up this weekend with his twin children who will soon be six, and a all electric car that he build from scratch. As he was with the import stuff he is with the electric stuff, as he laid down some low 12 second pass's in his first ever drag day with the car. Once again he showed his genius, GM and Ford should take some notes, Chris Tapp owns and operates Tapp Auto a long time supporter of Luskville Dragway.

Chris Tapp who still to this day owns
every end of the sport compact ET
and Mph Records at Luskville Dragway

These days he is trying his hand with
electric power and doing a fine job,
low 12 pass's will attest too.

Denis Black still sorting out the bugs
with his new weekly racer, this is
one beautiful street roadster.
THE WOW FACTOR OF THE WAWA DRAG RACING EVENT: AUG 8/2016
You have heard us talk many times about the atmosphere that surrounds the races up North, Elliott Lake and Wawa, but its really hard to put into words unless you have taken part in one of these two events. Wawa has this incredible Motel (Wawa Motor In) with this unreal dinning room that takes you back to the glory days when mining was spectacular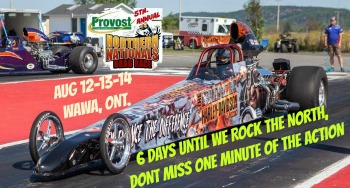 in the North and Money was plenty. The food in better than most 5star restaurants in the big city, the stone fireplace is larger than most garages and the friendliness of all in town goes with out saying is unreal. When you enter the town the first thing you see of course is this goose that is as tall as a two story house, but that is not the only one you will see as this is what this town's landmark is. Of course there is the Young's General store, which once again takes you back to the good old days, right down the pickle barrel where you can buy a single pickle if you choose. Thursday night the party begins with a huge parade lead by the fire department and the OPP all of which join in to make this weekend happen, racers are rolling in and registering, friendships are rekindled and bragging begins on who his going to walk away with the 10,000 on Sunday. We live in this great country and many of us, including myself, take so much of its beauty and heritage for granted, and feel so fortunate to be able to enjoy our trip to Wawa each year, it just reinstates to me, something i have long been proud to say, WE LIVE IN THE BEST COUNTRY IN THE WORLD.

BITS FROM THE PITS: AUGUST 1/2016
*
With the Bonanza done, and in the history books its time too once again look down the road and the next Napa Tour event in Wawa, Ontario for the Provost Nationals 5th Annual Northern Nationals. This weeken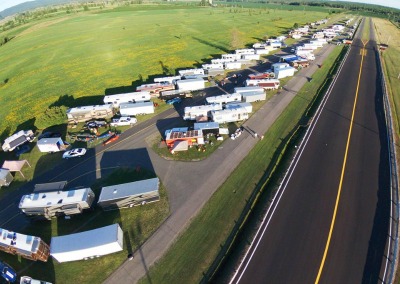 d Luskville Dragway will have just a test and tune day, and a cruise night as we head into the last half of the season, we will have more on the King of the Track Race, Randy's Performance bonus bucks later on this week, as we will be updating all week long.
* The Bonanza set all kinds of car count and spectator count records, but we also set the new track et record for a Jet Car as Dan Sullivan blasted that too a new 3.65 on the new pavement. The Chicago Rush Jet Car is one of the best in the business and always SHOWS UP" and puts on a hell of a show. Don't forget Rick "Hollywood" Kopp and the Phyro Jet Truck will be here in Sept along with the next Napa Auto Parts Tour, and the Canadian Bracket Super Tour as well.
*

Not having the movement of street cars in the pits was enforced heavily, but it paid off as everyone cooperated and it made all the difference in the world as race cars did not have to deal with that when returning to the pits, or going too the lanes, it will be enforced again at the Fall Bracket Finals Canadian Super Tour and Napa Auto Parts Tour event.
CONSIDERED THE BIGGEST, THE RICHEST AND THE BEST BRACKET RACE IN CANADA,LIVED UP TO JUST THAT: AUG 1/16
THURSDAY DAY ONE: The Bracket Bonanza is a different race, its not just a bracket race for big money, its a event, a happening the US Nationals for Bracket racers and this year was even more special as we celebrated 35 years of this event. Thursday was move in day, and move in they did as the pits swelled too the seems with race cars and haulers and everyone kept saying the same thing, its going to be HUGE this year, and it was easy to see it was as by Thursday night almost all of the regular pits spots where taken. Never before had so many cars showed up this early and it was also easy to see the attendance records where about too be broken when Friday rolled around. The atmosphere in the pits was incredible as drivers from the US and Canada who sometimes only get too se each other once a year where reconnecting, having a beer and a conversation that for some lasted well into the morning hours. But that was good as things would not start to happen until 1 pm Friday with time shots.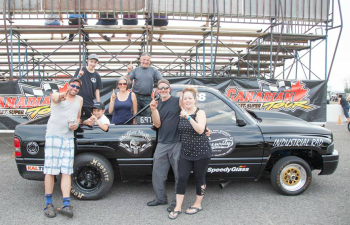 FRIDAY DAY TWO: Well by day two everyone was quite aware that they were taking part in a record setting weekend at Luskville Dragway and its annual Bracket Bonanza. NEVER had the pits been so full as cars where parked along the return road all the way too the end of the track, not the end of the quarter mile but the end of the track. It was very humbling to have this many quality race cars from all over the US and Canada converge on little old Luskville Dragway but it is what we have been working for , for the last number of years. Yes this looked like the big one, and for some the big payout came about this Friday. In the Jr. Dragster Ogilvie Auto and Fleet High roller Ashley Ogilvie would take on Ben VanNoppen for all the money and the glory, with Ben taking both with a win light. The Semi Pro Gamblers Race was a pretty good field with the finals boiling down to two Luskville Dragway regulars, Rookie of the year candidate Wes Clarmo would go up against veteran Darryl Jensen with Jensen taking the 1100 dollars first place prize money. The Super Pro Door Car side was a pretty good field this year, and running for a pretty good purse, $3000. and that would be taken by Darren Frasso who met and defeated Dave Gunn, from Hamilton Ontario.
the BIG DOG SHOOTOUT was the one everyone had come to see, with 15,000 dollars up to win 30 cars made the first round call including Darren Frasso and Tim Quinton. The field was also filled with some of the biggest names in US Bracket Racing, with the likes of Kyle Culteara, Frank Mark Sr. and Jr. Jimmy Diciacco, Paul Bochon and boys, and the list goes on and on. But in the final it would boil down to a couple of drivers from the Napa Tour, Kyle Jessup and Fred Angers. As the finals rolled around the skies where dark and the air was quick and that showed as Angers took another Wally home from Luskville Dragway, The win was worth 15,000 dollar and the honor of being the biggest winner of the weekend so far. So even though I'm not someone who is usually lost for words, I was this day as I knew with out even counting, with out adding anything up, this was already the biggest, the best Bracket Bonanza EVER.
SATURDAY DAY THREE: By now we knew that records would be thrown out the window, from everything like the weather, to race car count, to spectator count, to A new track record for jet cars laid down by Dan Sullivan. Yes the 35th would go down in the history books as a record setting special weekend of racing, partying and just plain having fun. Racing got underway right on time at 9am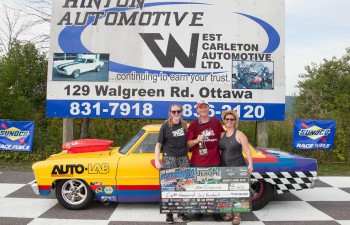 sharp and after two rounds of time trials, eliminations also got underway on time as things flew by run after run. Jr. Dragsters was dozen car field and North Bays Julien Laporte out last all he took on to come out on top of the Saturday Jr. Program. Semi Pro was a 50 car field which was made up of some of the best in the business, and it was one of the best in the business who came out on top as Fred Ellis made his way too the winners circle for the Saturday Program. All eyes was on Super Pro of course as some of the best US Based Drag Racers where present to take on all of the Canadians. Drivers like Kyle Culteara from Maine, Josh Speck from New York, Jimmy DiCiacco from New York, Frank Mark Sr. and Jr. from New Jersey and the Bochon 3 car team from Pennsylvania. In the end it would Frank Mark Jr. who would make his way to the winners circle for the second big payout of the weekend as he met and defeated Darren Frasso, and the big one still to come. The golf cart race was once again spectacular with close too 60 entrees and 1200. dollars to win, Kyle Culteara showed his skill is not just in running a very fast dragster, but he can also wheel a pretty good golf cart as well as he showed everyone how it is done and took home the first place cash. Then Steak dinners for everyone, a live band for everyone, and jet car line show and fireworks display that shook the ground was also on tap for everyone to enjoy.
NOW it was Sunday and the big one, the one that everyone was waiting for and with so many big name bracket racers from Canada and the US most would have bet it would be one of them picking up the $13500. first place prize money. But that was not the case as big name after big name would fall by the way side as the field was dwindled down to 8, then four, then two and then the winner. Now winning was great money but so was coming in the top 16 as that round paid $500 and covered y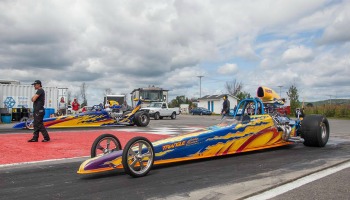 our weekend the quarters was $750, the semis was 1000. to runner up it was $2500. Heading into the round of four there would be three dragsters and a lone door car, that of John Simeoni of Sudbury, Ontario who would fall in that round setting the stage for a all dragster final. The other semi featured Big Bucks Bracket Pro out the US Jimmy DiCiacco who looked like a top contender for the big one, however that would not be the case as Dominic Vincelli and rookie dragster pilot Ed Lapointe would rise too the occasion and face each other in the final of the richest bracket race in Canada. And when it was over Ed Lapointe was the winner and to say the locals where ecstatic would be putting it lightly as the winners circle pictures show, the family was pretty big.
Semi Pro would also see two locals do battle as Jim Hewitt would meet and defeat Rob Graveline in the finals as Graveline would have trouble with the engine in the Opel. Julien Laporte would prove that Saturdays win was no fluke as he would back that up with a win light run over Ashley Ogilvie in the Jr, Dragster Finals.
So yes its over, but i think the talk will go on until the 36th Annual Bracket Bonanza rolls around in 2017, plans are already underway to make it bigger, richer and better for all concerned.

Mario Martel carried the Super Tour
logo on his wild blazer

Some of the nicest cars on the planet
where at this years Bracket Bonanza


This slick Camaro hails from Sudbury,
and was turning heads all weekend

Jordan Parniak had the fans screaming
for more, with his "wild child" funny car



Julien Laporte had a great weekend with
to wins for his efforts on the weekend/


Ashley Ogilvie who is in her last
year with a jr. won the big one Fri.

2016

JAN

FEB

MAR
APR
MAY
JUNE
JULY