RACE NEWS 2014
COVER SHOT: NAPA AUTO PARTS IS AS BIG A NAME YOU WILL SEE IN MOTORSPORTS & YOU WILL SEE IT AT LUSKVILLE

BITS FROM THE PITS NOV 28/2014
*
Now that the awards banquet is over its time to start working towards 2015, and we have been workin
g as you will see in some of the following write ups. Once again we would like to take the time to thank everyone the advertisers, the fans, the drivers and their families for a great 2014, lets make 2015 even better.

*
We can tell you that if you are someone who attends the Bracket Bonanza each and every year we have something special coming your way this year. As you all know we always have a band on Saturday Night to go along with the bar-b-Que and awards, and also to make the evening a whole bunch of fun, which anyone that has taken part in will attest too. This years band will have a very special quest, as ELVIS PRESLEY will make an appearance on Saturday night to really shake things up. The Band, The Bar-B-Que, the Jets, the racers from all over are what make this event the highlight of our summer, and we hope that the addition of ELVIS will help us as well, get ready to rock and roll. We will have the band RPM who will also make their first appearance at the NHRA Track in Luskville, Quebec.

*
Here is a sneak peak at Steph and Pam's semi pro mustang which has undergone a huge rebuild the last couple of seasons. Plans are for the Luskville, Quebec couple to return to the track this season after a few yea

rs to continuing building their family as well as a rebuild on the car. As the picture shows the car sits very nice and low, and should make what was a good working car, even better. The family is also in the process of adding a motorhome to the team, which so many of the racers do these days. And this will make trips too the track more convenient for the family to all be part of racing.

*
If things go right, we plan on running the Jr. Dragster Series on the Napa Tour again in 2015, there will be a few changes in order to make it better (we hope anyway). But we do have the dates down that we are looking at for that to happen, which will give everyone plenty of time to get their scheduling done. The series will kick off on the Malcolm Carpentry LONG WEEKEND at Luskville Dragway May 16-17, it will then sw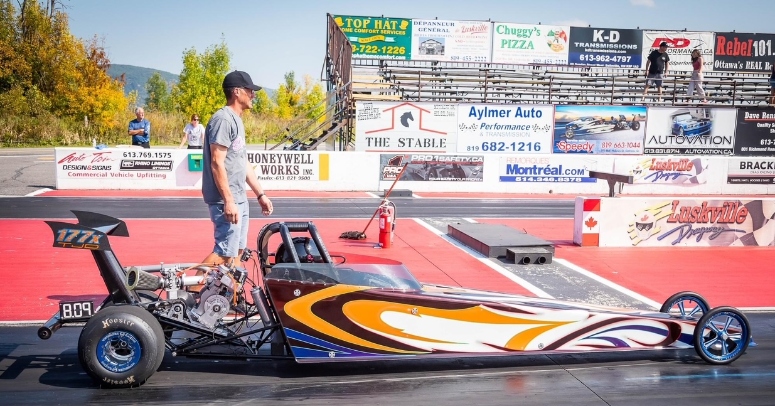 itch to Elliot Lake for July 18-19, Wawa Northern Nationals Aug 8-9, Luskville Dragway Sept 5-6 and the last race will be Oct 10-11 for the Spooktacular weekend which will be unreal for the kids. The kids will be treated to not just a race weekend, but a special weekend, with costume prizes, trick and treating at the racers pits which will make it fun for them also, as well as a Turkey Dinner like no other.

*
We have added a new picture to our Blast from the Past Galleries, and this is one of Frank Cantusci and his 57 Chevrolet Wagon which was a NHRA Record holder. Some of early days at Luskville Dragway i can remember Frank racing the car in Englishtown, New Jersey and than driving all night to get back to Luskville for what was back then Sunday Only racing. Frank is one of the few still left at the track these days that was some of the first people to race at Luskville Dragway. Check out all of the old pic's in or "Blast from the Past" section.
NAPA AUTO PARTS RETURNS FOR 2015, ANNOUNCEMENT IS BIG NEWS FOR LUSKVILLE & TOUR: NOV 28/14

In
a day and age when John Force is loosing Castrol and Ford as advertisers on the side of one of the most famous drag cars in the world, one is always worried that the same could happen to them. Each and every year when the season is over the job of resigning advertisers and finding new ones begins, and we have always been very fortunate when it came to that. And with that being said, we are EXTREMELY pleased to announce that for the fourth year in a row Napa Auto Parts will rule at Luskville Dragway and on the Napa Auto Parts Tour. Napa Auto Parts which is the largest auto parts supplier in Canada needs no introduction, and their name is also synonymous with Motorsports, and all forms of motorsports. The famous Napa logo is and can been seen at many race tracks across North America and we are very, very fortunate that it will be seen at Luskville Dragway in 2015. Napa will hol

d the title rights to the track, its points chase's, the right lane scoreboard and of course the Napa Auto Parts Tour which takes place in Ontario and Quebec. This Marketing partnership is very important to say the least, and it plays a major part in the growth of our sport locally, as well as the improvement of Luskville Dragway in particular. The relationship is a natural one with a number of customers who race at the track owning and operating Napa Autopro Shops. All of them play a part in helping us keep the relationship going, and some play a big part in communicating that too the people who make the decisions. The Napa involvement is something we are very grateful for and we plan on working hard to keep them around as long as Castrol was with John Force, now if Luskville Dragway can just become as famous.
OGILVIE, URSLACK AND CHENIER BRING THE TOTAL TO 10 ALREADY, ITS GOING TO BE BIG: NOV 28/14

It looks like the Bus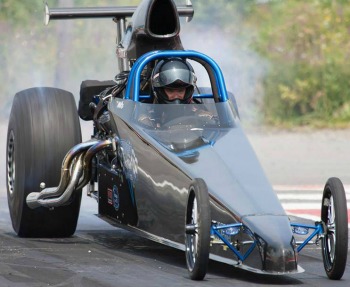 ters Big Dog High Roller Race at the 2015 Bracket Bonanza could be even bigger than last season, as 10 drivers have already signed on to what is the richest dragster race in Canada. Yes with four more drivers this week we are off to the fastest start ever in the history of this event, and this weeks names come from a group that have all been to the winners circle. Leading this weeks charge is Mike Chenier, who will have his brand new Undercover Ride debuting with a brand new Spiderman wrap come this spring, we hope too have some sneak peaks in the weeks ahead. Mike who is a relatively new comer did not take long to make his way too the winners circle with his first dragster, and with the new swing arm car its only a matter of time before he is smiling for the camera once again. The second entree is absolutely no stranger too the winners circle at Luskville Dragway, and has visited that space in many different rides, the latest being a slick looking Racetech rear engine dragster. Randy Urslak has been racing at Luskville Dragway for over 30 years and he has been winning for over thirty years and winning big. Urslak who has been voted driver of the year two times over his career is someone who can win on any given weekend and does, th
e new Racetech was not around long last season before it visited the winners circle on a number of occasions, including a $10,000 day at the Bonanza last summer. Randy who has his hands full on race day as he has always had three youngsters to take care of as well as a number of customers cars who also race at Luskville Dragway. Randy could have more to take care of next year if the rumor mill is right, as Randy's oldest, Randy Lyn could be doing some duty in Randy's former Racetech car which is now owned by long time Luskville Dragway racer Glen Hyland. Mike Ogilvie is our last entree this week and he is bringing two loaded pistols to the gun fight on Friday July 31st of the 34th annual Bracket Bonanza. Ogilvie who will field 3 rear engine dragsters in 2015 has not ruled out the third car either, but will depend on how quickly Mikes wife Vicki and his Daughter Rachel come along next spring. Mike will have a hired gun doing driving duties in the Blown Dodge M&M car as Kyle Jessup, a perennial winner at Luskville Dragway and other tracks will be pointed this car down the track. Mike himself will be taking care of the cockpit of the black Diamond dragster hoping this diamond in the ruff, can make its way to the winners circle. So with a month before the end of 2014 we already have 10 drivers registered with more to come, its shaping up to be a wild affair once again at the Biggest, the Richest and the Best Bracket Race in Canada, the Annual Bracket Bonanza at Luskville Dragway.
AFTER 35 YEARS THE BANQUET IS STILL ONE OF THE SWEETEST TIMES OF THE YEAR: NOV 24/2014
Yes is been 35 year
s of banquets and yet they still don't get old, infarct they seem to pump everyone up and make some of us feel young again. This years version was once again a resounding success with close to 150 people attending some from as far away as Wawa, Southern Ontario and of course many from close to home. The Centennial Ball Room at the Travel Lodge Carling Ave was once again pretty full as everyone arrived and got ready for a fun night. Prior too the banquet itself many of the folks to advantage of the indoor water park during the afternoon, turning a banquet night into a weekend get away. The Banquet room which is always a place of beauty was even more so for the Jr. Drivers, and any other kids that where there with their parents, once they spotted the Malcolm Carpentry Candy Bar, which stood out quite nicely. Once dinner was complete a brief introduction was given as well as a huge Thank You to all the advertisers that where present and their where many. Then the Awards got off with all of the winners and points finishers making their way to the podium to receive their cash and awards, these presentations took over an hour and made for some fun times. The awards such as Semi Pro Rookie of the year which went to Tim and Andre Fearrey, Crew Chief of the year which went to Roger DeCooman and Driver of the year which went to Derek Malcolm are the much anticipated awards as unlike the points winners these are awards that are not known until the night of the banquet. I would also link to point out that John Chambers presented each and every winner with a beautiful framed picture of their cars. Then a brief update on what is happening for next year, which included what will be happening with improvements and the long range goal for improvements, as well as some of the new programs that will take place in 2015. They say a picture is worth a 1000 words so please follow the link so you get a better picture of the evening.

BANQUET PICTURES

BITS FROM THE PITS NOV 21/2014
*
For all of you that follow are site on a regular basis, and have followed are switch to the Friday Publication in the off season, be aware that we will update this Monday Morning with Banquet info and pictures, so hope
fully you will check back in. We will only be doing this the one time so we can keep the info as up too date as possible for our readers. And just a little heads up for the Jr. Dragster pilots, Shannon Bellefeuille send me a pic of the prises that the kids from the Luskville Dragway Track series will be choosing from this Saturday Night. Once again as you can see by this and with everything else that they will receive this weekend, you can quickly see why Luskville Dragway has the VERY best Jr. Program in Canada.

*
BIG ANNOUNCEMENT'S COMING AT BANQUET

*
As you can see by the write ups below the excitement has already started, and we are very pleased to say that for sure, and we believe it will continue through the winter as we work hard at not only the Semi Pro Programs, but the other stuff that will take place next season at Luskville Dragway. We hope that everyone gets behind what we believe could be the greatest season in the tracks history, and it has a lot of history. We can also tell you that we met with the contractor who has been doing most of the work at the track the last few years and we are working hard on more improvements for next season, and improvements will happen. We will be announcing some things Saturday Night at the Banquet.

*
As we move into the off season, we are considering running a big dollar DOOR PRO race in 2015, although we have given up on the monthly door pro races, we think we could get enough support to do one big race along the lines of our Semi Pro deal. We would like to here from our door car super pro drivers to see if there is enough interest, in order to make it work we would need drivers from both provinces, however we think its do able. We are looking at the long weekend in Sept as a possible date, let us know, it can't end up where door pro did.

*
Please note that there will be many changes in the schedule that you see posted right now, as we try and fine tune it in the best interest of the events and the racers who want too take part in them, at Luskville Dragway. We have spoken with a number of drivers and their input is always taken into consideration, and with that being said we have decided to move the Semi Pro High Roller event to the opening weekend in May. The race will be part of the Malcolm Carpentry opening weekend and will allow a long weekend to be part of the travel plans for anyone from out of town. This has been a traditional trip south for many of our Northern Drag Racing friends and we hope that this move meets with their applause and attendance. There will be other changes as we go through the off season, so stay tuned to this web site for details.
REYNOLDS LEADS THE PACK, IN WHAT WE BELIEVE WILL BE A LONG LIST BY JUNE: NOV 21/2014

It did not take long once the announcement was made for the big Dollar Semi Pro Shootout Sunday next May, as Mike Reynolds and the Reynolds Family Race Team became the first of what we believe will be many, to put their name down to support. Driver of the blue S-10 Mike Reynolds is another one of our Jr. Dragster success stories has spend most of his drag racing career right at Luskville Dragway, and it like so many began in a Jr. Dragster where he won more than one track championship. The Grandson of a former drag racer, Mike has shown a natural talent for driving a drag car. Look for Mike to be one of the tuff contenders as he showed last season with a number of big wins, and runner ups. We are sure that Mike will be joined by a number of other former Jr. Dragster pilots and we can confirm that ADM Motorsports will have an entree and it will definitely be piloted by a former Jr. Dragster driver no matter which one of the three drivers decides to drive as they all have come from the Jr. Dragster ranks. The fact that we have such a great crop of graduates from the Jr. Dragster class, and in particular next season when 8 or more former Jr. Dragster pilots will be competing in Semi Pro class, says a lot for the Jr. program at Luskville Dragway. And just for your info there will be 21 Jr. Pilots at the awards banquet tomorrow night, so what does that say for the years ahead.
BUSTERS BIG D
OG HIGH ROLLER EVENT 2015 HAS 4 FORMER WINNERS, THE FIRST TO SIGN UP: NOV 21/2014
Yes the snow is on the ground and thinking about drag racing might be a little hard to phantom, but the thoughts of last years richest ever big dollar high roller event is obviously on the minds of many. Fact is I was up at the track the other day and this fellow in the picture was in the lanes waiting for next years event to roll around, just so he wouldn't miss a spot in the show. And with more than six names already coming in, and 4 of them being former winners of this event one can see why this event has become a major high light of the annual Bracket Bonanza. The race last year which saw American Frank Mark Sr. and Canadian and Track Champion Derek Malcolm going head to head for the $20,000 prise package had everyone watching as the two went to the line. It was probably one of the few times in Derek's career when almost everyone local was cheering for him to do his thing, and as it turned out he did just that with one of the biggest wins of his career. This race was one of the most exciting in the history of the track, at an event that has seen a number of big finals with American Frank Mark Sr. in them. In fact one would have to go back too the early days when Josť Mongeon became one of the first to take out one of the best Bracket Racers in North America, when she did just that driving her Dad's Dodge Challenger beating Frank in a Bracket Bonanza Final. The Cam Am excitement that all US racers, but in particular Frank Mark brings to the r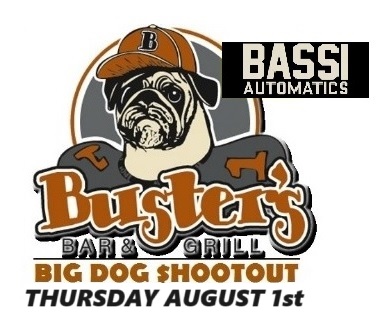 ace is a big part of what makes this race so much fun, and yes there is no question that after winning this event many times, a target is on Frank's back each and every season, but that too just adds to the excitement. Frank Mark Sr. is a great Bracket Racer and he has proven it many times, and still does to this day with proof again this fall and his great runs in the Camaro at the door car races that he takes in, in late fall. Frank comes too this years race with not one, but two entree's, with the change in the format which allows door cars to choose where they run, the door race or the Busters Big Dog Shootout, Frank has chosen to run both of his cars for the big money. Also adding his name this week is Derek Malcolm who will be defending a whole bunch of things next year, including the Big Dog Shootout. Derek who had what many would consider a dream season, knows that the pressure will be on as back to back seasons like that are very unheard of. Derek's teammate Troy Davis also a former winner of this event will enter the event with a brand new American Dragster, Davis is also a former track champion at Luskville Dragway so he too knows the track very well. Frank Mark Jr. the 2013 winner of the Big Dog Shootout will join his father as one of the first entree's in this annual race, where Jr. has won many times when in a Jr. Dragster. Frank Jr. like his dad has turned into one of the very best dragster drivers in the business, and he is one of the youngest in the class as well. Finishing out the top six in former winner Russ Adams, who like Troy Davis will attack the event in a brand new dragster as he has taken delivery of his new Diamond fully suspended car for racing in 2015. We have other names that are already in and this is the earliest that we have ever started this process, so we will predict right now that it will be bigger than last years race.
BITS FROM THE PITS NOV 14/2014
*
Well next Friday will be the Day before the banquet, so if you have not got your tickets you have this weekend only too do so. The banquet is one of the high points of the season as we get a chance to celebrate with all of our friends and racing family before we really take on the off season.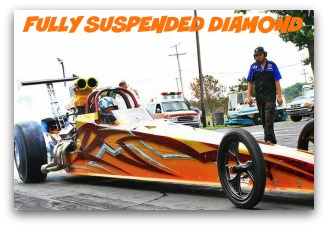 *
The rumor mill has been rampant about some more new car news and some other local purchases as the off season really heats up in the Luskville Dragway area. Denis Souliere has put his beautiful Racetech Dragster up for sale, and we understand that someone locally has reached an agreement to buy it. We can also tell you that Denis and Jill have followed a trend and purchased a incredible looking Diamond Race Cars Dragster. In fact they have bought the car that Scotty Richardson drove to the $20,000. win at the Million, if our sources are right Denis in fact owned that car at the time and was rewarded with some of the prize money from that win, that's the way to buy a new car. The new car like all the other Diamonds in this area is of course fully suspended with a four link rear and suspended front, making for a very smooth ride.

*
We are currently taking names for the Semi Pro Sunday Shootout June 28th. please feel free to add you name to the list of drivers that will race in what will become an annual affair for the foot brake crowd. With $1500. to win and a mild $100. entree fee and a $50 buy back, we are hoping for drivers from other tracks as well as our own. If you believe in the foot brake class then hopefully you will support this event.

*
We have our first four entree's already for the 2015 Busters Bar & Grill Big Dog Shootout on July 31st of the Bracket Bonanza, as you read, next years shoot out will have a slightly different set up, but it has not deterred one door car from putting his name on the big High Roller.
ASHLEY OGILVIE YOUR 2014 JR. DRAGSTER CHAMPION, TWO YEARS IN A ROW: NOV 14/2014
I know that everyone of us as parents and grand parents have heard it said of the kids now a days, "they don't seem to know what they want" well one of those kids that is certainly an exception, is young Ashley Ogilvie. You have also heard it said that winning is not everything, don't tell Ashley that, every time this second generation drag racer comes too the staging lanes or starting line, she has one thing on her mind, beating her competition, and beat them she did once again in 2014. Yes Ashley is one determined lady, and she proved just how determined she is by winning back too back track championships in the highly competitive Jr. Dragster Class. How competitive is she how about 197 passes in her Jr. which included 4 wins and 5 runner up spots, she love to be in her car. I often wish I would see her attitude in much older competitors as I firmly believe that it would do many of them well too watch this you lady in action. The Daughter of Drag Racer Mike and Vicki Ogilvie, it was pretty natural that Ashley might become a drag racer, and a very good one she did. Always racing under the watchful eye of her dad Ashley has won Rookie of the year, Track Championship in 2014 and once again in 2015, not a bad start to this very, very young drag racing career. The 13 year old attends SFDCI High School in Smith Falls where she in entering her first year of high school, a big change for anyone. Jasper, Ontario her home town would be considered a small country town, and maybe that is why her favourite music in, yep you quest it Country. So Ashley is one of the drivers who enjoys early Sunday mornings at Luskville where Rascal Flats is the norm each and every week. When it comes to who is her favourite drag racer Dad is first on the list of course but then coming in a close second is Antron Brown of the Don Schumacher racing team. When not drag racing Ashley is still very much sports oriented and loves to play Basketball, volleyball and running cross country activities she does enjoy at High School.
With older sister Rachel moving to a big car in 2015 Ashley did have the option of taking over the newer car, however she decided that her car has been good to her so she will stick with it once again trying too three peat in the black car. She will make some races in the red car but for now will concentrate on winning in her own. Ashley is quick to thank Keith Graham at Universal Supply Group in Kingston, Napa Auto Parts and of course Mom and Dad who are by her side each and every race weekend at Luskville Dragway.
MALCOLM CARPENTRY TO PRESENT OPENING WEEKEND ONCE AGAIN IN 2015: NOV 14/2014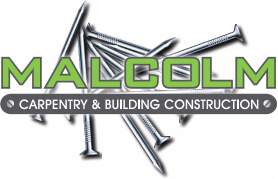 Work has been going on since the close of the 2014 season to get things ready for the opening of the 2015 season, and opening points days will once again take place on the long weekend in May (May 15-16-17). Malcolm Carpentry and Construction will once again hold the title rights to this event, which will also be presented by other advertisers as we work to make it bigger than ever. Because the opening weekend is a long weekend, we hope that like other years we will be able to attract drivers from distances, and by posting schedules early help those that do travel to plan now. We are also going to offer extra testing time for those drivers that do travel from far, making their trip well worth while. One of the things that we can tell you is thanks to Malcolm Carpentry, is the drivers will be running for guaranteed prize money in both Super Pro and Semi Pro as we try to get the season kicked off on the right foot. Super Pro will run for a $1000 to win purse (or better) and Semi Pro will feature two days of $500 to win (or better). The Semi Pro winners that are members in the points chases will also qualify for the draw at the end of the season, for the Fireball Performance Transmission, and any other items which we have, as we are working hard to make sure there is. The Track will open on Friday afternoon, with a test and tune Friday Night, racing will take place on Saturday with Super Pro, Semi Pro, Jr. Dragsters and Street Cars. There will also be a huge Cruise Night Saturday Night title rights h

older to be announced at a later date. We are also looking at some sort of show cars and that work will go on through out the winter time as we try to bring as much entertainment as we can in 2015. Malcolm Carpentry and Building Construction is an Ottawa based business owned and operated by Derek Malcolm. Derek has the combined education and experience to complete any home project. His attention to detail and quality work will turn your ideas into reality, providing a wide range of services including decks, fencing, flooring, siding, bathrooms, basements and much more. He would welcome the opportunity to meet with you to discuss your vision and offer creative solutions to all your needs, he provides product recommendations, assists with decision making, or answers any questions you may have on your projects. Malcolm Carpentry will provide you with skilled craftsmanship, personal service, best value, and excellent follow-through that you would expect. Please take a look around his website and see for yourself some of the beautiful projects, MalcolmCarpentry.com .
BITS FROM THE PITS NOV 7/2014


*
Two weeks until the awards banquet so not much time left to get your tickets it is crucial we have the right numbers for the catering department at the Travel Lodge so you have this week only to get tickets.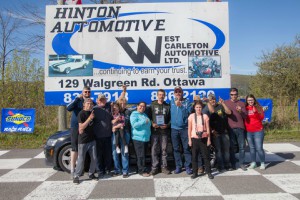 *
We want to let everyone know that we will be once again be taking entree's for the $500. Busters Big Dog Shootout, High Roller race at next years Bracket Bonanza. And something different this season will be a $200 Door Car only high roller, just like it says it will be open to all door cars, where the Big Dog will be open to ANYONE, open bodied or closed bodied. This event will run on Friday Night like past seasons and has become the high point of the summer of racing, just ask Derek Malcolm who won $10,000 at last years race. The winner of the door car side will once again be offered the chance to bet with the winner of the Big Dog Shootout, wagering what ever amount they both agree to for a over all Title Winner. We just hope that the lower entree fee on the door car side will tempt more door cars to enter the Friday Night excitement.

*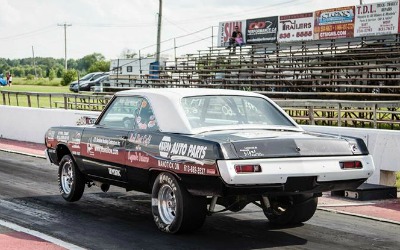 As a follow up too the Semi Pro Drivers Meeting, and the announcement that we would be increasing the points fund thanks to TDL Truck Repair West and giving a Full Blown New Fireball Trans ($2500. value) away too one lucky Semi Pro Driver next year. As we stated in the initial write up their are some qualifying rules, such as all members who run 15 races will qualify, well we can tell you that will be expanding on this to include anyone with a membership who wins "Select" special Semi Pro Events, such as the yet to be announced, Malcolm Carpentry Opening weekend, "Semi Pro Super Sunday Race", the Bracket Bonanza, and the Fall Bracket Finals. We can also tell you that there will be other items added to the prize package making for more than one item in the draw, and more than one winner, and the best Semi Pro Points fun in this country. STAY TUNED.

*
Last but not least, Banquet Ticket sales have been great, but we do have some that have not gotten theirs yet, it is very important that, that takes place this week as once we give the numbers too the Travel Lodge, ticket sales are CLOSED. So if your one of those late bloomers" please get your tickets right away.
MARK THOMPSON WINS THE 2014 SEMI PRO TRACK CHAMPIONSHIP: NOV 7/2014

Second Gen
eration drag racer Mark Thompson was the cream of the crop in the Semi Pro Class at Luskville Dragway winning the 2014 Championship, leading the points in style heading into the final weekend taking all the pressure off. Mark who is the son of Claire Thompson, one of the original drag racers of Luskville Dragway when it opened back in 1969. In fact the Dodge Super Bee that Mark drives is a 1969 which Clair bought to compete against people like John Adams, Frank Cantusci, Larry Aslagsen, The Finateri Bros, The Arial Bros and many more. Some of these names are still around Drag Racing and Mark has made sure the Thompson name has. Mark who for all of about a couple of years when he drove his own street legal Camaro in Semi Pro, has spent most of the time behind the wheel of the Super Bee since becoming a drag racer. Dad is always with him however, and for those of us that are at the track each weekend, know that Claire is always on the starting line spurring his son on. The Second Generation Dodge Guy got off too a slow start but picked up steam as the seas
on rolled along, but even though the pace picked up Mark would spend the entire season not visiting the winners circle. Now he may have not made it too the winners circle but he did make it too 4 Final Rounds where he had to settle for runner up, including a big day at the intertrack race at Mirabel where he picked up plenty of points. Starting at the age of 17 Mark has done a significant amount of drag racing, and the championship this year gives him two of these titles in two years, to go on his list of accomplishments. Mark like many second generation drag racers have spend all of their summer lives at Luskville Dragway, and he too like many others knows no other life than making the trip to Luskville Dragway on summer weekends. Next year will see much stay the same as they set out too defend their back to back championships, and with the new proposals for Semi Pro for 2014 everyone is expecting a heated battle for the Luskville Dragway Championship, and look for Mark Thompson to be one of those in the hunt.
SOMETHINGS JUST HAPPEN BY ACCIDENT, SOME ARE VERY PLANNED: NOV 7/2014

They often say it is important to remember where we came from, and I'm a firm believer in tha
t, and with many of today's racers, and street car enthusiasts not being around when we took over Luskville Dragway back in 1980 I thought we would take a little trip down memory lane. Back in 1979 I was just a broke drag racer like everyone else, but on one particular Sunny Sunday, I became really broke. After applying the brakes on a 135 mile an hour quarter mile pass in our newly acquired Vega Super Gas car, I was on my roof and rolling most of the length of the Shut Down. The car which was my third race car after beginning drag racing in the street class like so many others back then, was a total write off, and my wallet was pretty much empty, no it was completely empty. The good thing was the Don Hardy built race car did its job and other than my pride nothing else really hurt. However it looked like it might be the end too my short, not so successful drag racing career, or at
least that is what I thought at the time. However the accident turned out to be a turning point as shortly after the accident I was offered a job at the track which lead to me taking it over shortly after that. Well we have been there ever since and we like to think we have brought the track a long way, we know that noT everyone agrees with what we do, or how we do it, as can be told by the few local racers who don't race there, however we firmly believe that it is a better place each and every year. When we took over the pits, the staging lanes where all gravel and grass, and grass well there was plenty of it and it was never cut. The timing system was old, no sixties, no 330.s and no pre stage, the time slips where written with very little info, but we did race. Over the years we have tired to spend as much as we can afford, to keep improving and we continue to make that promise to our racers, our fans and our advertisers who 5 of, where with us back then and still are too this day, a testimony to their support. As we move into 2015 plans are already in the works for more improvements in the pits, the ditching, and return road, and then we will swing back to more improvements on track. We have always made it quite clear that improvements what ever they are must be done and paid for before moving on too the next project, that has been our way and will continue to be our way. It means that at times the improvements may not be as many as some want or as fast as other's want, but they will get done and paid for as we go.

This is what the starting line and track looked like
in 1979 prior to us taking it over the next year.

The starting line and the track in 2014, its easy too
see that we have come a long way.

Staging lanes back then where gravel and grass as was
the rest of the pit area.



Staging lanes today, much different than 1979, and will be more improved in 2015
BITS FROM THE PITS NOV 1/2014
*
We kick this weeks bits from the pits off with a little heads up to all you avid drag racing fans, "Nitro Funny Cars" coming to Luskville Dragway Sept. 4-5-6 2015, stay tuned for all the details. Yes we are actively working on next years schedule, and booked in shows as most of you know if you read this site. We are proud to have had a stable environment for our race teams and our fans as we move into 35 years of running Luskville Dragway, and as anyone that knows me, knows we get things done earl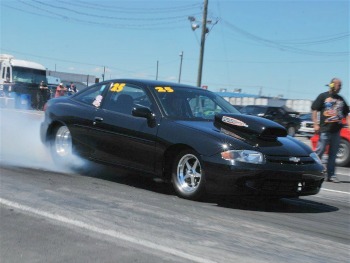 y so yes we have most of our shows in place, and this one is going to be special for sure. We will have all the details about it next week, but the long weekend in Sept in 2015 will be a very special weekend for Luskville Dragway, and its fans.

*
A little bird told us that a new dragster could be coming to the area for next year, rumor has it it is the Diamond Race Car that Scotty Richardson won the $20,000. with at the Million?? wonder if this rumor is correct. But this new car purchase you can take it too the bank, if anyone was wondering why Dick Stanton was not at the Semi Pro Drivers meeting, it wasn't because he didn't want to be, he was in Montreal picking up his new ride for 2015. Dick has bought the trick Chevy Cavalier that just went up on our Drag Mart Section a week ago, and has it home safe and sound already. This is a very nice piece and will make a even tougher competitor next season, not that he wasn't tough enough already. Again another good sign as another new car moves to our area, I would also like to point out that Dicks reliable Semi Pro Truck is now for sale and would really love too see someone from our track pick it up.

*
Some new rules and some new ideas came out of the Semi Pro Drivers Meeting this past weekend, which by the way was extremely well attended. The Drivers where informed that a brand new Fireball Performance Automatics Transmission would be given away to some lucky driver and the points fund was going to be increased thanks to the support of TDL Truck Re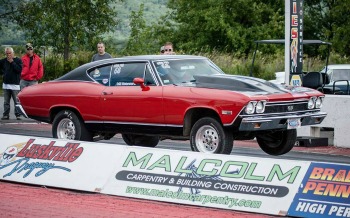 pair West. There will be some changes in the way points are allocated, and some stipulations on support in order to qualify, but it is going to be a much better points package. Management made it clear the goal was to attract more semi pro drivers, convince more Jr. Dragster competitors to move to Semi Pro before making the big jump into Super Pro. The one item that was met with FULL support was the changing of how points are given out. Right now a driver does earn points once he becomes a buy back, starting next year drivers who buy back in will receive 100 points per round won after that, instead of the 200 points for a live driver. This will make the points chase's much closer which is what all race series dream for, and should make everything come down too the wire at seasons end. The ability for Teams to be registered will continue but with the stipulation of a team being just that, driving the same car in competition when one or the other are not there. There will no longer be a day of grace, but the pay for a day program will continue, points fund payout will once again as in past years be based on a percentage of attendance, but if you have a membership and attend the banquet you will be entitled to points fund payout. There will also be a special Draw amongst the Semi Pro Drivers who have graduated from the Jr. Dragster Class, more details on this to come. Stay tuned to the rules and regulations page, the points membership pages as we make the changes to things for next year.

*
We have started to update our Drivers Profile page after some spurring on by a number of the drivers at the drivers meeting who are not on there, please understand that the only way we can create a Driver Profile is if you send us the info. We can add pictures to the driver profile page but in order to put up a profile we need you to give us the details. Makes for great reading, makes for a better web site, get er done. Also a reminder for Banquet Tickets, its coming fast and for anyone that mailed in for the tickets they will be available at the door the night of the banquet.
DEREK MALCOLM HAS BANNER YEAR AND TAKES NAPA TOUR CROWN: NOV 1/2014

Derek Malcolm has been spending his summers at Luskville Dragway for 31 years now and there is no question
that this past season was his best ever, winning two championships and more prize money than any other driver this season. Yes 2014 was quite a season for the 31 year old owner of Malcolm Carpentry and Construction, and someone who is also responsible for many of the activities that go on at the track including the smooth operations of the timing system. Yes unlike most of the drivers who can concentrate on driving and having fun, Derek has to keep one eye watching how things are going on, and one ear listening for the call that something needs to be repaired. It is something that he has done his whole life, as Luskville Dragway has been a major part of his every summer. Like many of the new kids today, Derek Started his drag racing career in a Jr. Dragster where he was able to win a championship or two as well. Over the years Derek has amassed a long list of accomplishments winning his fare share of Big Dollar Races and a number of championships both Track Series and Napa Tour Series. But this year saw this Father of two have what many would call a dream season, with a number of big dollar wins, and not one but two Super Pro Championships to go with it. Derek who along with full time team mate Troy Davis and part time team mate Kyle Jessup also created a cool concept between the big cars and the little cars (Jr. Dragsters) as all thr
ee of them took on crewman ship of one such Jr. Driver. Derek who was the mentor to Young Landyn Urslak, and this relationship, like the ones between the other drivers was one of the coolest things I have seen in drag racing in a long time. Race days sometimes saw these guys attached at the hype, as it became as much of a joy for the jr. drivers to be on the line too watch their mentors, as it was for the Super pro Drivers to assist the Jr. Drivers in their rounds. Heading into year two with the new Chrome Worx car Derek was probably not thinking Championship as this is a sport where doing that back to back is no easy feat.
The season started off with the Chrome Worx car being in the hunt every weekend, going rounds and adding points to his already first place spot early on. But it would take two months before Derek would visit the winners circle for the first time in 2014, making June 23 a great day in the early season. Heading into the first Napa Tour Race saw Derek doing double duties driving both the teams Chrome Worx Car and the Teams Pro Stock Truck which he would take too the finals on Sunday of the $10,000 race taking second to Jamie Tupper. Then it was back home for the much awaited Bracket Bonanza where Malcolm would have a pretty good weekend starting it off with a $10.000 win on Friday Night. Then it was on to Wawa where Derek would drive the third car on the Team, the Mullis Dragster and here too he showed his ability too win in anything taking first place on Day one of the Weekend. A few more weeks would go by and the inc
redible summer would continue with another trip to the winners circle on day two of the intertrack with Shannonville. Derek would continue to add points going plenty of live rounds, and would finish the season with a runner up spot at the last race of the season, clinching not one, but two championships in the same year. The incredible driving of this young man is shown with his ability to drive anything and win with it, as he showed this past summer, he would make any father proud and does. Derek was quick to point out that he would like too thank Ed and Rolly at D&D Performance for giving him a engine combination that worked flawlessly all season, and to all the extra team mates that pitched in when needed. The winners circle pictures show very clearly that Derek like many of the teams at Luskville have a great group of friends to celebrate with anytime there is a win. Not much will change for 2015 for the yellow car as it will under go freshening at D&D, however they will actively push to sell the car at the end of next season. The team has added another identical dragster for team mate Davis to drive, the Pro Stock Truck is undergoing some updates and a Semi Pro car is being added too the team as well, so 2015 will be a busy year.
TDL TRUCK REPAIR WEST, FIRST OF WHAT WE HOPE ARE MANY SEMI PRO BACKERS FOR 2015 : NOV 1/14


Gregg Whelan is the owner and operator of TDL Truck and Trailer Repair West a very successful business located off the Carp Road in Ottawa's west end. Ryan Whelan is the son of Gregg and is a accomplished mechanic at TDL WEST. Gregg and Ryan are also Drag Racing guys just like the rest of us and over the years have shown numerous times that they are very good drag racers as well. In fact this team which was regularly known as Team Green was a force to reckon with for numerous years right up until they took some time off so Ryan could concentrate on raising a family. However Team Green like most drag racers only took time off, as they have continued to visit Luskville Dragway, they still have their Semi Pro Cuda (Green Cuda) and have kept abreast of what is going on in the drag racing world and in particular Luskville Dragway. So it will come as no surprise to anyone who knows this family, that when it came to what was going on for 2015 they where very quick
to step up and throw their support behind what we are trying to do with Semi Pro at Luskville Dragway. TDL West has will become a presenter of the Semi Pro class in 2015, and this will allow us too increase the points found payout significantly for the drivers who compete on a full time basis at the track in the Semi Pro. We will be posting on the membership forms the new payouts for Semi Pro Points and please understand one thing, this has been made possible by TDL Truck/Trailer Repair West. There is not question that this is a huge deal for the growth of Semi Pro and will things very interesting as we head into the spring of 2015, with the large turnout at the drivers meeting all indications are that it is going to be an interesting summer. An added bonus to this announcement would be that we might see the Green Car back out sometime soon, and No was not said in our conversations. Team Green has a pretty good reputation of winning as the picture shows you, Gregg and Ryan cashing out at a Bracket Bonanza. I know that I speak for all the Semi Pro Drivers when we say a great big thank you too TDL WEST for their support of the foot brake class at Luskville Dragway.
FIREBALL PERFORMANCE AUTOMATICS FIRST TO SIGN ON TO SEMI PRO SERIES: NOV 1/14


We have said it many times, but we cant say it enough, we are a very fortunate race track when it comes too the advertisers that support us, and that has once again shown through with the resigning of Fireball Performance Automatics of Williamsburg, Ontario, for the 35th year in a row. And this year Doug Miller the owner and former drag racer, NHRA Record Holder, has stepped up that support to include a very lucrative pr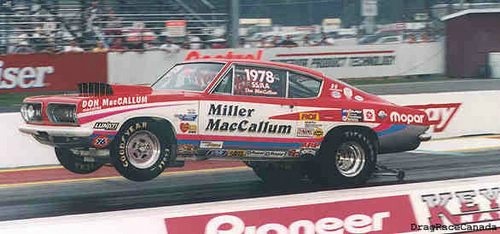 ogram for the Semi Pro Cars that compete in that class at Luskville Dragway in 2015. First of all lets talk a little bit about the company and the man, they have both been around drag racing longer than most, and their accomplishments are also greater than most. Going back too the very beginning of drag racing in a large way in our area, Doug Miller was involved, and was winning races, class titles and setting records. Back too the days of Coon's, Macintosh & Miller to the days of Miller and McCallum Doug Miller has been involved with Drag Racing. There was a time during the 70's,80's and 90's where you saw very few drag cars that did not have the famous Fireball Decal on their car showing what type of racing trans they where running. I remember looking at drag cars at the Molson GrandNationals and realizing everyone that was there that was a Canadian Car was running a Fireball Transmission. Didn't matter if you where from Ontario, Quebec or the Maritimes if you ran a drag car you ran a Fireball Performance Automatics. Doug of course was famous for the Chryslers they ran, right from the outset this was a race team that would set records every where they went. Including in the late nineties when everyone that owned a SS/AA car was trying to be the first of its kind to run a sub par 9 second run, well guess who it was, yep Miller and McCallum and yes it had a Fireball Performance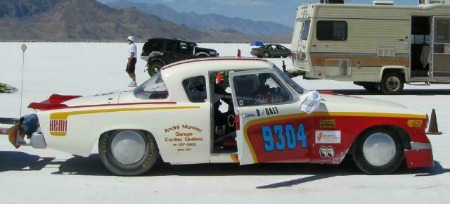 Automatic in it. These days Doug does not do any drag racing, but he is very much still involved with cars and owns a large collection of Nostalgia Performance cars and yes most of them are Chryslers. Fireball has long been a strong supporter of local drag racing and in the case of Luskville Dragway has been stead fast from day one, and is too this day. It should also be pointed out that "Fire" which he is commonly known by also builds trans for Stock Cars and also a land speed record attempting Chrysler powered Studebaker owned by former Drag Racer Andrea Moreau of Cantley Que. In 2015 Doug Miller and Fireball Performance Automatics will not only continue its support of Luskville as they have in the past but have added a special deal for the Semi Pro Cars for 2015. All Semi Pro Drivers that have supported the track by participating in 15 race days will be eligible to win the Trans, from a draw that will take place at the awards banquet for the 2015 season. Fireball Performance Automatics has agreed to supply the winner with the Footbrake Trans of their choice, either a power glide, C4, 727 Torque Flight, or a Turbo.
2014

AUG

SEPT

OCT.