RACE NEWS 2015
COVER SHOT: 2015 SUPER PRO DRIVERS WERE WELL REPRESENTED AT THIS YEARS AWARDS BANQUET

BITS FROM THE PITS NOV 22/2015
*

NHRA updates license procedure to streamline process, making it more appealing to all.



To increase sportsman racer participation and support member tracks, NHRA will streamline its competition license program effective Jan. 1, 2016. Updates will include three new classifications: Professional,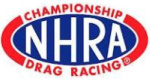 Pro/Sportsman and Sportsman. Certain levels of competitors in the new Pro/Sportsman and Sportsman categories can obtain a license without a medical exam and will have a lower fee to boost entry level participation. Licensed racers at this level also will enjoy a simplified online renewal process. n addition, all NHRA competition licenses will now incorporate NHRA membership benefits, including catastrophic medical insurance in effect at any NHRA member track or NHRA sanctioned event. Existing license and membership expirations will be merged into a single expiration for current licensed competitors as they are renewed. "This revised licensing process will make it easier than ever for those who want to race competitively in one of NHRA's national touring series or as an ET racer at their local NHRA member track," said Peter Cliffo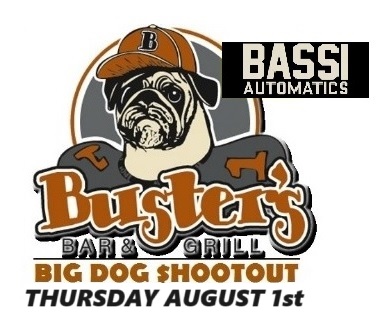 rd, NHRA president. "The process will become less complicated and more streamlined for all involved. We are looking forward to increased competitor participation across the board, and especially at the grassroots sportsman ET level, through this updated licensing policy." This is good news for anyone that has ever wanted to have a NHRA Licence, and should see us doing a lot of tests next summer.

*
We have had a lot of folks already questioning the 35th. Anniversary Bracket Bonanza which will be held on July 29-30-31 Aug 1st. and we will have lots to say about it as the winter months go on. We have already taken some entree's into the Friday High Roller Race and will start announcing them in the next two weeks or so, as well as everything else that is going to happen around the event. If you want your name added to the High Roller Door Car Side or the Busters Bar Big Dog Dragster Side please let us know as soon as possible. We can tell you this, we are working very hard to make it the best Bracket Bonanza ever and with $20,000. to win Super Pro on Sunday we believe we have a good start already. We will also be producing a Speciality T-Shirt that will carry the name of every advertiser that does sign on too this event, and we do need advertisers to make this bigger than ever.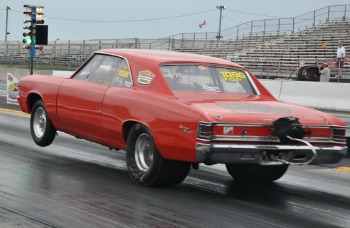 *
If you where at the Banquet on the weekend you already have heard about some of the exciting things that have already happened for 2016. Some exciting news surrounding advertisers, events, drivers and the track, if you were not at the Banquet then stay tuned to this web site as we get ready to keep your wheels spinning all winter long.

*
Rumor mill has been working over time this off season and one of the rumors coming out of this years awards banquet was that 3 Time Super Pro Napa Auto Parts Track Champion Derek Malcolm may compete in something other than a dragster in defending his Track Title in 2016. We understand this is not a completely done deal, and would see the dragster used for big dollar races only, and what ever the new ride is for the weekly competition, stay tuned as rumors are sometimes just that "rumors. Another rumor that was circulating at the this years awards banquet is that the Malibu pictured may be making its way to Luskville Dragway as a regular semi pro car, stay tuned as we keep on top of this story for sure.
NEWS DIGS, BUT SAME FUN AS LUSKVILLE DRAGWAY CELEBRATES ITS CHAMPIONS: NOV 22/15

The awards banquet at the end of each season is a big deal for everyone, and even though we were in a new location the importance of the event still was clearly seen by everyone in attendance. With quests from as far away as Wawa, St. Thomas and London, Ontario the significance of this event stood out loud and clear. For Years and I mean years the awards ceremonies had been held at the Talisman, for so many years most of the employee's at the Talisman new most of us by first name, but with the Ottawa Landmark Hotel switching to a different type of service, a new location was sought out. So this was the first year for the event at the Hilton Airport Inn, which is located near the Ottawa Airport which was convenient for some, and particularly those that were flying in for the event.
After a great dinner, a brief introduction, and the thanking of advertisers and staff the presentations where started and started with a bang as many of the youth of Luskville Dragway where introduced, with Rookie of the year awards and Future Champions Awards. First up was young Aidan Clarmo who not only won the Rookie of the year award but ended up finishing third in the overall points chase in his first year of Jr. Dragster racing at Luskville Dragway. Aidan as we have wrote before will be joined by his younger brother next season as yet another new Jr. Driver will enter the chase. Semi Pro Rookie of the year was won by Chevy Morrow, a young man who also came out of the Jr. Program, moved to Semi Pro and set the world on Fire like Aidan Clarmo did in Jrs. Chevy ended up in 3rd place as well in the season long points chase, and I for one will predict right now that all three of this years young rookies will win a championships sooner or later. Congratulations also go out to the other drivers in the Rookie of the year category as well (Dan Pillwein and Jacob Wilson). The third and final Rookie award was the super Pro Rookie of the year and here once again the winner was a former Jr. Dragster competitor as Bradley Shields was awarded the title based on his points finish in what was a tuff battle with two other rookies. Here too we want to congratulate Rachel and Vicki Ogilvie who made this season Super Pro Rookie competition the best ever for Luskville Dragway. Next Up was the presentation of the J&S Collision Future Champions awards were Rachel Ogilvie was crowned the overall winner coming from the Super Pro Side of the Ladder where she beat Chevy Morrow who was also presented with a award at the banquet. Enough cannot be said about the new racers at Luskville Dragway where it is easy to see that growth is strong, and the future looks bright.

Following this group of awards the Jr. Dragster Program was next up with a long list of Jr. Drivers coming forward to not only receive their awards and hoodies, but in the end choose from a Huge Table of Prizes that the Mothers of the Jr. Drivers had purchased with the money raised from selling of 50/50 Tickets through out the season. Over $3000. in prizes where presented to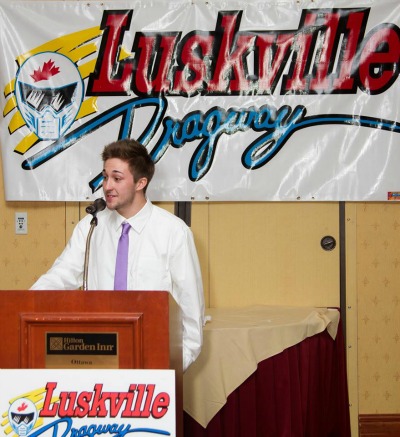 the Jr. Drivers making our Jr. Program the best in the country for sure. The last Jr. Driver to come too the front of the stage, and the first to choose from the Prize Table was Landyn Urslak, who had what many would call a dream year for sure.
Next up was the TDL Truck Repairs Semi Pro Championship presented by Fireball Automatics and here also not just the awards and hoodies where presented as a reverse draw would take place with the last man standing winning a Fireball Performance Automatic of their choice. As runner up Rob Graveline in the points and Stephen Ballantyne the over champion came to the front, only two names where left to be drawn, with Chevy Morrows name being the second last one drawn, and the winner Jason Fletcher being the winner of the Fireball Trans. A big thank you too Gregg Whelan of TDL and Doug Miller of Fireball Automatics for making this a very special year for the Semi Pro guys.
Following Semi Pro was the Super Pro competitors who would make up the largest class being presented with awards, as this is the largest class at the race track almost every weekend. A total of 14 drivers would make their way to the front of the room before Derek Malcolm who for the third year in a row would be presented with the overall Championship. The last award which is always the most anticipated one, Driver of the Year, had everyone on their feet with applause when Stephen Ballantyne was announced as the 2015 Driver of the Year. A young man who grew up through the Jr. Dragster ranks at Luskville Dragway, moved to semi pro where in a few short years as become the driver to watch. Racking up numerous wins through the summer, with a string of 7 straight victories during a seven week spree that saw him wrap up the points title very long before the end of the season. The presentations was wrapped up with some announcements for next years, which included some exciting news surrounding advertisers, improvements and the Bonanza. Then the real party began and went well into the Moring hours, once again another season has completely come to and end.

Derek & Taz Malcolm once again out did
themselves with this years Candy Bar


Super Pro Rookie of the Year Bradley
Shields present by Derek Malcolm

A huge Semi Pro class of 2-15

Aidan Clarmo was all smiles winning
rookie of the year in Jrs

Out of Town Semi Pro Tour Racers
Fred Ellis and Bill Nowlan your champ

Steve Ballantyne wins Driver of the Year

Rachel Ogilvie wins J&S Collision Future
Champion Award

Chevy Morrow finished third in points and
wins Semi Pro Rookie of the year.
BITS FROM THE PITS NOV 15/2015
*
Time does seem to be flying by as we are now only one week away from Banquet time, and a good time for sure. If your coming in early let us know, we will be at the hotel to set up early Saturday so maybe we can get together at the pool and do some bench racing. If you have not got your tickets well you know what they say in drag racing, you snooze you loose, see you all Saturday.

*
We are tentatively setting our winter practice tree party at Busters Bar & Grill for February 6th 2016. This is a get together for the racers and their families that has always gone over very well, and like past years it will be run an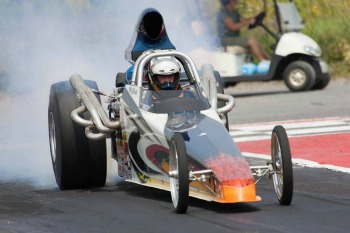 d promoted by Derek Malcolm and Troy Davis. There will be plenty of prizes and prize money as well as good food and cold beer. Once again there will be a Jr. Dragster class as well as a high roller event which usually see's a significant amount of money up for grabs.

*
As you may or maybe not aware of the work never stops even though the season is over, and this past week we were into Willy's Alignment Service's in the east end to see how the off season was treating Willy. And yes things are good, the new D&D Performance BIG Block is done for his undercover dragster and will be out each weekend next year, John Forsyth will be back with the Malibu doing his famous wheel stands, and the new Semi Pro Camaro which debuted at the last race of the season will be in the hunt for the points championship in 2016 making this a three car full time team. Willy and his team have be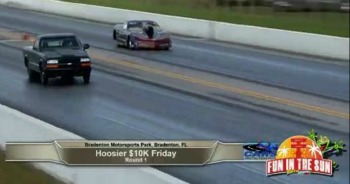 en staunch supporters of Luskville Dragway and its programs and for that we are grateful.

*
Want to get a plug in here for one of Luskville Dragway's major advertisers as well as a racer who frequents Luskville Dragway a number of times through out the summer. Joel Lapierre of Montreal who had nothing but trouble with his S-10 Super Pro Truck at his last visit to Luskville Dragway, so decided to drop it off at Brian Whites, BW Race Cars for a go over and set up. Well Day one at the Bradenton Fun in the Sun event saw Joel unload the Truck and get down to 14 cars out of 150, not bad. Congrats to Joel, and also good job by Brian White, give that some thought folks when you need work on your race car, again support those that support us.
OUR TRACK PHOTOGRAPHER JOHN CHAMBERS GIVES THE GIFT THAT KEEPS GIVING: NOV 15/2016
We often talk about the people at Luskville Dragway, the people we all call family, and how that family is always giving which I believe is what makes our track different . The ladies who give up their race days to sell 50/50 tickets so we have the best Jr. Dragster Program bar none, the drivers who are quick to jump to action when ever help is needed at the track, be it an oil down or a broken down race car. And the track photographer who gives up his weekends to be there to take pictures of our cars, and have them available for all to see so quickly. Yes John Chambers is a special guy and most of us know very little, other than he is there every big weekend, and the pictures he takes are so good. John is a very, very giving person and at this years banquet he has generously donated two sets of Senators Hockey Tickets that we will be giving away at this coming weekends celebration. A lot of you may not know much about John, but through the week he works and operates Mikes Music Repair, the man who has a close eye on your race cars on the weekends, fixes and repairs musical instruments through the week, making sure that others who have a different love than us get taken care of just as well as us. There is no doubt that it takes a special person to take the type of pictures he does you can tell he has a love of cars and that is also shown by his involvement with the biggest car show in our area the Merrickville Car Show July 9-10/2016. What is ironic for me is the fact that I knew John 40 years ago when I first came to Ottawa to start work, as I worked with his father Bill Chambers at the company i worked for all my life. John was obviously very young back then and after his Dad retired lost all contact, but then one day he showed up at our track, and I think everyone will agree with me, we are the lucky ones for that.
THE ROOKIES, NO NOT THE COP SHOW THE LUSKVILLE DRAGWAY SHOW: NOV 15/2015


This is the last post prior to the awards banquet where a number of awards will be handed out, and some of them no one knows who until the night of the awards banquet which makes for some fun times for sure. A couple of those awards centers around "Rookie" in both Super Pro, Semi Pro as well as Jr. Dragsters. So this week we thought we would like to just point out , just how good this past season was for rookies, and how we think next year will be of the same doing if everything follows the course its seems to be taking. This years crop of rookies is as good as it gets, with Semi Pro Drivers like Chevy Morrow, Dan Pillwein and Jacob Wilson all vying for the title of Semi Pro Rookie of the year. Chevy Morrow who like the other two candidates is s second generation drag racer, growing up at Luskville Dragway a place where his Dad and Mom spend their entire summer weekends for years. Chevy also like the other two drivers came up through the Jr. Dragster ranks and was a track champion in that class at Luskville Dragway. Driving the families 1969 Chevelle Chevy acted like he was not only ready for Semi Pro, but that he had been doing it for a long time. Many times Chevy would beat some of the veterans in the class and as the points totals show he did it many times. Dan Pillwein may have got off to a slow start, but by the end of the summer he too was showing that he was catching on real fast, and that like Chevy his days in a jr. dragster certainly did not hurt him. The last few weekends of the year saw Dan get as close as you can to winning a race with out actually doing it, but that too will come and this is one Rookie that no one will take lightly in 2016. Jacob Wilson who like the other two semi pro rookies was also a graduate of Jr. Dragsters, and he too moved to Semi Pro which the class is certainly grateful for. Jacob because of his work schedule was unable to run as many races as the other two drivers, but showed his stuff every time he got the chance. The Semi Pro Rookie of the year for 2015 is? check back in next week for that exciting announcement.
| | | |
| --- | --- | --- |
| Chevy Morrow | Jacob Wilson | Dan Pillwein |
Super Pro like Semi Pro had three Rookie of the year candidates, but unlike Semi Pro one of the candidates did come out of Jr. Dragsters, well at least not the driving of Jrs. anyway. Vicki Ogilvie did however spend many years at the drag races as a crew member for Husband Mike in the early days, and later on for two daughters who dominated Jrs. for 4 years. So in a way i guess you can say that Vicki Ogilvie did move up to the Super Pro Class from Jrs. Vicki who plays a big part with the Ogilvie Motorsports Team is also a team player with Luskville Dragway as she has been involved with fund raisers, the selling of 50/50 tickets and other things with the Dragway. One of Vicki's competitors for Rookie of the year not only came out of the Jr. Dragster ranks, but also out of the Ogilvie Motorsports Trailer, Rachel Ogilvie the Daughter of Mike and Vicki (who already won Future Cha
mpion Title) is also in the hunt for the Rookie award. Rachel had some large highlights in her first year in the big car, going all the way too the finals a the Wawa Big Dollar Tour Event in August, and then beating Bradley Shields and then Chevy Morrow for the Future Champion Award run off. Bradley Shields who did not win the Future Champion Award, did win plenty of rounds and was knocking of the door for a big win most of the season. Shields showed amazing improvement each and every weekend, and beat up on a number of big name drivers all season long. Look for this young man to visit the winners circle sooner than later.
The Jr. Dragster class as you can tell has graduated a long list of great racers, however it is not with out its rookie in 2015 as well. Young Aidan Clarmo was not just any Rookie either as he won races, and finished in the top five in his first year of Jr. Dragsters. Aidan will have his younger brother join him next year who will also be a rookie, so the Jr. Ranks have taking a hit over the last few years and will loose at least one more next year, but we do have some new blood coming in which is good.
| | | |
| --- | --- | --- |
| Rachel Ogilvie | Bradley Shields | Vicki Ogilvie |
BITS FROM THE PITS NOV 8/2015
*
With only two weeks to go until the banquet we have a lot of folks that have not gotten or reserved their tickets, this must all be done by the 14 of November as NO tickets will be available after that. We are moving into a new establishment and they have rules where we must inform them over a week in advance of how many dinners need to be served, so as you can see why we have to do it this way.

*
If the rumor mill is right then BW Race Cars is going to be a busy shop this off season, as a number of teams have indicated they will be having Chassis guru Brian White front halving their rear engine dragsters with a suspension set up. Brian will be installing a front suspension similar to what is currently on Vicki Ogilvie's car, which from all accounts makes for one smooth ride. The cars in question are all, already rear suspended cars and this will make them fully suspended, which by all accounts is a much better way to go. This is also the same type of set up that is on some of the winningest cars around this past season, The Angers Bros from Montreal.

*
It certainly is the quite time of the year which is great for a while, but if your like me two weeks after the season is over you get a restless. After all we do spend every summer weekend around the race track, the racing, and our friends in the sport and because many of us are like a big family the off season is kind of like the day after Christmas when all the relatives leave to go home. Do keep us posted on what your doing with your racing program, or your race car, whether it is updates or something new, people love to read about what is going on.

*
Speaking of racing programs that is what we have been working on even prior to the season coming to a close, we have had lots of questions about the future of Door Pro. We have not given up on it but need to here from you the door pro racers on whether you want to see it continue or not, and if it is too continue which personally i hope it does we will need advertiser support. So drop us a line let us know what you think about the future of Door Pro, let us know if you or your company would like to back one of the races. I would like nothing better than too see a door pro race at the Malcolm Carpentry Opening weekend May 21-22/2016.
MALCOLM WINS THIRD NAPA TOUR AND TRACK CHAMPIONSHIP, IN A NAIL BITER THOUGH: Nov. 8/15

There is no question that Luskville Dragway has created and nurtured some of the best bracket racers in this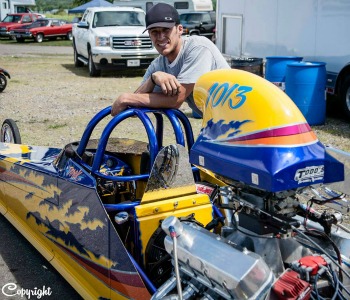 country, that is proven over and over again when ever and where ever the locals travel and compete. We have spoken of it so many times and it is as evident as this past summers trips to out of town races, where the Luskville Dragway drivers where not only noticeable but in some cases dominate, whether it was Cicero, New York, Wawa, Elliott Lake or I-Car in Montreal Luskville Dragway drivers where winning, or where in a position to win. One of those drivers who has shown that success over the years is second generation drag racer Derek Malcolm. A driver who not only showed again this year that he is one of the best out there, but did it in a nail biter with personal friends Kyle Jessup who finished only 100 points behind and Troy Davis who was also nibbling at his heels on the final run of the final day. This championship this year marks a Triple Crown for this Driver of the year in 2014, and marks his third championship in the Chrome Worx Dragster which he has owned and driven for three years. Derek is one of the mellowest drivers out there and his calmness seems to be one of his attributes in winning as nothing seems too fluster him once he straps himself into his race car. Now it may be safe to say that Derek did not win the most races this year, but by the points totals you ca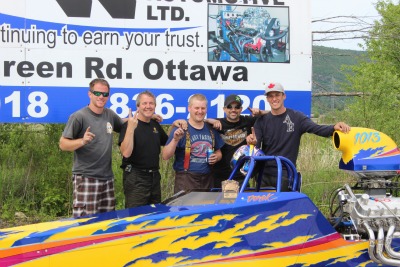 n see he did win the most rounds, as well as some significant runs through out the year. None be more important than the final day on closing weekend where he went into the event trailing Kyle Jessup. But with his run all the way to the finals where he eventually lost to Marco Laframboise, it was enough to regain the lead and secure the title as Jessup had fallen a few rounds earlier. That secured that Napa Auto Parts Track Title and put him in an elite group of Drag Racers who can say they a have won Three Championships in a row in the premier class of drag racing in Canada, Super Pro.
Prior too the Last event at Luskville Dragway and the last points events for the Napa Track Series another Napa Series had come to a close and here too Malcolm once again as he did in 2014 prevailed with the Title. Derek who balances his racing and assisting in the running of Luskville Dragway with the operations of his own business, Malcolm Carpentry and Construction and His family life to wife Tiziana and girls Olivia and Julia. The girls can all be seen quite often at Luskville Dragway and other tracks that Derek races at through out the summer. This was quite evident at this past years Halloween Spooktacular for sure. In closing Derek has made it clear that he would like too thank the good folks at D&D Performance who have supplied him with a race engine that has been incredible, and also to those fellow racers (many included in pic to left) including his teammate Troy Davis for all the help.
BITS FROM THE PIT NOV 1/2015
*
Weather man was definitely on our side this week as Precision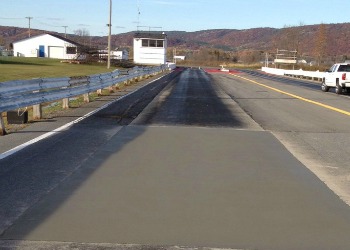 Concrete Finishing moved into Luskville Dragway to finish up the work that we told you about last week. Carl and Kyle Jessup along with two employees (one being another super pro racer Chris Dennique) arrived at 8am to get ready for the first load of concrete that arrived around nine. First things was the laying of the wire mesh that is laid in the concrete as well as steel pins that where installed into the exciting pad to connect the two units. We where able to back the cement truck right up to the pit side guard rail and wheel barrow he concrete to the tower side extension first. After the tower side was done the same process took place on the pit side. The boys worked the cement into a nice flat service and made it ready for the power trowel to smooth it out and get it ready for brooming. A two hours of wait time took place between the pouring and placing before the concrete was set enough to walk on with the power trowel. Kyle was responsible for this process and had the extensions look a very smooth and flat. Kyle then proceed to put a very light broom finish to the pads which you can see by the pics turnout out very good. So that will finish up improvement work for this year with more too come early next season as we work very hard to make Luskville Dragway as good as we can.
*

Many of you have been reading about the new Triple Crown Canadian Bracket Super Tour which as of right now will see a points series for Super Pro, what we would all like is to here from the Semi Pro Contingent of whether they would like too see a Semi Pro Points Program as well. Semi Pro drivers have always been a little harder to get to go down the road to another track, so what we are doing is putting a feeler out there to get your response. Please contact Jay Beaulieu of Drag Race Quebec, Fred Angers at Para Performance or Arnie Malcolm at Luskville Dragway. The Luskville Semi Pro drivers proved this past Sept that they are more than willing to travel, however this would make three trips to other tracks not one, so we need to here from you as well. This is a great series and will be on top of the Local Luskville Series, and the Napa Tour which gives drivers a unprecedented amount of programs to take part in with rewards for all at the end.
BILL NOWLAN "WOWS" EVERYONE AND TAKES THE TOUR SEMI PRO CHAMPIONSHIP: NOV 1/15

Two drivers have been very prominent on the Napa Auto Parts Tour for the past almost decade, Bill Nowlan and Fred Ellis who are good friends and both hail from Southern, Ontario have both won more times than you can count. However Fred has always seemed to co
me out on top when the championship announcements came about, but that all changed this year as Bill Nowlan took his first ever title and did it in fine fashion. Nowlan who typically runs both Super Pro and Semi Pro with his trusty 1966 Chevelle had what many would call a banner year, and topped it off with the Napa Auto Parts Tour Championship in Semi Pro. It might have been a sign of things to come when Nowlan would meet Fred Ellis on the Sunday of the first Napa Tour Stop in Elliott Lake, where Nowlan would take the win and make it back to back wins as he had already beat Jason Laporte on Saturday. The next stop on the tour would be Luskville Dragway and the oldest and richest Bracket Race in Canada, and a race that Nowlan has always done well at. That would not be the case this season tough as he would be shut out of the winners circle, but would leave with his points lead intact. Winning ways would once again show itself as the tour headed to Wawa where not only did Bill win, but showed some of the largest sportsmanship I have ever seen. Bills closets rival in the title hunt Fred Ellis was unable to make the trip up north after blowing the engine in his Cuda Country Car the week before at Luskville Dragway. Fred at first thought it would be the end of the season, but with some help made the decision to get things back together for the final two events. However missing Wawa would for certain put him out of the hunt, up stands Bill Nowlan who unannounced to Fred, bought Ellis's entree and ran the numbers to not only keep his points alive but too pick up some round points as well. Keep in mind this is the only driver who had a chance of catching Nowlan, but as Bill told me, I want to win this thing, not back into it. With out question in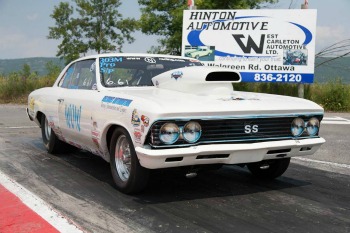 my 40 some years of doing this i have never seen a more unselfish move in my days, hats off to Bill Nowlan you are what this sport is all about.
So now with Fred and a new engine installed things would once again shift back too Luskville Dragway and the Fall Bracket Finals where the two competitors where met with a record turnout of Semi Pro Cars for the Track. So with over 50 Semi Pro Cars in attendance it was a good weekend to go rounds for both Nowlan and Ellis however with out either taking a win both would head to I-car three weeks later in the same position. I-Car like the fall race at Luskville Dragway would see neither Nowlan or Ellis make any major moves and that would seal the deal for Bill Nowlan and his first ever Napa Auto Parts Tour Championship. This years Semi Pro tour did not have the numbers we hope that it does in the years ahead but it did have quality racing at each and every event on the 5 race tour. Bill Nowlan not only showed that he is one of the best racers out there, but certainly showed that he is THE best sportsman out there as well, CONGRATULATIONS Bill.
2015
OCT.