RACE NEWS 2016
COVER SHOT: THE PARA PERFORMANCE RACE TEAM HAS MADE MANY A VISIT TO LUSKVILLE DRAGWAY

BITS FROM THE PITS: MAY 2/2016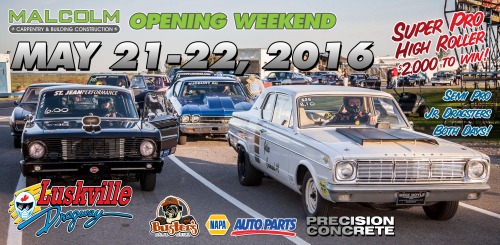 *
First of May, got to say getting close to my favourite time of the year, car show behind us, track is tested and ready to go, and the official opening of the Napa Auto Parts Points races is getting close. Yes the Malcolm Carpentry Opening weekend presented by Precision Concrete Finishing and Busters Bar and Grill is so close you can smell it. And smell the rubber you will as we gear up for what we believe will be the best opening day EVER at Luskville Dragway as we get set for the best year ever, BE THERE.

*
Well we have had not much but good news for the semi pro class during the off season, so we had to expect some not so good news at one point. Now don't think the sky is going to fall, but one of our regular racers is moving and will not be with us for the entire season, which is a bummer as this racer was a staunch supporter. We will bring everyone up to date on this move once everything has been settled and we are allowed to fill everyone in. Lets hope we can add a few more too the class, as you know as well as I do you are going to loose someone once and a while.

*
Just a update for those heading out too I-Car on May 28-29, Derek and Mike where down there this past weekend installing a brand new laser start line set up, the exact stuff we have at Luskville Dragway. Want too thank Mark Arseneau the owner of I-car for taking our concerns into consideration and fixing what has in the past gave us a few problems. The owners of I-car have made it very clear that they will work with us in making their facility one of the best drag racing stops on the Napa Tour as well as the Canadian Super Tour. Again everyone working hard to make what we have not only last but much, much better, we firmly believe we have a great thing going here and hope that all the race teams will support what we are putting together, it can only get bigger and better if we all support it.

*
We can now confirm too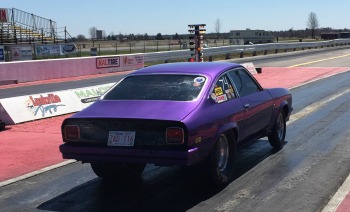 everyone that Mike Chenier is the new owner of the immaculate 701/2 Camaro that was campaigned by Bryan Thompson, look for a debut sometime in the future.

*
Another beautiful Saturday in the books, another cruise night under our belt, and again a number of drivers out testing including Semi Pro teams of Mike Zado, and Russ Fraser as well as Jr, Dragster team mates and brothers Aiden and Ryan Clarmo. Also out once again was Super Pro Rookie of the year candidate Yves Lanthier with the Lanthier Racing BW rear engine dragster. Cruise night was once again held under cool weather, but once again attendance was with a lot of new faces, including some new day super cars from Ford and Dodge. Once the warmer weather continues it will be interesting to see just how many street cars we can hit in one night as we attempt this summer to break all records.

Jr. Dragster Rookie of the year in 2015
Aiden Clarmo was out testing & looked
like he had not missed a beat over the
winter months.

Russ Fraser of Brockville will be a veteranof Luskville Dragway will be a contender
for the TDL Points championship in 2016.

Was not a record crowd for the second
cruise night of the year but it was a
good one, with many new faces.

Rookie candidate for 2016 Ryan Clarmo
Mmade some check out pass's and looked right at home for the coming season.

Another great sign for drag racing at
Luskville Dragway as Mike Chenier got
his new door car home this week.

Drivers attending the first Super Tour
event at I-Car in May, will be pleased
with a new Laser startline that was
installed by Derek & Team ADM .
FIREBALL AUTOMATICS TO KEEP THINGS FRESH IN SEMI PRO IN 2016: MAY 2/2016

As we celebrate 35 years of operations at Luskville Dragway and we close in on 50 years of Luskville Dragway's existence (2019) we are pleased to have one of the original drivers and advertising supporters of Luskville Dragway back in 2016. Once again this season the Semi Pro Class at Luskville Dragway will once again benefit from the bonus support that is coming from Fireball. This year will see all Semi Pro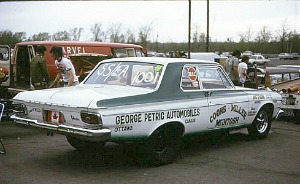 Drivers have their names drawn for a complete Transmission Freshening after the season is over. This is once again great news for the Semi Pro Drivers as Jason Fletcher, last years winner will attest too. To qualify the drivers must be a member of the Luskville Dragway points fund, attend a select number of races and be at banquet. Doug (Fireball) Miller was a drag racer when Luskville Dragway opened, he was a NHRA World Record holder, part owner in the first super stock car to go into the 8 second zone, which he built the transmission to do so as well. Yes Doug has pretty much done it all when it comes to drag racing, and one other thing he has always done is support Luskville Dragway and many of the drivers who compete there over those years as well. A builder who is known through out North America who today spends most of his car time show casing one of his many nostalgia super cars at in doo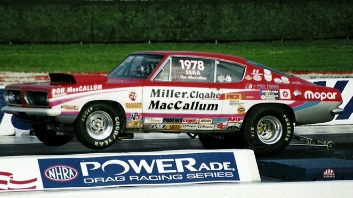 r shows and outside venues. A Chrysler man from day one Doug who had many drag racing partners over the years has never left those Dodge roots, many would say he is Canada's version of Don Garlits in his own way. The shop which is located not far south of Ottawa in Williamsburg, Ontario has continually produced some of the best performance transmissions in the world of drag racing. The list of competitors that use Fireball products is as long as your arm or longer and includes Championship winning Cars and many, many more. One of the things that stands out to me as we head into our 35 year is how important people like Doug Miller at Fireball Automatics and others like him played such an important role in drag racing in our area, and the success of Luskville Dragway from its beginnings to this very day. We are very pleased and excited to have Doug and Fireball Automatics back with us in 2016, need a performance Tranny, call them at 613-
PARA PERFORMANCE TO CONTINUE MARKETING PARTNERSHIP WITH LUSKVILLE DRAGWAY: MAY 2/2016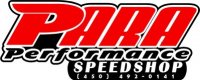 I
n a day and age when speed shops are becoming a thing of the past it is nice to see that one of them is not just surviving but it is getting bigger and better as the years go by. Its a tuff deal for independent speed shops, as the times changed and many people starting supporting on line shopping when it came to high performance, which was a deaf nail for many, but not Para Performance of Montreal which is still going strong. It was only a little while ago that we talked about Ottawa's oldest running speed shop "Young's Speed Shop" closing, so it is great to here that Para Performance is doing well. Doing well enough, that the owners have once again decided to support Luskville Dragway with the purchase of advertising once again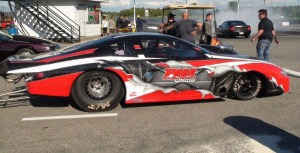 in 2016 as they did in 2014-2015. Owned and operated by the Fred and Frank Angers and François Paradis it is quick to see that this is a racers speed shop to say the least. Para carries a complete supply of high performance products, and if they don't have it on their shelves they can get it the next day. They are also a supplier of Abruzzi Racing Transmission and once again in a day and age when our Canadian Dollar is not well, this is the place to shop. They can also get you what ever size and type of drag slick you want and have been doing so for a number of this area's drag racers. Many years ago there was many speed shops, many of them have bought advertising at Luskville Dragway over those years, but today Para Performance is one of the few that is around and is growing, so please remember to support those that support us. You can find out more about Para Performance by clicking on their Logo in our advertisers page.

paraperformance.ca
MALCOLM CARPENTRY OPENING WEEKEND PRESENTED BY PRECISION CONCRETE FINISHING: MAY 2/2016
As I earlier s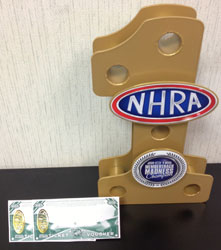 aid, for me this is the best time of the year, spring is in the air and a young mans heart turns towards his RACE CAR, as we get close too the opening weekend of the Napa Auto Parts Super Series of Drag Racing @ Luskville Dragway the excitement grows. The weekend is shaping up to be a good one, with lots of people talking about coming from out of town, and with the largest sign up ever for the local membership, well it could quite well be the biggest opening long weekend in May of all time. The track will be open on Friday afternoon and if there is enough interest we will open for test and tune (cost $25. car and driver), so we are asking for names so we can make arrangements to be open and have the track sprayed, cant do it for one car as you can imagine but a half dozen or more and we will open up. However we will be open for parking and pitting no matter what so plan on coming early. There will be two days of racing with a Super Pro High Rollers Race on Saturday afternoon, Semi Pro will run for $500 each day and Super Pro will run for $2000. each da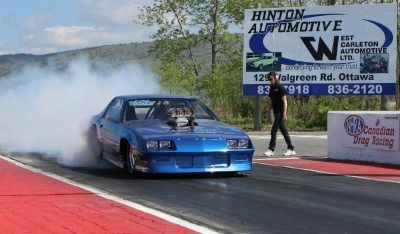 y. This is also Precision Concrete Mulligan Weekend, which allows drivers in both Semi Pro and Super Pro to purchase one only Mulligan (play anytime buy back) which can be used either day, but ONE only. The mulligan is to be purchased when you buy your entree fee, whether it be for the weekend or just a single day you are allowed to buy one mulligan. Regular buy backs will be in place, so this does not replace the buy backs but gives you a buy back you can play anytime including the finals. There will also be a run off race for all Northern Drivers for a pair of NHRA National Event Tickets for any National event they which to go too. The Super Pro High Roller Race is open to all and will also have a very special NHRA Member Track Trophy to go with it. Cost for the weekend will be as follows: Super Pro Weekend $175. Single Day for Super Pro $100. Mulligan $50, Buy Backs $50. Semi Pro Weekend $125. Single Day $75. Mulligan $40. Buy Backs $40. Jr. Dragsters weekend $75. single days $50. NO Mulligan, $10 for buy backs. Spectators are $35 for the weekend, Single day is $20.
We would remind all members that have bought and paid for their memberships by this weekend, there will be a number of draws for prizes including as of now, two regular Day Super Pro entree fee's , one for Willy's Alignment Sunday and one for Speedy Auto Service Sunday, as well as a drum of Alcohol compliments of Stinson Fuels, a case of Kendall Oil, and a case of Brad Penn Oil, more to come.
2016

JAN

FEB

MAR

APR.