RACE NEWS 2016
COVER SHOT: THE HARD WORK FINALLY PAID OFF FOR MIKE CHENIER WITH A BIG WIN AND RUNNER UP SAT & SUN

BITS FROM THE PITS: MAY 23/2016


*

Things just don't slow down after this past weekends Grand Opening for 2016 at Luskville Dragway, as most of the regulars don't have time to catch their breath as they hit the road too I-Car and the first Canadian Super Tour Event. This is the richest bracket racing series in Canada with a huge points fund payout for only 3 events, hence the name Super Tour. This weekends event at I-Car is the first of three events with the second one coming on June 19 at Naipreville and then the clincher at Luskville Dragway the long weekend in Sept. Gates will open at noon this coming Friday, and if all goes well we will run time trials at 4 pm. remember we have the new Laser starting line set up at I-Car now just like the stuff we have at Luskville Dragway. With over 100 members already registered and more too do so this coming weekend, this series has the potential to be huge. Many times things have been put together like this that have been good for drag racing, and so many times they don't last, we plan on not letting that happen to this series and will be working with the Anger Bros to make sure. There has been a great deal of interest around this series, not only by the racers but by other drag strips as well, the key is of course SUPPORT. So with that in mind I hope that everyone that wants to see drag racing prosper and excel locally, will get out and support this great series. This along with the Luskville Napa Points Program, and the Napa Auto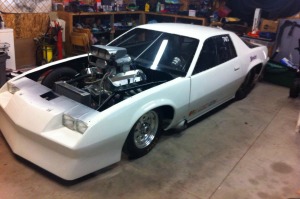 Parts Money Tour gives local racers more points money to run for than any other series in the country.

*
With all the excitement generated by opening weekend it was almost easy to miss other positive things that were happening, so its a good thing we have a BIG team of reporters out there, LOL. However we can report this, Scott Wilson was not with out a race car for very long, like many when spring fever hits and your a drag racer with out a race car, you start to get the shakes. So Mr. Wilson did something about it, he went just a short distance down the road to Napanee and bought a mid eighties Supe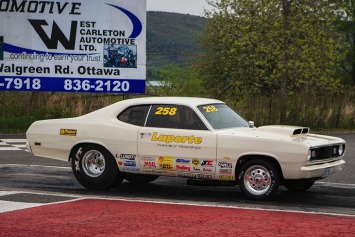 r Pro Camaro, Turn Key from Shawn Sweet. The Alston Chassis Camaro features a fresh big block Chevy power plant and will be run at Luskville Dragway in Super Pro. Team Wilson also has a Semi Pro Mustang that Son Jacob Wilson competes with at Luskville in the TDL Truck Repair West. Will be a busy summer for the race team out of Aylmer, Quebec but with the race track 20 minutes from Home at least travelling wont be a issue. As we finished off this story another one was happening as Scott had a bad luck Sunday as the motor went south in sons Jacobs Semi Pro Mustang during Sundays Eliminations. Wilson says he has another one at home and will be back together shortly.
*Redge Laporte was the winner of the the North race, which gave him a set of tickets to any NHRA National Event he wants to go to this summer. The great turnout of cars from North Bay, Sudbury and other out of town areas was what made for a record setting Opening weekend, we can not say thank you enough.
EVERYONE WAS A WINNER ON OPENING WEEKEND, NOT JUST THOSE THAT TOOK HOME THE MONEY: MAY 23/2016

You could feel the excitement in the air as we moved in too the long weekend, and Opening Day 2016 at Luskville Dragway, and as we made our way towards the weekend with Malcolm Carpentry holding title rights and Precision Concrete Presenting rights, the weather man continued to promise great things. The off season had given us many indications that this would be the year that Luskville Dragway would make some history and have some events that would set records. All off season the atmosphere had been incredibly up beat, more new cars announced that at any other time in our history, and every single advertiser had signed back on board for 2016, as well as a number of new ones. Yes the feeling was great, and now as many would say "the proof would be in the pudding" and dessert was being served May 21-22. So when Thursday rolled around and a number of teams started to arrive at the track, you almost had that mini bonanza feeling in the pit of your stomach. Friday morning dawned with lots of sunshine and the weat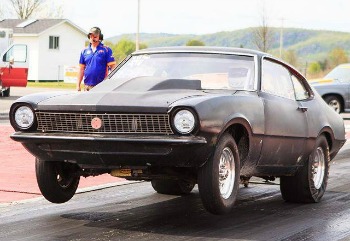 her man still calling for a great weekend weather wise, and with that race cars really started to pour in the gate as a large group of Northern Teams where some of the first on Friday, but that was just the beginning as well into Friday Night race cars continued to arrive. Friday evening also saw some teams get in some time runs, as for many it was the first time down a race track in 2016. Now I personally could not be at the track on Friday Night because of Grand kids dance recital as we do every year at this time, so when I pulled down Tremblay Road on Saturday Morning i knew we would do it, we would set a record for opening weekend which we did and then some. The pits where full, racers where parked on this side road and we where on our way for one of those days,. So very quickly time trials where moved up one hour to give everyone some extra time, and that was met with everyone's approval to say the least.
So after time trials it was a long afternoon, with eliminations going well into the start of the Autovation Inc. Cruise Night but everyone seemed to be happy and smiles where seen every where. The Jr. Dragster class boiled down to Ashley Ogilvie, the 2014 track champions and Landyn Urslak the 2015 Points Champion, with Ashley having the better light and with that the win light. Kyle Jessup said it too all, I really got lucky today when Troy Davis went red and handed me the win. Jim Hewitt was on the ball as well as he took home opening day win with a victory over Jim Giff in the Giff and Miller Maverick which was wheel standing all day long. With the regular Napa Points Races over it was on too the High Rollers where Derek Malcolm would take on Mike Chenier with Malcolm Coming out on top redeeming himself for less than a up to par performance in the regular Napa Points race. In the Semi Pro High roller Rob Howell would have to settle for second place as Tilsonburg, Ontario Cliff Knechtel was the big winner.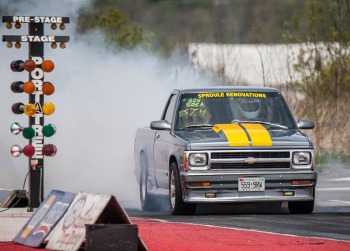 With another beautiful day arriving on Sunday morning the feeling was once again we would have a good day, and that was the case as once again the spectators showed up in force to watch NHRA Drag Racing, Luskville Dragway Style. Someone who was really in style this weekend was Speedy Auto Service owner and Super Pro Dragster pilot Mike Chenier as he laid down some great runs to make his way too the finals for the second day in a row. This time it would be Terry Miron driving his brand new dragster in the finals against Chenier, after a runner up to Derek Malcolm on Saturday Chenier did the trick and went too the winners circle. Semi Pro would see one of the best Northern Semi Pro racers, Dan Sproule take the win over Pat Allaire driving Chris Collins Dodge. Sproule who has decided to run the Napa Auto Parts Points will be a force to reckon with this season for those that follow the tour. But not only did this Sudbury native join up for the Tour, but he also added his name to the Napa Super Series at Luskville Dragway where will make as many races as he can in an effort to do well in that series as well. In the Jr. Dragster division Ashley Ogilvie showed she plans on retaking her title in this class, in what will be her last season in Jr. Dragsters. Once again on Sunday last years points winner Landyn Urslak would be her competition, but once again Ogilvie would be the one to make her way to the winners circle.

Ashley Ogilvie got back to her winning ways
by Driving older sister Rachel's car opening day.

Hewitt's with Jimmhy driving where happy
campers and they didn't even stay over n

Kyle Jessup won day one of Malcolm
Carpentry Opening weekend.

Cliff Knechtal hauled from Tilsonburg in
Jamie Tupper's rig, and made it pay.

Ron Smith was back after a 10 year
lay off, for family go cart racing, Kids
are all grown up and off too University.

Dan Allard had a great weekend going
even though he had some fibreglass
damage after a hood flew off.

Ben VanNoppen like others is nearing the
end of his Jr. Dragster career, but will do
so in this brand new Jr.

2015 Jr Dragster track champion
Landyn Urslak had a good weekend.
ONCE AGAIN THE FAMILY ATMOSPHERE COMES THROUGH LOUD AND CLEAR @LUSKVILLE DRAGWAY: MAY 23/2016

Something that Luskville Dragway is very proud of is the Family Atmosphere that is seen loud and clear, whether its a big weekend or just a regular day, with the regulars being there. For the most part everyone is friends, and people who would jump in to help one and other and the drop of a hat. But when it really shows through is when the "Pot Luck" Dinners are put together, usually by Melissa and Phil VanNoppen spear heading the affair, and this past weekend was a great example of just that. The Opening Day Weekend was a prime example of this as Melissa and Phil organized a after the drags dinner Saturday evening, and with the help of many pitching in with their own speciality, put on what was once again a unbelievable feast. To say that everyone had a great time would be putting it very, very mildly, and yes a pint or two was drank in the celebrations of great food, great friends and great racing. The winners of course where in even a better mood as they also had some big prize money too celebrate as well.
We are very lucky at Luskville Dragway, no we don't have the Indy of drag strips but we do have a good place to race, "which will be even better" in a few weeks, but we have a atmosphere that is like no other and I think anyone that has ever been there will agree with that.
BITS FROM THE PITS: MAY 16/2016
*
Well now Mother Nature wrecked havoc on our perfect start to this season, as after 3 solid Saturdays with good weather the rains came and halted what was looking like a great start to the 2016 summer. However after being in this sport for 40 years I am quite aware that rain outs are part of every season and the average is 6 rain days per summer, so lets look at it in a positive way, we only have 5 left. Our sport is very much dependant on weather and it can make or brake a big weekend or a small weekend, but we can not control the weather man (woman). So with the rain out behind us we now look forward to what many have been waiting for, May 21-22 and the Official Opening of the 2016 Napa Auto Parts Racing Season. (NAPA DRAG RACING) at its best. The Malcolm Carpentry Opening weekend presented by Precision Concrete Finishing opens the gates Friday May 20 with racing Saturday and Sunday, with the Autovation Inc. cruise night Saturday Night.
*
But even as the rain was falling last Saturday, things were still happening as a number of semi pro drivers where dropping off race cars, and putting up their permanent parking signs. When I pulled out Saturday afternoon too head to an advertising meeting, the boys and girls where still talking racing "and putting signs up" in the rain, what else to racers do when they can't race. One of those drivers was Darryl Jensen who said he is one driver who will be testing Friday Night with his new Randy's Performance small block 400 cu in plus engine in the Chevelle. Darryl and Joan both had a smile as big as a quarter mile when they started to talk about the new 600 hp engine, and hinted a new chassis is not too far down the road as well for this race team.

*
One last reminder that we will have SFI by NHRA this coming weekend as we have for the last many years, if your name is not on the list please let us know that you want it too be. We also want to remind everyone who is looking for a yearly parking spot that we need to get that done and pick out as it is first come first serve.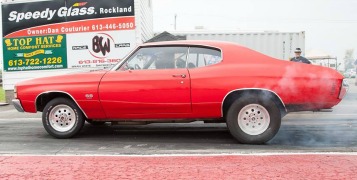 *
If there is enough interest and the weather man cooperates we will run a test and tune Friday Night (25. car an driver), but we have to have enough racers who want that in order to justify doing it. We will be starting at 12 noon on Saturday of the Malcolm Carpentry Opening weekend. We will run the Napa Auto Parts Points race first and then the High Rollers following them, don't forget we also have the run off for the North and the tickets to any NHRA National Event you want to go too.

*
Also a quick reminder that the first Canadian Drag Racing Super Tour event is next weekend at I-Car, gates will be open at noon on Friday for parking and if there is enough interest we will run some time shots and a possible gamblers race, but here too there must be enough interest for this too happen. Gates will be open until 10PM Friday Night please make note of this, and reopen at 8am Saturday Morning.
MF CHASSIS THE NEWEST ADVERTISER TO JOIN OUR MARKETING FAMILY: MAY 16/2016

We are extremely pleased too announce that MF CHASSIS WORKS of Long Sault, Ontario is the latest business to sign on with Luskville Dragway as a marketing partner. Things are much different these days and finding new advertisers is not like it was in what is referred to so many times as the "Good Old Days" when someone was opening a new performance business every time you turned around. So when we sign someone new today, it is not only good for the track but it is good for the morale and the excitement that it brings for us as well. So with that in mind we are proud to announce that MF Chassis Works is the latest and newest advertiser for 2016.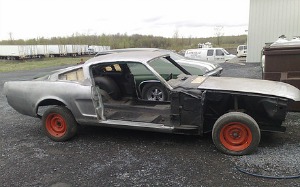 With 25 plus years of automotive experience, owner Andrew Libbey can't get enough of the performance world, race cars and hot rods. MF CHASSISWORKS has come full circle, from its early beginnings as a Speed Shop to the current shop handling metal fabrication, chassis construction and coach building. With the addition of Stephane Chadrou', perfection has been the main focus.
​Specializing in hand made custom sheet metal fabrication extreme rust repair and stock suspension drag cars. Here is a short list of some of the things this shop can perform for you: Sheet metal panel fabrication-Turn key Rotisserie restorations-Roll bars and Roll Cages-Frame reinforcing- Frame Connectors, stitching, strut braces-Square and round tube chassis-Coach building- Complete bodies and frames-Frame rust repair-Suspension Upgrades-Race car preparation and tuning-Fuel Systems-Signage-Custom Iron work (Gates, Furniture and Artwork).
BITS FROM THE PITS: MAY 9/2016
*
The Malcolm Carpentry Super Pro High Roller is Rolling along like the Rolling Stones on steroids , and with only two weeks to go we are FULL up. as is the Semi Pro High Roller that was added do too drivers request. Some surprise entree's have indicated they plan on being part of opening weekend, which is great news to say the least, and should make for the biggest opening day of all time.

*
More GREAT news for the Semi Pro Class at Luskville Dragway as another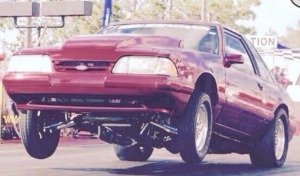 new car has been bought by a local racer who has not raced in a few years, but is someone who will be a force to deal with right from the get go. Jamie Petric who raced at the track a number of years ago in a variety of cars, including a Ford Mustang and a Chevy rear engine dragster. Jamie will make the return with the best of both worlds, a Chevy Powered Ford Mustang in Semi Pro, and look for Jamie to be competitive right out of the gate. The Mustang is being gone over at good friend Paolo Giust's garage in Osgood and will make its debut shortly, once again making for great news for the Semi Pro Class which will see the largest numbers in years.

*
Well its been a few years but we do have a new T-Shirt coming out this summer should be here for the Malcolm Carpentry Opening weekend, will come in two different colors for you too choose from so get one early. Fast Eddie Race wear a division of Chocó Motorsports was responsible for doing the new version like they have for most of the previous ones.

*
A busy weekend was had by all at Luskville Dragway as more and more race teams prepared for Opening weekend which is fast approaching, lets hope we get blessed with the type of weather we had this past weekend. A number of Northern Teams where present on Saturday as well, including Roch Beaudoin and Bill Harling with Bill out testing his Grand Am Door Car which he will return to action in after a one year stint in a rear engine dragster. A half a dozen Semi Pro teams where out testing with positive results for most, however not for Jason Fletcher who tore the rear section out of his car on a launch as the traction came around very early in the test session. Th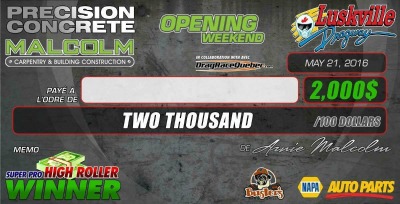 e largest contingent of JR. Dragster for a test session this spring was out as 7 cars made the trek to Luskville Dragway to get some practice in, with each and everyone of them having a successful outing and stating they where ready for opening day

*
Thanks to Precision Concrete Finishing not only will the winner of the big go make a lot of money but he will also be presented with this big check for his winning ways as well. Who will it be, well its the first race of the season and not many rounds will have been put in by many, other than a few who got a bit of an early start down south, but who ever takes this win will have to earn it that is for sure.


*

A busy weekend was had by all at Luskville Dragway as more and more race teams prepared for Opening weekend which is fast approaching, lets hope we get blessed with the type of weather we had this past weekend. A number of Northern Teams where present on Saturday as well, including Roch Beaudoin and Bill Harling with Bill out testing his Grand Am Door Car which he will return to action in after a one year stint in a rear engine dragster. A half a dozen Semi Pro teams where out testing with positive results for most, however not for Jason Fletcher who tore the rear section out of his car on a launch as the traction came around very early in the test session. The largest contingent of JR. Dragsters for a test session this spring was out as 7 cars made the trek to Luskville Dragway to get some practice in, with each and everyone of them having a successful outing and stating they where ready for opening day

Things did not go the way Jason Fletcher
wanted, as the four link was torn out off car on a hard launch,
making for lots of work before opening weekend in two weeks.

Roch Beaudoin, like Fletcher was having a great
test session before things went wrong. Engine
problems will have Roch burning the mid night oil.
STITTSVILLE TRAILER HUALS ITS WAY TO LUSKVILLE DRAGWAY ONCE AGAIN: MAY 9/2016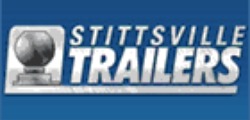 We are extremely pleased to announce that once again in 2016 the family owned Stittsville Trailer company will be part of the marketing family at Luskville Dragway. Orville Hartwick and his family owned business has been supporting motorsports in this area for longer than anyone can remember and he will continue to do so again this season at Luskville Dragway. The company located on Main Street in Stittsville, Ontario has a modern day facility that not only sells any type of trailer your require but can repair any trailer, install any accessories that you may require to tow that trailer down the road. Haulmark, Leer, Cargo Pro, Featherlike, and JDJ Trailers are just a few of the brands they carry, from open car haulers to enclosed race car trailers, from Horse trailers to dump trailers, if its got wheels and its towed then Stittsville Trailers has it.

Their service department is the best in the country and as earlier stated can help you with any aspect of accessories. And speaking of accessories if you need a cap or box liner for that truck you use to haul the trailer with, Stittsville Trailer can assist you with that as well. A family owned business that has a respected reputation, and Luskville Dragway is very proud to be associated with them.
OPENING WEEKEND SUPER PRO HIGH ROLLER SELLS OUT IN 2 DAYS: MAY 9/2016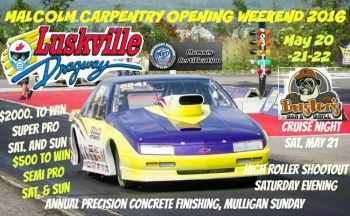 Anyone that knows me at all understands that I don't make many predictions, as its safer to keep one's mouth shut and watch what happens, but I have to tell you its getting harder and harder to not go out on a limb over what looks to be a record summer. Mind you Mother Nature can make a mess of the best laid plans in a very short fashion, but all the signs have been pointing to what we believe will the best season in the history of the drag strip located just outside Ottawa, Ontario. This past weeks sell out of the Malcolm Carpentry Opening Weekend High Roller, presented by Precision Concrete Finishing is just another indicator of what we believe the summer will bring forth. That list was sold out immediately thanks in part to a number of out of town racers who will be part of this years opening activities. Jamie Tupper of Tilsonburg, Ontario who is no stranger to Luskville Dragway having raced there and won there many times, will make his first ever visit for opening weekend. Tupper along with a number of pre entered Northern Racers like Bill Harling, Roch Beaudoin, and Jason Leis will also help make what we believe the biggest and best opening weekend of all time. Semi Pro has kept their end of the plan up as well. Gates will open Friday and a test and tune will take place with a $25. car and driver charge. Lots is planned for the weekend, as well as for the summer as we get set to spin the wheels like we have never spun them before.

BITS FROM THE PITS: MAY 2/2016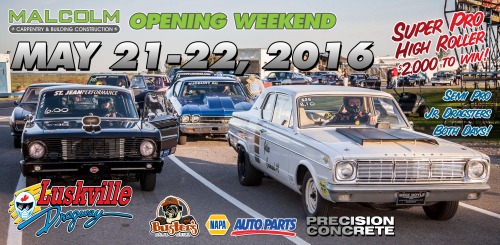 *
First of May, got to say getting close to my favourite time of the year, car show behind us, track is tested and ready to go, and the official opening of the Napa Auto Parts Points races is getting close. Yes the Malcolm Carpentry Opening weekend presented by Precision Concrete Finishing and Busters Bar and Grill is so close you can smell it. And smell the rubber you will as we gear up for what we believe will be the best opening day EVER at Luskville Dragway as we get set for the best year ever, BE THERE.

*
Well we have had not much but good news for the semi pro class during the off season, so we had to expect some not so good news at one point. Now don't think the sky is going to fall, but one of our regular racers is moving and will not be with us for the entire season, which is a bummer as this racer was a staunch supporter. We will bring everyone up to date on this move once everything has been settled and we are allowed to fill everyone in. Lets hope we can add a few more too the class, as you know as well as I do you are going to loose someone once and a while.

*
Just a update for those heading out too I-Car on May 28-29, Derek and Mike where down there this past weekend installing a brand new laser start line set up, the exact stuff we have at Luskville Dragway. Want too thank Mark Arseneau the owner of I-car for taking our concerns into consideration and fixing what has in the past gave us a few problems. The owners of I-car have made it very clear that they will work with us in making their facility one of the best drag racing stops on the Napa Tour as well as the Canadian Super Tour. Again everyone working hard to make what we have not only last but much, much better, we firmly believe we have a great thing going here and hope that all the race teams will support what we are putting together, it can only get bigger and better if we all support it.

*
We can now confirm too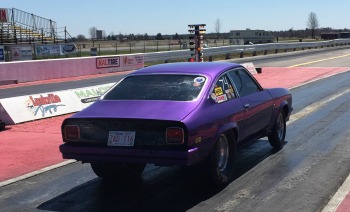 everyone that Mike Chenier is the new owner of the immaculate 701/2 Camaro that was campaigned by Bryan Thompson, look for a debut sometime in the future.

*
Another beautiful Saturday in the books, another cruise night under our belt, and again a number of drivers out testing including Semi Pro teams of Mike Zado, and Russ Fraser as well as Jr, Dragster team mates and brothers Aiden and Ryan Clarmo. Also out once again was Super Pro Rookie of the year candidate Yves Lanthier with the Lanthier Racing BW rear engine dragster. Cruise night was once again held under cool weather, but once again attendance was with a lot of new faces, including some new day super cars from Ford and Dodge. Once the warmer weather continues it will be interesting to see just how many street cars we can hit in one night as we attempt this summer to break all records.

Jr. Dragster Rookie of the year in 2015
Aiden Clarmo was out testing & looked
like he had not missed a beat over the
winter months.

Russ Fraser of Brockville will be a veteranof Luskville Dragway will be a contender
for the TDL Points championship in 2016.

Was not a record crowd for the second
cruise night of the year but it was a
good one, with many new faces.

Rookie candidate for 2016 Ryan Clarmo
Mmade some check out pass's and looked right at home for the coming season.

Another great sign for drag racing at
Luskville Dragway as Mike Chenier got
his new door car home this week.

Drivers attending the first Super Tour
event at I-Car in May, will be pleased
with a new Laser startline that was
installed by Derek & Team ADM .
FIREBALL AUTOMATICS TO KEEP THINGS FRESH IN SEMI PRO IN 2016: MAY 2/2016

As we celebrate 35 years of operations at Luskville Dragway and we close in on 50 years of Luskville Dragway's existence (2019) we are pleased to have one of the original drivers and advertising supporters of Luskville Dragway back in 2016. Once again this season the Semi Pro Class at Luskville Dragway will once again benefit from the bonus support that is coming from Fireball. This year will see all Semi Pro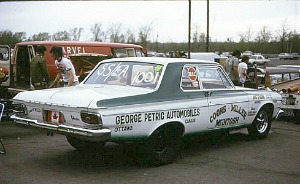 Drivers have their names drawn for a complete Transmission Freshening after the season is over. This is once again great news for the Semi Pro Drivers as Jason Fletcher, last years winner will attest too. To qualify the drivers must be a member of the Luskville Dragway points fund, attend a select number of races and be at banquet. Doug (Fireball) Miller was a drag racer when Luskville Dragway opened, he was a NHRA World Record holder, part owner in the first super stock car to go into the 8 second zone, which he built the transmission to do so as well. Yes Doug has pretty much done it all when it comes to drag racing, and one other thing he has always done is support Luskville Dragway and many of the drivers who compete there over those years as well. A builder who is known through out North America who today spends most of his car time show casing one of his many nostalgia super cars at in doo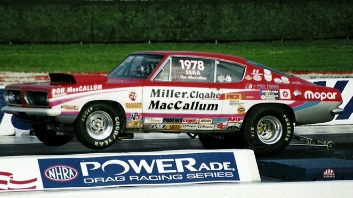 r shows and outside venues. A Chrysler man from day one Doug who had many drag racing partners over the years has never left those Dodge roots, many would say he is Canada's version of Don Garlits in his own way. The shop which is located not far south of Ottawa in Williamsburg, Ontario has continually produced some of the best performance transmissions in the world of drag racing. The list of competitors that use Fireball products is as long as your arm or longer and includes Championship winning Cars and many, many more. One of the things that stands out to me as we head into our 35 year is how important people like Doug Miller at Fireball Automatics and others like him played such an important role in drag racing in our area, and the success of Luskville Dragway from its beginnings to this very day. We are very pleased and excited to have Doug and Fireball Automatics back with us in 2016, need a performance Tranny, call them at 613-
PARA PERFORMANCE TO CONTINUE MARKETING PARTNERSHIP WITH LUSKVILLE DRAGWAY: MAY 2/2016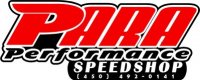 I
n a day and age when speed shops are becoming a thing of the past it is nice to see that one of them is not just surviving but it is getting bigger and better as the years go by. Its a tuff deal for independent speed shops, as the times changed and many people starting supporting on line shopping when it came to high performance, which was a deaf nail for many, but not Para Performance of Montreal which is still going strong. It was only a little while ago that we talked about Ottawa's oldest running speed shop "Young's Speed Shop" closing, so it is great to here that Para Performance is doing well. Doing well enough, that the owners have once again decided to support Luskville Dragway with the purchase of advertising once again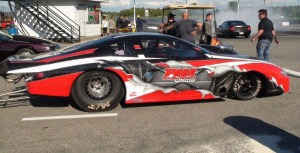 in 2016 as they did in 2014-2015. Owned and operated by the Fred and Frank Angers and François Paradis it is quick to see that this is a racers speed shop to say the least. Para carries a complete supply of high performance products, and if they don't have it on their shelves they can get it the next day. They are also a supplier of Abruzzi Racing Transmission and once again in a day and age when our Canadian Dollar is not well, this is the place to shop. They can also get you what ever size and type of drag slick you want and have been doing so for a number of this area's drag racers. Many years ago there was many speed shops, many of them have bought advertising at Luskville Dragway over those years, but today Para Performance is one of the few that is around and is growing, so please remember to support those that support us. You can find out more about Para Performance by clicking on their Logo in our advertisers page.

paraperformance.ca
MALCOLM CARPENTRY OPENING WEEKEND PRESENTED BY PRECISION CONCRETE FINISHING: MAY 2/2016
As I earlier s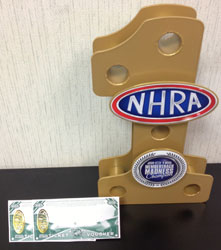 aid, for me this is the best time of the year, spring is in the air and a young mans heart turns towards his RACE CAR, as we get close too the opening weekend of the Napa Auto Parts Super Series of Drag Racing @ Luskville Dragway the excitement grows. The weekend is shaping up to be a good one, with lots of people talking about coming from out of town, and with the largest sign up ever for the local membership, well it could quite well be the biggest opening long weekend in May of all time. The track will be open on Friday afternoon and if there is enough interest we will open for test and tune (cost $25. car and driver), so we are asking for names so we can make arrangements to be open and have the track sprayed, cant do it for one car as you can imagine but a half dozen or more and we will open up. However we will be open for parking and pitting no matter what so plan on coming early. There will be two days of racing with a Super Pro High Rollers Race on Saturday afternoon, Semi Pro will run for $500 each day and Super Pro will run for $2000. each da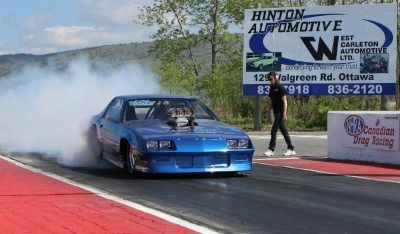 y. This is also Precision Concrete Mulligan Weekend, which allows drivers in both Semi Pro and Super Pro to purchase one only Mulligan (play anytime buy back) which can be used either day, but ONE only. The mulligan is to be purchased when you buy your entree fee, whether it be for the weekend or just a single day you are allowed to buy one mulligan. Regular buy backs will be in place, so this does not replace the buy backs but gives you a buy back you can play anytime including the finals. There will also be a run off race for all Northern Drivers for a pair of NHRA National Event Tickets for any National event they which to go too. The Super Pro High Roller Race is open to all and will also have a very special NHRA Member Track Trophy to go with it. Cost for the weekend will be as follows: Super Pro Weekend $175. Single Day for Super Pro $100. Mulligan $50, Buy Backs $50. Semi Pro Weekend $125. Single Day $75. Mulligan $40. Buy Backs $40. Jr. Dragsters weekend $75. single days $50. NO Mulligan, $10 for buy backs. Spectators are $35 for the weekend, Single day is $20.
We would remind all members that have bought and paid for their memberships by this weekend, there will be a number of draws for prizes including as of now, two regular Day Super Pro entree fee's , one for Willy's Alignment Sunday and one for Speedy Auto Service Sunday, as well as a drum of Alcohol compliments of Stinson Fuels, a case of Kendall Oil, and a case of Brad Penn Oil, more to come.
2016

JAN

FEB

MAR
APR.