RACE NEWS 2014
COVER SHOT: MERRY CHRISTMAS AND A HAPPY NEW YEAR TO ALL, SEE YOU IN 2015

BITS FROM THE PITS DEC 19/2014
*
As this will be our last posting until 2015, we would like to take this time to wish each and everyone of you a Very Merry Christmas and a Happy New Year. This is a special time of year for us, like I'm sure it is for many of you, it is also a time to reflect on times gone by and things too come.
I feel like a very fortunate person to have such a great immediate family, as well as the very large racing family that we spend most of our summer weekends with. In our case we have the best of both worlds as those summer weekends for us is spend with both immediate family and our racing family, and for that I am very humble. And now as our grand children get older even they spend more time with us at the track. In fact Derek is already making deals for a Jr. Dragster for Olivia as soon as she is old enough. Luskville Dragway has been a very large part of our lives for a very long time, and I really hope that is the case for many years to come. As we head into our Christmas break I would like to take this opportunity to make this promise, we will continue to make Luskville Dragway a better place each year as we have done over the last 35 years. Right now plans are in place to begin the filling in of the ditch that runs along the pit side of the race track with large aggregate, in order to give some more support but too also at the same time allow the drainage to continue as it has. We firmly believe that this has to happen long before we can continue with cement barriers and any large repaving jobs on track. We will also be going ahead with the finishing of paving in the pit area on the east side of the return lane, which will give us some much nicer parking for that side of the pits as well. I think that the comments on the improvements that took place last year will be duplicated once this is done. So once again as we sign off for two weeks, from Diane, Angie, Jason, Lila, Cole, Derek, Taz, Olivia, Julia and myself, MERRY CHIRSTMAS AND A HAPPY NEW YEAR.
JET CARS TOO PLAY A MAJOR PART OF THE ENTERTAINMENT PACKAGE IN 2015: DEC 19/2015
"Things have sure changed since Henry Died", That was an old saying my Mother use to say al
most everyday, and she firmly believed that things did change every day. She also believed that if you didn't learn something new each and every day then you where wasting your time, back then I thought she was a pretty hard ass lady, but today I realize just how right she was on both accounts. So as we move forward into 2015 we hope we have learned some things along the way, and we hope that the changes we have made with the track over the years continue to work and pay off in attracting more fans and more racers. Even as we continue to make the popular Jet Car our lead attraction more than a number of times this season, we will do so with all new jet car attractions, yes even changing that up to give the spectators something new at Luskville Dragway. For the first time ever the fastest Jet Dragster on the planet, "The Terminator will be part of the programs at Luskville Dragway and he has made it very clear that he will hold the track record when he leaves. Also coming this season is the "Tulsa County Heat Wave" Jet Funny car which comes with all the lights and strobes you can handle. The Heat Wave car is what I have always believed more Jet Cars should be doing, as I firmly believe we are in Show business. If anyone can remember back when we had the Interceptor Jet, and Diamond Jim for our Saturday Night under the lights, you will probably agree that it was the best jet show of All time at Luskville Dragway. We are also working on a Jet Truck for one weekend in 2015 as well, and should be announcing that as we hit the early part of January, we are really trying to get them for the long weekend in October and our 1st Annual Spooktacular Dragfast, so we can go out with a Blast, so to speak.
TWO MORE OF THIS AREAS GREAT CARS POSTED IN "BLAST FROM THE PAST": DEC 19/2014

Being that it is Christmas time w
e felt there would be no better time than to give our "Blast from Past" section a little gift, two of this area's great drag racers and their cars from the past. There was not a greater time in drag racing than the time that these two cars where around, when door cars where supreme and long before the flood of dragsters took over. Frank Cantusci, was and still is one of this area's greatest drag racers, and many weekends is still part of the racing at Luskville Dragway with his two sons. The 69 Camaro that is seen here on the line at Sanair was a great Super Stock Car, and saw more than its share of wins. This Camaro was just one of the many drag cars that Frank has had, and Mr. Cantusci has never had anything but Chevy's, no Fords and no Dodge's. Doug Miller on the other hand has raced nothing but Dodges and winning with those cars as well as setting NHRA Records along the way. Doug who was part of the famous Coons, Mill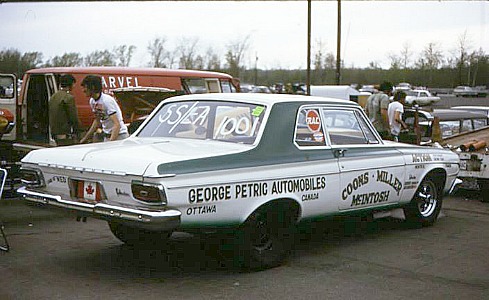 er & Macintosh Dodges of the early days of drag racing in this area, is still active too this day building many of this areas race car transmissions. These are two of the many early day hero's, and two people who did a lot for drag racing in our area. If you remember a few weeks ago we talked about how back then cars had titles, well even the drivers did as these two gentleman can attest too. Frank was called the "Italian Stallion" Doug was known as just simply put "Fire' . They where two drivers that many of us looked up too, and in all likely hood played a large part in many of us getting into the sport, from just watching them. Don't forget to check out our Blast from the past section which we try to update when ever we can, but it does give you some idea where we have come from and just how far we have come.
TWO MORE NAMES FOR THE BUSTERS BIG DOG SHOOTOUT, HIGH ROLLER RACE: DEC 19/2014

We are going to close out our 2014 write ups, with a Cam Am pair of dragsters entering the Busters Big Dog Shootout at Luskville Dragway and the 34th annual Bracket Bonanza. As we pointed out earlier, this will be the last posting until the new year when we will be back with Friday Postings, and headed down the home stretch to spring and the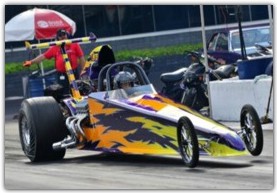 beginning of what we believe will be the biggest season ever for Luskville Dragway. The Canada/ America battles that have taken place over the years at the Bracket Bonanza are a large part of the mystic of this once a year race, and this season will be no different as Adam Bochon of Pennsylvania and Rock Lafontaine of Ontario are the two latest to join the party. Rock who has called Luskville Dragway home for as long as I can remember began his racing days with a 1970 Nova, then moved on to a pro stock style Trans Am before switching like many, to the rear engine dragster. Rock a very successful retired business man does not race every weekend but picks and chooses big races to attend when not riding his Harley Davidson Motorcycle. Adam Bochon is a young second generation drag racer who is following in Father Paul's foot steps, and following very well. Adam has already made his way too the winners circle so knows the road to take to get too that stop. This pair is a prime example of the Can Am battle's that will take place at next years Bracket Bonanza and the Buster's Bar & Grill Big Dog Shootout. We invite all to get their names added to the list as we work towards making the 34 Annual Bracket Bonanza a HUGE success.
BITS FROM THE PITS DEC 12/2014
*
As Christmas grows closer the race news gets lighter as everyone rightfully so direct
s their attention to one of the nicest times of the year. However we do not go with out some drag racing information coming in to the shop, and this week we get word from the Dennique Team in Renfrew that Chris has sold the AMC Spirit and will return to the Luskville Dragway Racing wars in their rear engine dragster. The new owner of the AMC is in Kingston, Ontario with plans to run it in Semi Pro, while Chris will direct his attention back to the Big Block rear engine dragster. The plans right now are to be ready for Malcolm Carpentry Opening weekend and the Precision Concrete Finishing Mulligan Sunday in May of 2015. They will run the Napa Track Points in 2015 also with their eyes set on a championship season next summer, it is another good sign for the NHRA Track located in Luskville, Quebec, 20 minutes from Ottawa.

*
With the announcement this week that Joe Doyle would be joining the list of entree's into the big Semi Pro Big Bucks Race on May 17th, we thought it would be nice to show you Joes first race car. Back in PEI when he started it was a 1966 Chevy Belair that was towed too the track with brother Mikes Ford Bronco, and would compete under the class of SS/HA, thought a lot of you would be interested in a little bit of history

*
They say that everything goes around, and what "goes around comes around" how many rem
ember the "bell bottom pants" I can remember saying boy that is something that will never happen again, well i was wrong as it did come around and was back in. Well could we be seeing the same thing in drag racing as more and more drag racers who have dragsters either add a door car too the team or go back around too a door car. Joel Laperriere of the series Montreal Trailers and someone who knows his way around Luskville Dragway, is the latest too acquire something with doors. Could this be like the bell bottom pants as more and more former dragster drivers are making the switch, I personally think it will be good for the sport, don't get me wrong we still need the diggers.

*
This just in as we go too press, we have confirmation that a huge car club will be involved with Luskville Dragway for the Randy's Performance Bill Gaw Memorial weekend, this could be Huge, hoping that we can get some of current advertisers involved with class placks. This could be a major thing for the track and we will have a complete story on it in the new year.
ALL ROADS LEAD TO OGILVIE AUTO & FLEET, IF ITS GRAEAT SERVICE YOU REQUIRE: DEC 12-2014
Ogilvie Auto an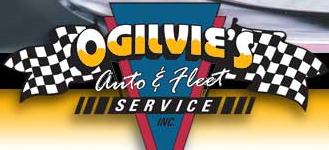 d Fleet Service is a family run business owned and operated by Mike and Vicki Ogilvie, and is a second generation business being run by the Ogilvie`s. The business which is located in Jasper, Ontario has been able to attract customer from as far away as Ottawa on a regular basis because of their expertise, professionalism and workmanship. Your vehicle represents a significant investment, and taking an active role in maintaining your vehicle will help you protect that investment. Proper maintenance will help extend the life of your vehicle and preserve its value. In addition to helping you avoid costly repairs down the road, regular maintenance preformed at Ogilvie's will optimize your vehicle's performance, safety and fuel efficiency, and those are words that are understood by every Ogilvie customer. Ogilvie's specialize in complete Auto & Truck Repair and offer a full line of diesel performance products for light duty diesel trucks and RV's. They can provide you with the performance reliability and fuel economy you've been looking for, trust me as I am a believer customer, and have been since my first visit. But Ogilvie Auto is much more than just a maintenance repair shop, this is a shop and a family that lives, eats and sleeps cars, whether it be the ones in the shop or the ones in the trailer, that they ra
ce at Luskville Dragway each and every weekend. Yes the Ogilvie Family is what so many of us call "car lovers, "gear heads, or what ever other terminology that is used, but this does show through in the work on your personal vehicle that is maintained or repaired at their shop. As we pointed out earlier this is a family that loves cars, Mike and Vicki where heavy into car shows years ago, and would make the occasional trip to Luskville Dragway to run their show quality Dodge's whether it be the Duster or then the Rampage. Next came a rear engine dragster that the Ogilvie's travelled the NHRA Divisional circuit runny super comp. Now Luskville Dragway was always still their home track and a funny thing happened and a trip there one fall for the final race of the season. The trip to Luskville included their two daughters Ashley and Rachel who imagine this, where also car lovers. Well the two girls fell in love with the Jr. Dragster scene, and the people involved in it, and well the rest is already history. As the girls have gone on to win Rookie of the years, and back to back track championships by Ashley. And Mike has become a top five Super Pro racer at the track and will field no less that 3 Super Pro rear engine dragsters and a Jr. for Ashley in the 2015 Season. Ogilvie Auto and Fleet plans are to have Mike continue to run the what we call the "Big Car" the M&M Blown Dragster, Vicki will contin
ue to get familiar with the Diamond, Rachel will begin her career in Super Pro in the recently purchased Mullis car and Ashley will defend her Championship with her Jr. with Rachel's Jr as a back up car. So yes it is going to be a busy, busy year for this racing family, but as history and trophies have shown, they are quite prepared and capable of doing it. Ogilvie Auto and Fleet has always been a large financial and moral supporter of Luskville Dragway through their marketing partnership and that will continue in 2015, something that Luskville is very appreciative of. They have always held the title rights to the Jr. High Roller as well as last year the title rights too the Tour Jr. Championship, and have also supported the Jr. Dragster Championship year ending prize package. Ogilvie Auto and Fleet which is also a Napa Auto Pro Service Centre has also played a big part in Luskville Dragway's continued relationship with Napa Auto Parts. Yes as you can see Mike, Vicki, the Girls and Ogilvie Auto & Fleet are a important cog in the Luskville Dragway Wheel, and have played a big part in keeping it turning, Thank you from everyone involved at Luskville.
LUSKVILLE DRAGWAY VETERANS ADD THIER NAMES TO SEMI PRO LIST FOR MAY: DEC 12/2014

When we talk about th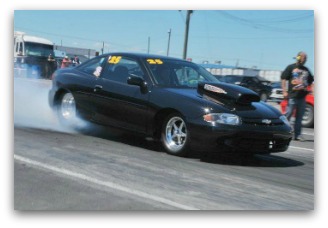 e history of drag racing at Luskville Dragway we often don't remember to mention all those that we should, as a number of today's drivers where and are part of that history. One of those drivers is Dick Stanton who hails from Perth, Ontario and who has been part of the Luskville Dragway scene since the early seventies, and was one of the drivers I raced with and against when we started racing. Yes Dick is one of the originals and has not skipped a beat over the years as he has been one of those tough competitors each and every season. Dick who has been too the winners circle both at Luskville Dragway as well as the Napa Auto Parts Tour where he is also plays a big part will be among those battling for the first of many big dollar Semi Pro events this season.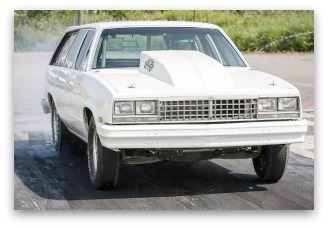 The other seasoned Veteran too add his name this week is Joe Doyle, originally of Prince Edward Island where the drag racing bug first took hold, but someone who has spend most of his life in Ottawa, and has called Luskville Dragway his home track. In fact Joe is one of those drivers who only races at Luskville preferring not too travel down the road anywhere but Luskville. This however does not make Mr. Doyle anymore less potent that any of his competitors as he has always been in the thick of things when it comes to Semi Pro Racing at Luskville. The fact is that Joe Doyle has visited the winners circle at Luskville as many times as any other Semi Pro driver, and perhaps the only reason he has not won a championship has been because of inter track events that he chooses not too travel too, that will be different in 2015. So with the addition of these two drivers we are already at 10 entree's and we have not even turned the corner on 2015 yet. We applaud the early support and we hope that anyone that wants to see the growth of Semi Pro continue will get aboard the semi pro train which is set too arrive May 17th.
NAPA AUTO PARTS TOUR RETURNS TO WAWA FOR 4 YEAR ANNIVERSAY: DEC 12/2014

The golden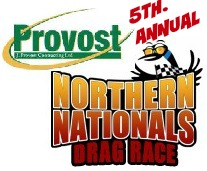 goose will once again touch down in Wawa, Ontario for the fourth Annual, Provost Northern Nationals Napa Auto Parts Tour drag race event. For many of the tour regulars this is great news as this is a race that is like no other, where can you drive your golf cart from the track too the Tim Horton's first thing in the morning, yes the airport venue is right in Wawa, and is walking distance to down town, the Wawa In where most stay, and the Tim Horton's donut shop. It is really hard to describe how beautiful the scenery is unless you have visited this Northern Community, the drive alone is worth the trip and trust me folks I'm not a rock and tree guy, but this drive is one of most picturesque trips anywhere and even this car guy looks forward to
it every year. This years race will once again take place the second weekend in August (7-8-9)

and will follow the Bracket Bonanza once again. The event will once again be highlighted with big dollars, live bands, jet cars and fireworks making for a wild and crazy weekend of fun and NHRA Championship Drag racing. Things will once again kick off with a welcome back party at the Wawa Motor Inn like it has every year, and if you have been part of this deal you know just how much fun it is. The kick off will have many activities as well as a live band that will play all night. Drivers will be parking and pitting on Friday, with time trials, a gamblers race, fireworks and Jet Cars on Friday night. This year will see the Chicago Rush car of Dan Sullivan and the Terminator car of Lou Pereira. Both of these cars are capable of thrilling the fans with their wild line shows, but both of these guys are capable and more willing to wrestle the track record into their camp, and they will. Yes I firmly believe that we will see the fastest pass of all time for a jet car run at any airport event in the country. The event will also carry large payouts which is coming place with the Napa Tour, with Super Pro Cars racing for $10,000. on Sunday like they have for four years now. This is a fun race and a great time with great payouts and if you have never been part of it then you really should put it on your traveling plans. For more information visit their web site at wawadragway.com
BITS FROM THE PITS DEC 5/2014


*
Wow, its only 3 weeks until Christmas, 4 weeks until the first of 2015, and as far as I'm concerned its all down hill from there to racing season, and what we hope will be the biggest season ever for Luskville Dragway. Now I'm sure many of you have heard your parents make the comment about how time just flies by as you get older, well don't kid yourself it does, faster than a drag car. And it will be no time at all before its the practice tree party, the drivers meeting, test and tune and Malcolm Carpentry Opening Day 2015.

*
Hopefully many of you have noticed that we have been updating our drivers section with new pictures and info, but the only way we can do that is if you send us the info, as it appears in the drivers profile section. We have many drivers that we don't have a profile on as they have not sent us that info, if you sent it in, we will load it on, makes our web site that much better for the readers.

*
Bumped into Ralph Coe this past Sunday while watching our grandsons hockey, where Ralph was also with his young son. Ralph had some bad news to start the visit with when he informed me that his Dad had passed away from cancer. Ralphs dad was an avid motorsports fan, and was always at the track with Ralph smiling, watching his son race his 1964 Polara Super Pro Car. I know that everyone is as shocked as I was, and I also know that like us, send their deepest condolences, Ralphs dad will be missed at the track. Ralph also informed me that he has a brand new 62
2 all aluminum engine ready to go on the dyno at West Carleton Automotive and will be ready for the spring. Mr. Coe was also pleased with more weekend events at Luskville Dragway in 2015, as he like many others would prefer to stick close too home with their racing. Ralph in case you don't remember was the winner of the Napa Auto Parts Tour a few years back, as well as the first Bracket Bonanza High Roller race , he will be a contender in 2015.

*
There has been a lot of new car news going around, and lots of good cars getting bought and sold, and I think I'm safe in saying that Luskville Dragway competitors have been very active in that department. Of course when someone buys a new car that usually means there is another one for sale, and we hate to see any of the cars leave the area and we like to see all the new ones coming to this area. As you read on this site a while ago, Denis & Jill Souliere bought a new Diamond car which meant there Race Tech Dragster was for sale, well we are happy to say that it is staying at Luskville Dragway as Scott Wilson has bought the award winning, custom painted, many time winning car. Scott of course sold his dragster this past season and concentrated on getting his son Jacob going in the semi pro car, but now that, that is well underway Scott wants to get back behind the wheel of a dragster and get some round wins under his belt.

*
As we told most who would listen through out the 2014 season, we believed that many things would be changing in the motorsports world around us before 2015 rolled around. Some of that has already happened and more continues too, with the announcement this week of a new se
ries in Southern Ontario. A new Drag Racing series, for Pro Mods, Top Sportsman and Top Dragster has been formed with backing from many of the area's fast car owners and Napa Auto Parts. The new Series, known as the "ULTIMATE SHOWDOWN" presented by NAPA Auto Parts / Ideal Supply, will be presenting 2 classes of high speed racing action. The first will be the Pro Modified class, featuring the quickest and fastest door cars in drag racing. The Pro Mod drivers will be vying for a spot in their 8 car qualified field, with high payouts going to the winners, and qualifiers. The second is designed for Top Sportsman and Top Dragster entries, that will compete in a 32 car qualified field, for the highest payouts ever, in Sportsman Series racing. A number of racers that we know personally have not been happy with what was going on where determined to making things better for these cars, and so another series. The new program has only three events for 2015 as they go through growing pains but we wish them nothing but good luck. Now if we could just put all the separate programs together and create one series we would have something we or any major advertiser could be very proud of.
PRECISION CONCRETE FINISHING, SOLID WITH LUSKVILLE DRAGWAY FOR 2015: DEC 5/2015

Precision Concrete Finishing is more than just an advertiser with Luskville Dragway, yes they are truly more than just that as they are racers and good friends. Carl Jessup has been a long time supporter of Luskville Dragway going back too the very early days many, many years ago. Carls Company Precision Concrete Finishing is the company that has always done the concrete work at the track, including the 330 feet long concrete staring line. Carls racing career is long and documented, with many wins and many championships, driving a varied number of different race cars over the ye
ars. Carl was one of the very first to carry a cooperate logo on the side of his race car, back in the days when he drove the "Hooters" and the Coors Light dragster for ADM Motorsports. When son Kyle took over the majority of the driving duties he too has continued the family tradition of winning and winning lots, both races and championships. To this day either of these drivers are considered a threat when ever and where ever they run, and they have proved that time and time again with numerous wins, the latest coming at the end of the summer this past season. Precision Concrete Finishing which is located in Renfrew, Ontario and operates in much of the valley as well as many jobs in Ottawa. Precision Concrete Finishing has held the title rights to the Mulligan Sunday event that takes place each year, and that will continue in 2014 as the event will be held on May 17th as part of the Malcolm Carpentry Opening weekend and will see super pro running for a purse of $2000. to win. As has been documented many times on this web site is the close relationship the Jessup Family has with the Malcolm Family and that has shown through once again as Son Kyle will once again drive part time for ADM Motorsports this season, as well as the Dragster owned by his dad. Kyle who stared his big time racing career with ADM will once again wheel the Teams new Pro Stock Truck in Super Pro, anytime a split ladder is in order. Kyle will also see some time behind the wheel of the teams new Semi Pro Car. Kyle is also like a number of other super pro drivers, who have taken on a Jr. Dragster driver to mentor, last season that was Rachel Ogilvie who is moving to Super Pro this season where she will compete against her former mentor. Kyle who works with his Dad at Precision Concrete also spends any down time from the cement business working in the Carpentry Business with Malcolm Carpentry, mostly during the winter time. If you have ever been too a race at any track these two teams are racing at you quickly see the closeness as they to this day always park together and are always helping each other out. This relationship is just another example of the Family atmosphere we talk about that comes out of Luskville Dragway. Once again we are very pleased to have Precision Concrete support, cemented in the history of Luskville Dragway. So mark it down May 17th Precision Concrete Finishing Mulligan Sunday at Luskville Dragway.
SEMI PRO ADD'S A NUMBER OF NAMES, IT WILL BE A TURN AROUND SEASON FOR SUR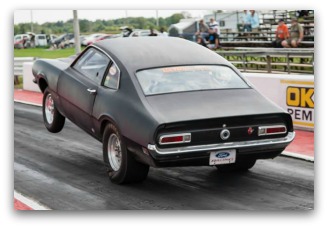 E: DEC 5/2014

Anyone that follows what goes on at Luskville Dragway knows that we are making a huge effort towards making Semi Pro much better in 2015, and so far the response has been great. Advertisers stepping up and doing great things for the class, bigger prize money for many weekends, and a renewed enthusiasm like I have never seen. Sometimes it is what it takes to get the interest back, and the excitement growing, but in the long run it also takes racers, and as many as we can get. So far the response shows that, that is going to happen and this week we add 6 more drivers to the list for the Semi Pro High Roller event that will be part of Malcolm Carpentry Opening weekend. Leading the way this week is Chris Collins who will field two entree's in the May 17th Big Bucks Semi Pro event, with Pat Alarie driving the dodge Daytona and Chris driving the Coronet. Chris who has not been a regular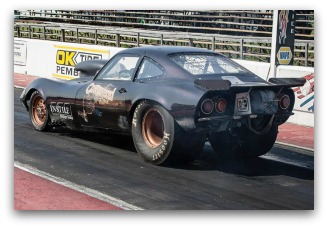 hopes to be more of such in 2015, and is show his support for the foot brake class by having Alarie drive one of his cars as well. Rob Graveline is no surprise as an early entree as he has supported Luskville Dragway and all of its endeavours over the years, and even more so since switching from a motorcycle to a door car. Rob is someone who I think most will agree with me when i say he is do and ready for the Semi Pro Track Championship, placing well up near the top the past few years. Rob brings a lot of wins to the table with the little Buick Opel and I don't think I would be out of line in saying this is one car that would surprise no one should it end up in the winners circle on May 17th. Another early entree and pleasant surprise is Rick Miller who has placed his Maverick in the hunt, and has also said he may just have a second entree if things fall into place. Miller has the Maverick working better than ever as the picture shows, and this two is a driver who although does not come out every weekend, is capable of winning on any given day. Miller and Giff are strong supporters of the Semi Pro class and both agree they will support it as much as they possibly can supporting the effort coming out of Luskville Dragway in 2015. The last two entree's this weekend come from Goodtime Racing and Jason Fletcher's Mustang as well as Tim & Andre Fearrey's Mustang. What this team does not have in experience, they overcome with enthusiasm as well as a pair of Rookie of the year awards Fletcher in 2013 and Fearrey in 2014. Tim and Andre where one of the few teams that barely missed a single day of racing in their rookie year and bring an amount of enthusiasm like no other, which is greatly appreciated.
Over the next few weeks we expect this number too climb and we make this commitment to you right now, if we hit 32 entree's on race day the first place prize money will go up too $2000 to win, I think that tells you are determination to this class and making it a huge success.
SEMI PRO DRAG RACING TAKES US BACK TOO THE WAY IT USE TO BE: DEC 5/2014
Semi Pro drag racing is about as close to what drag racing use to be like as we will ever get, and I think its important that we never loose that concept of our sport. Back when we took over Luskville Dragway dragsters where barely heard of, today they are the largest field of cars at our track and most tracks across the country. Go to a big dollar race and the dragsters will out number the door cars significantly. When I started drag racing you put one foot on the brake and one foot on the gas pedal, whether is was on the street or on the track, that is how it was. Every car at the drag strip back then had a name on it also, and today the only cars you see with "Titles" are Semi Pro cars, whether is Fred Ellis's "Cuda Country" or Bill Nolan's "WOW" car , and I also believe that is a part of our sport that we need desperately again. The fan in the stands love this, and they are able to connect much more with the "Grim Reaper" or "Boston Blackie" than those with nothing on them. Why do you think Monster Trucks have titles, why do you think the WWF Wrestlers have Nick names, yes because the fan can connect , cheer for and come out each weekend to support. Back in the good old days it was a common thing to have a title for your car, if it was blue, you might call it
'BLUE BY YOU" any how you get the idea, and I think our sport had more personality back then, and I hope we can bring it back to that, and I believe its important for the fans that we do. Lets face it back when fans where coming out too the tracks in droves, we had drivers like "The Snake" The Mongoose" Big Daddy Rat" again you get the idea, it was much like WWF, and putting fans in the stands was a lot easier than it is today, was this the only reason, NO, but it did play a part. How do we get back there, your not going to get the dragsters guys to do, so hopefully we can get the Semi Pro guys to give it some thought, its not bad for your advertisers either as what you want is to get MORE attention and this will help. The most famous name in Motorsports is probably the "GRAVE DIGGER' and this is no doubt the best example of what we are talking about. What makes the pro mod's so popular?? yes its the way they don't go down a track, but many of them have monikers' as well and this two is part of their popularity.
2014

MAY

JUNE

JULY

AUG

SEPT

OCT.

NOV.