RACE NEWS 2014
COVER SHOT: DEREK MALCOLM PUT HIS CHROME WORX TOP DRAGSTER THROUGH ITS PASE'S ALL SEASON LONG

BITS FROM THE PITS NOV 1/2014
*
We kick this weeks bits from the pits off with a little heads up to all you avid drag racing fans, "Nitro Funny Cars" coming to Luskville Dragway Sept. 4-5-6 2015, stay tuned for all the details. Yes we are actively working on next years schedule, and booked in shows as most of you know if you read this site. We are proud to have had a stable environment for our race teams and our fans as we move into 35 years of running Luskville Dragway, and as anyone that knows me, knows we get things done earl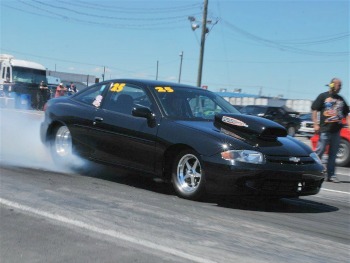 y so yes we have most of our shows in place, and this one is going to be special for sure. We will have all the details about it next week, but the long weekend in Sept in 2015 will be a very special weekend for Luskville Dragway, and its fans.

*
A little bird told us that a new dragster could be coming to the area for next year, rumor has it it is the Diamond Race Car that Scotty Richardson won the $20,000. with at the Million?? wonder if this rumor is correct. But this new car purchase you can take it too the bank, if anyone was wondering why Dick Stanton was not at the Semi Pro Drivers meeting, it wasn't because he didn't want to be, he was in Montreal picking up his new ride for 2015. Dick has bought the trick Chevy Cavalier that just went up on our Drag Mart Section a week ago, and has it home safe and sound already. This is a very nice piece and will make a even tougher competitor next season, not that he wasn't tough enough already. Again another good sign as another new car moves to our area, I would also like to point out that Dicks reliable Semi Pro Truck is now for sale and would really love too see someone from our track pick it up.

*
Some new rules and some new ideas came out of the Semi Pro Drivers Meeting this past weekend, which by the way was extremely well attended. The Drivers where informed that a brand new Fireball Performance Automatics Transmission would be given away to some lucky driver and the points fund was going to be increased thanks to the support of TDL Truck Re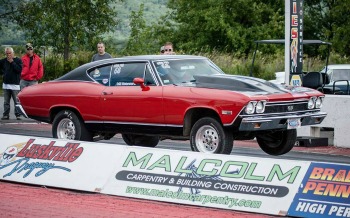 pair West. There will be some changes in the way points are allocated, and some stipulations on support in order to qualify, but it is going to be a much better points package. Management made it clear the goal was to attract more semi pro drivers, convince more Jr. Dragster competitors to move to Semi Pro before making the big jump into Super Pro. The one item that was met with FULL support was the changing of how points are given out. Right now a driver does earn points once he becomes a buy back, starting next year drivers who buy back in will receive 100 points per round won after that, instead of the 200 points for a live driver. This will make the points chase's much closer which is what all race series dream for, and should make everything come down too the wire at seasons end. The ability for Teams to be registered will continue but with the stipulation of a team being just that, driving the same car in competition when one or the other are not there. There will no longer be a day of grace, but the pay for a day program will continue, points fund payout will once again as in past years be based on a percentage of attendance, but if you have a membership and attend the banquet you will be entitled to points fund payout. There will also be a special Draw amongst the Semi Pro Drivers who have graduated from the Jr. Dragster Class, more details on this to come. Stay tuned to the rules and regulations page, the points membership pages as we make the changes to things for next year.

*
We have started to update our Drivers Profile page after some spurring on by a number of the drivers at the drivers meeting who are not on there, please understand that the only way we can create a Driver Profile is if you send us the info. We can add pictures to the driver profile page but in order to put up a profile we need you to give us the details. Makes for great reading, makes for a better web site, get er done. Also a reminder for Banquet Tickets, its coming fast and for anyone that mailed in for the tickets they will be available at the door the night of the banquet.
DEREK MALCOLM HAS BANNER YEAR AND TAKES NAPA TOUR CROWN: NOV 1/2014

Derek Malcolm has been spending his summers at Luskville Dragway for 31 years now and there is no question
that this past season was his best ever, winning two championships and more prize money than any other driver this season. Yes 2014 was quite a season for the 31 year old owner of Malcolm Carpentry and Construction, and someone who is also responsible for many of the activities that go on at the track including the smooth operations of the timing system. Yes unlike most of the drivers who can concentrate on driving and having fun, Derek has to keep one eye watching how things are going on, and one ear listening for the call that something needs to be repaired. It is something that he has done his whole life, as Luskville Dragway has been a major part of his every summer. Like many of the new kids today, Derek Started his drag racing career in a Jr. Dragster where he was able to win a championship or two as well. Over the years Derek has amassed a long list of accomplishments winning his fare share of Big Dollar Races and a number of championships both Track Series and Napa Tour Series. But this year saw this Father of two have what many would call a dream season, with a number of big dollar wins, and not one but two Super Pro Championships to go with it. Derek who along with full time team mate Troy Davis and part time team mate Kyle Jessup also created a cool concept between the big cars and the little cars (Jr. Dragsters) as all thr
ee of them took on crewman ship of one such Jr. Driver. Derek who was the mentor to Young Landyn Urslak, and this relationship, like the ones between the other drivers was one of the coolest things I have seen in drag racing in a long time. Race days sometimes saw these guys attached at the hype, as it became as much of a joy for the jr. drivers to be on the line too watch their mentors, as it was for the Super pro Drivers to assist the Jr. Drivers in their rounds. Heading into year two with the new Chrome Worx car Derek was probably not thinking Championship as this is a sport where doing that back to back is no easy feat.
The season started off with the Chrome Worx car being in the hunt every weekend, going rounds and adding points to his already first place spot early on. But it would take two months before Derek would visit the winners circle for the first time in 2014, making June 23 a great day in the early season. Heading into the first Napa Tour Race saw Derek doing double duties driving both the teams Chrome Worx Car and the Teams Pro Stock Truck which he would take too the finals on Sunday of the $10,000 race taking second to Jamie Tupper. Then it was back home for the much awaited Bracket Bonanza where Malcolm would have a pretty good weekend starting it off with a $10.000 win on Friday Night. Then it was on to Wawa where Derek would drive the third car on the Team, the Mullis Dragster and here too he showed his ability too win in anything taking first place on Day one of the Weekend. A few more weeks would go by and the inc
redible summer would continue with another trip to the winners circle on day two of the intertrack with Shannonville. Derek would continue to add points going plenty of live rounds, and would finish the season with a runner up spot at the last race of the season, clinching not one, but two championships in the same year. The incredible driving of this young man is shown with his ability to drive anything and win with it, as he showed this past summer, he would make any father proud and does. Derek was quick to point out that he would like too thank Ed and Rolly at D&D Performance for giving him a engine combination that worked flawlessly all season, and to all the extra team mates that pitched in when needed. The winners circle pictures show very clearly that Derek like many of the teams at Luskville have a great group of friends to celebrate with anytime there is a win. Not much will change for 2015 for the yellow car as it will under go freshening at D&D, however they will actively push to sell the car at the end of next season. The team has added another identical dragster for team mate Davis to drive, the Pro Stock Truck is undergoing some updates and a Semi Pro car is being added too the team as well, so 2015 will be a busy year.
TDL TRUCK REPAIR WEST, FIRST OF WHAT WE HOPE ARE MANY SEMI PRO BACKERS FOR 2015 : NOV 1/14


Gregg Whelan is the owner and operator of TDL Truck and Trailer Repair West a very successful business located off the Carp Road in Ottawa's west end. Ryan Whelan is the son of Gregg and is a accomplished mechanic at TDL WEST. Gregg and Ryan are also Drag Racing guys just like the rest of us and over the years have shown numerous times that they are very good drag racers as well. In fact this team which was regularly known as Team Green was a force to reckon with for numerous years right up until they took some time off so Ryan could concentrate on raising a family. However Team Green like most drag racers only took time off, as they have continued to visit Luskville Dragway, they still have their Semi Pro Cuda (Green Cuda) and have kept abreast of what is going on in the drag racing world and in particular Luskville Dragway. So it will come as no surprise to anyone who knows this family, that when it came to what was going on for 2015 they where very quick
to step up and throw their support behind what we are trying to do with Semi Pro at Luskville Dragway. TDL West has will become a presenter of the Semi Pro class in 2015, and this will allow us too increase the points found payout significantly for the drivers who compete on a full time basis at the track in the Semi Pro. We will be posting on the membership forms the new payouts for Semi Pro Points and please understand one thing, this has been made possible by TDL Truck/Trailer Repair West. There is not question that this is a huge deal for the growth of Semi Pro and will things very interesting as we head into the spring of 2015, with the large turnout at the drivers meeting all indications are that it is going to be an interesting summer. An added bonus to this announcement would be that we might see the Green Car back out sometime soon, and No was not said in our conversations. Team Green has a pretty good reputation of winning as the picture shows you, Gregg and Ryan cashing out at a Bracket Bonanza. I know that I speak for all the Semi Pro Drivers when we say a great big thank you too TDL WEST for their support of the foot brake class at Luskville Dragway.
FIREBALL PERFORMANCE AUTOMATICS FIRST TO SIGN ON TO SEMI PRO SERIES: NOV 1/14


We have said it many times, but we cant say it enough, we are a very fortunate race track when it comes too the advertisers that support us, and that has once again shown through with the resigning of Fireball Performance Automatics of Williamsburg, Ontario, for the 35th year in a row. And this year Doug Miller the owner and former drag racer, NHRA Record Holder, has stepped up that support to include a very lucrative pr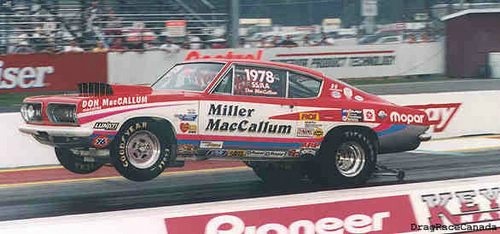 ogram for the Semi Pro Cars that compete in that class at Luskville Dragway in 2015. First of all lets talk a little bit about the company and the man, they have both been around drag racing longer than most, and their accomplishments are also greater than most. Going back too the very beginning of drag racing in a large way in our area, Doug Miller was involved, and was winning races, class titles and setting records. Back too the days of Coon's, Macintosh & Miller to the days of Miller and McCallum Doug Miller has been involved with Drag Racing. There was a time during the 70's,80's and 90's where you saw very few drag cars that did not have the famous Fireball Decal on their car showing what type of racing trans they where running. I remember looking at drag cars at the Molson GrandNationals and realizing everyone that was there that was a Canadian Car was running a Fireball Transmission. Didn't matter if you where from Ontario, Quebec or the Maritimes if you ran a drag car you ran a Fireball Performance Automatics. Doug of course was famous for the Chryslers they ran, right from the outset this was a race team that would set records every where they went. Including in the late nineties when everyone that owned a SS/AA car was trying to be the first of its kind to run a sub par 9 second run, well guess who it was, yep Miller and McCallum and yes it had a Fireball Performance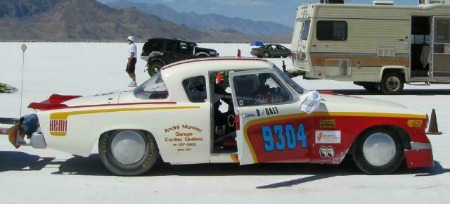 Automatic in it. These days Doug does not do any drag racing, but he is very much still involved with cars and owns a large collection of Nostalgia Performance cars and yes most of them are Chryslers. Fireball has long been a strong supporter of local drag racing and in the case of Luskville Dragway has been stead fast from day one, and is too this day. It should also be pointed out that "Fire" which he is commonly known by also builds trans for Stock Cars and also a land speed record attempting Chrysler powered Studebaker owned by former Drag Racer Andrea Moreau of Cantley Que. In 2015 Doug Miller and Fireball Performance Automatics will not only continue its support of Luskville as they have in the past but have added a special deal for the Semi Pro Cars for 2015. All Semi Pro Drivers that have supported the track by participating in 15 race days will be eligible to win the Trans, from a draw that will take place at the awards banquet for the 2015 season. Fireball Performance Automatics has agreed to supply the winner with the Footbrake Trans of their choice, either a power glide, C4, 727 Torque Flight, or a Turbo.
2014

APRIL

MAY

JUNE

JULY

AUG

SEPT

OCT.