RACE NEWS 2016
COVER SHOT: MARIO MARTEL OF QUEBEC CITY LAUNCHES THE SUPER TOUR , SUPER PRO BLAZER AT NAIPREVILLE

BITS FROM THE PITS: JUNE 20/2016
*
As many of you know by now we where stood up on June 11-12 by a booked i

n Jet car driver that was under a signed contract to be part of the activities at Luskville Dragway. It was someone who has been there numerous times before, and someone who we have used as a feature attraction elsewhere. There was no phone call, no messages, absolutely no communications what so ever, we still have no answer to why this happened. The fact that it did happen is very troublesome as you can imagine. Prior to this I had only been stood up once before, and that was in public school by a young lady who found someone better looking, but I have to tell you I pretty much felt the same way on June11-12 as I did many, many years ago. As of this week we have still not heard a word from this individual, nor do we expect too, and we have luckily been able to replace him with another Jet Car for the other events that he had signed contracts for. We are proud to announce that Dan Sullivan and the Chicago Rush Jet Dragster will be part of this years 35th Annual Bracket Bonanza.

*
With the second Canadian Super Tour event behind us we now look forward to turning things around at Luskville Dragway as we head into a couple of weekends with two day events before we take off Sundays for the rest of July. I wont lie to anyone things have not been good so far this summer, in a summer when we need things to be good as we have spend a lot of money making Luskville Dragway a better place. However like a weather forecast race weekend where we never give up, we will not give up turning things around this season, and all we ask is for your support in doing so.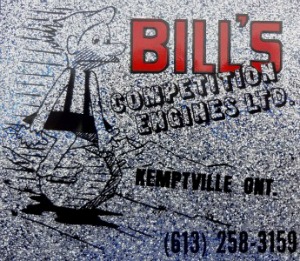 *
My visit to Naipreville this past weekend was my first in over 30 years, and like Luskville Dragway Naipreville has changed with many improvements over the years also. Many may not know this but Ron Brunet the owner operator of Naipreville use to call Luskville Dragway his home track, and advertised his Action Performance Speed Shop at Luskville Dragway for many years. Ron who raced many different cars over the years now like me has a son who drag races as well, in fact the Brunet Boys, Carl and Nick campaign one of the fastest four cylinder cars in the world. This is a family with a deep tradition in drag racing, as Carl and Nicks Uncle Alban Gauthier was a famous Canadian Drag Racer finishing up his career in NHRA Pro Stock. So needless to say it was a very good time at Naipreville, and we look forward to going back someday soon.

*
The Randy's Performance Bill Gaw Memorial Weekend is fast approaching and its shaping up to be a great time, with not just racing being the total focus all weekend. With Friday July 1st bei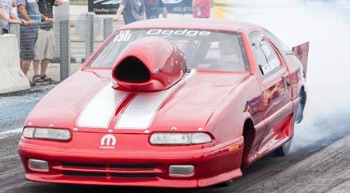 ng a holiday a lot of things are going to be going on including, a pot luck dinner, bounce land obstacle course for the kids, golf cart race, fireworks and much more, now Saturday will see us get back too the racing with a full program both Saturday and Sunday. We will also have some of the hwy 43 car club cars and people with us to help bring a nostalgic look and feel to a weekend that we celebrate one of the original drag racers in this area Bill Gaw. Bills Competition Engines in Kemptville was Randy Urslak got his start in Auto Repair and more importantly got his start in Drag Racing with Bill as his mentor.

*
Now that we have a great race track we are trying to put a quick door car show together for Bracket Bonanza Saturday, that will be run as part of the program. It would be open too anyone who has entered for the weekend, with a $1000. to win purse and NO entree fee, it would be made up of the first 8 cars that commit to entering. The only stipulation would be that you must be a 5:40 or quicker door car. Once again we are trying hard to give fast door cars a meaning for being, and if this works I assure you we will work even harder to bring more shows like this or bigger.
SUPER TOUR GOES ROUND TWO AND THREE @ NAIPREVILLE DRAGWAY: JUNE 20/2011
With the weather man predicting wall to wall sunshine, no one was surprised when a 10 minute rain fall screamed through Naipreville Dragway on Friday as the place was filling up with competitors in the Canadian Super Tour Series. Coming off a huge success at the end of May at I-Car hopes where high to meet and beat the car counts of the first race. And although it was slow to begin as many got caught in the heavy Montreal Traffic, by midnight the pits where staring to look like they would be full for the weekend. The points leaders where all there and all ready to do action as time trials got underway at 9 am as per usual wi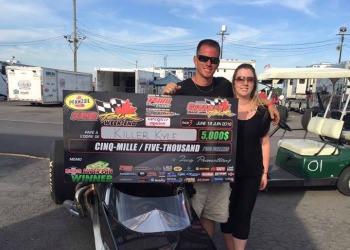 th the staging lanes full of Semi Pro cars who would be the first down the track. The drivers where all given 3 time shots which was met with everyone's approval and by the time 12 noon rolled around most where ready for eliminations, especially Kyle Jessup, C Laflamme and Ashley Ogilvie who all would wind up in the winners circle around 4.30 in the afternoon. Semi Pro was a field of 40 cars with a mix of Quebec City, Montreal and Ottawa drivers making up the field but after a couple of red lights by two of the Luskville Dragway heaving weights in Semi Pro (Allaire and Graveline) only Darryl Jensen would make it one more round before bowing out. In the finals Laflamme would meet and defeat Guy Mondou for a all Quebec Finals. The opposite would happen in Super Pro however as currently hot Kyle Jessup would take on Rookie driver Eddie Laporte for the $5000. to win payout with both drivers coming up with perfect lights in the semi finals to advance to the money round. Jessup who was driving two entree's would make it count and take the win light and the big check. Jr. Dragster final would set up as a Ontario vs. Quebec with Noemie Ballabey taking on Ashley Ogilvie in the finals with former Luskville Dragway track Champion Ashley taking the win here. With out question we where certainly hoping for and expecting more cars at Naipreville, a first class facility with two lanes that most said where perfect and identical.
SUNDAY would dawn with a few more cars showing up including a couple who had not been out at all this season once again indicating how slow things seemed to have got off this spring. Once again time trials would start right on time (9am) but being Sunday only two shots where given for the drivers before eliminations got underway at 11 am. Things rolled right along with round after round of trouble free racing getting us down rather quickly to the finals of all class's early in the day. The Jr.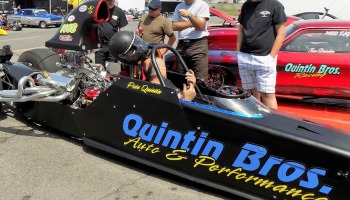 program found Noemie Ballabey heading into the final round against Brody Bellefeuille of Luskville Dragway and Brody kept the Luskville winning streak intact with the win light and the trip too the winners circle. Semi Pro looked like it could be some Luskville Dragway cars as Rob Graveline and Darryl Jensen both where still in going into the semi finals, however both where eliminated making Fred Macdonald and R Boulin the final pairing in this class. Macdonald would back up his win at the first race back in May with a win over Boulin in the finals. Super Pro was an exciting affair too say the least as Terry Miron who is a good friend of Eddy Lapointe, and two guys that travel together was heading too the finals on Sunday. Terry would be up against Fred Angers and his potent dragster but Miron was up too the task as Fred lit the candle on the starting line (red light) giving Terry his biggest win to date. A note of interest is the fact that both Saturdays winner Kyle Jessup and Sundays Winner Terry Miron, had their cars front halved at BW Race Cars over the winter months. This along with some other wins with the cars that have come out of this shop sent loud and clear messages of Brian Whites work.

Motorhomes and trailers where parked
well past the quarter mile .

Eddy Lapointe took his Racetech dragster
too the runner up spot on Saturday

Fred Macdonald became the only two
time winner on the Tour

Ashley Ogilvie is on a tear with another
big win this past weekend.

Serge Forget was out for the first time
this season, says they will be at BB

Terry Miron's winner circle was a big deal
as you can see by this pic.

Stephan Carbonne has one of the nicest
Super Pro cars anywhere

This 69 Camaro is a show stopper and
fast running low 5's

BITS FROM THE PITS: JUNE 13/2016
*
As we have been talking about for some time now, Luskville Dragway will be closed the weekend of June 18-19 as we will be repaving the top end of the race track. This is a continuation of our commitment to make our drag strip as good as we can for the racers and the fans. This is also follows up on two years of major improvements in the pit area and return road area. We also prior to this past weekend made some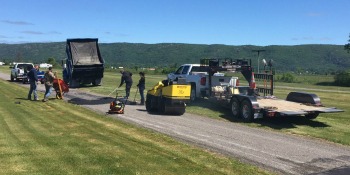 more extensive repairs to the return road from the top end of the Quarter mile to the ticket booth and beyond. We are working hard to make the track that produces some of the best Napa Auto Parts Drag Racing and Drag Racers in the country better, and will continue to do so for the foreseeable future. All we ask is for your support, whether you are a full out Super Pro Racer, or a street enthusiast, we need your support to continue with these improvements. We also know that no matter how much we improve there will always be that negative voice , usually in the background (or hiding behind facebook) which no matter how much we do it will never be enough. But to those that appreciate what is being done Thank you, as it is your support and attitude that keeps us putting back into the track as much as we can, we are trying hard to support those that support us.

*

Now we are not sitting idlely by while the paving is going on at Luskville Dragway as we will be racing at Naipreville Dragway just south of Montreal at the second of our three Super Tour Events this season. This is going to be very cool for me as I have not been back to Naipreville since i last raced a super gas car in the 80's. Ron Brunet the owner of Naipreville was at one time a racer at Luskville Dragway as he owned and operated the Action Performance Speed Shop in Gatineau when we first took over Luskville Dragway. The last time we where there Ron's two boys where just that, very young boys and today they drive one of the fastest 4 cylinder Drag Cars in the world. So yes this will be a very cool return to a track that like Luskville Dragway has a long storied history. This event could set up the stage for a big showdown at Luskville Dragway in Sept. and the final event of the series, as the top ten points holders are all very much bunched up and it is still anyone's series to win.
WEATHER MAN THE ONLY WINNER ON NAPA AUTO PARTS WEEKEND: JUNE 13/2016

The first thing I would like to say on behalf of everyone at Luskville Dragway, is THANK YOU to Napa Auto Parts for being part of Luskville Dragway, and the Napa Auto Parts Tour. Our advertisers are what make us different as we continue to grow and improve because of their support, and none is greater than that shown by the people at Napa Auto Parts. But all the greatest support in world, even when it is one of the most important races of the year is still at the mercy of the weather man. The week preceding the event had the weatherman changing the forecast usually twice a day,
but has it got closer too the weekend it changed it for the better. Friday morning had the forecast very much in our favour, but by Friday afternoon it had changed for the worse, and I mean from a sunny Saturday too a Saturday with rain in the morning and clouds the rest of the weekend. Not sure how anyone can be so wrong so often and still have a job, but that seems too be the case with the people who put these forecasts out. But this was not the first time we have been faced with crappy weather and our motto is never say never until totally impossible. So when the showers subsided the drying process started and time trials got underway around 2:30 but too say the conditions were terrible would be putting it mildly. Eliminations started for Semi Pro and Jrs. but that too was interrupted on numerous occasions by the mist in the air, it wasn't really a rain but enough to make it impossible to co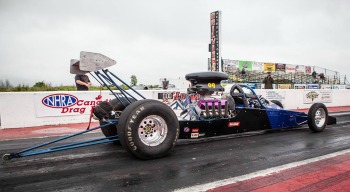 ntinue. After going through this a number of times during he first and second rounds it was decided to pull the plug on day one. A big round of applause has to go out too the fans who braved the rotten weather, and who also stuck it out too the very end. A big shout out also has to go out too the drivers who hauled all the way in from Sudbury and Northbay for this weekend, they helped make things fun even with the bad weather. So no winners on day one, what will day two bring only time would tell, and relying on the weather man was not an option. And day two was not any better in fact it was worse as the wind gusts made it impossible to even think about sending cars down the track, let alone having to deal with the passing showers. So the plug was pulled once again on a weekend that is usually one of our most successful of the summer, however not much we can do except to grin and bare it. We will honour ALL NAPA TICKETS on the June 25th. and 26th in an effort to show our appreciation for their support and to give those that want to see some championship drag racing, under better weather conditions. Just a quick reminder construction and paving begin Monday Morning and the track will not be open on the 18-19 but re open on June 25th with new pavement.
BITS FROM THE PITS: JUNE 6/2016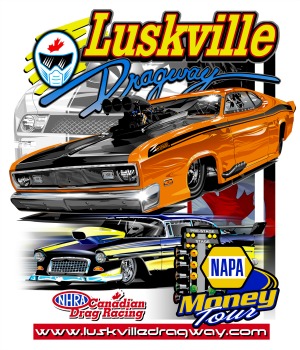 *
Its been a few but we have a new t-shirt design that went on sale at the track this past weekend, and was met with most everyone's approval. Like many of of shirts of the last few decades, design and production came out of Fast Eddie Race Wear in Southern Ontario, who also happens to be one of advertisers. We still have a few of the older ones left over but they will go fast, so help us promote our track wear a Luskville Dragway T-Shirt.

*
We are extremely pleased too announce that we will have a new band for the 2016 Bracket Bonanza, as Elvis has really left the house and moved to Tweed, Ontario to live full time. So welcome "El Camino" for the first time ever to what is consider the VERY BEST bracket race anywhere in Canada. El Camino is a Valley Band that plays all the time through the valley including many of the favorite watering holes frequented by many of those that live in the valley. The band highly recommended by one of our super pro racers who says he thinks this is one of the best bands ever.

*
Young Kayle Urslak has been flying under the radar so too speak as he and his dad made a decision after announcing he would run in semi pro in 2016, to jump right in with both feet and into Super Pro and contend for Rookie of the Year. Kayle who was a outstanding young Jr. Dragster racer is driving the Racetech rear engine dragster that Randy sold to Glen Hyland of Arnprior. Hyland will continue to mentor and crew for Kayle as he gets some practice, if this past weekend is any indication it would be long before Urslak Jr. is contending for a win. This move has gone much un noticed with very little fan fare so to speak, but don't look for that too last long as we will predict right now Kayle will make this transition in style and will be in the winners circle sooner than later.

*
Also going unnoticed last week was the $50. dollar gift certificate winner for taking out Saturdays Super Pro winner (Kyle Jessup) in eliminations on Sunday. That honour went to Tory Davis of ADM Motorsports who beat Kyle in the early rounds helping with keeping the points chase tight which it did if you take a quick look at the top ten. Octane Performance of Quebec City was the sponsor of this award and will do so at Naipreville in two weeks.

*
Not going unnoticed was all the work going on around Luskville Dragway this past week as things fell into place for the 2016 Napa Auto Parts Jet Car show June 11-12. Also with importance shown at getting these few small things wrapped up before the major paving that will take place over a two week period beginning right after the Napa Weekend. Paving in front of tower side grand stand, paving in the jr. dragster staging area, as well as some fixing of other pavement items around the facility. Most regulars will quickly notice the improvements and the better our track is now, and how much better it is going to be in a few weeks.
RAIN DAMPENS WILLS ALIGNMENT DAY, MOVE TOO JULY 2: JUNE 6/20186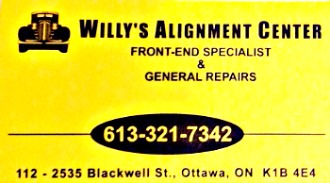 We started off pretty good with three in a row, and yes we got in opening weekend in with perfect weather, however the weather man has been pretty harsh on us of late. And yes I know what your saying what rain, we need the rain we have not go any, well yes we have and it seems its always on the weekend. Last weekend it forced cancellation of our third cruise night of the season, and almost ruined our race at I- Car on Sunday, and once again this weekend it put a damper on Sunday Activities which was to include the Willy's Alignment Super Sunday. It was even more frustrating for Willy Katib, the owner of Willy's Alignment as he had worked hard all week long to get his Undercover Dragster ready for this weekend, only to have mother nature have the last say. The race will be moved to July 2, and all tickets will be honoured on that day, if you have any questions please call. 613-715-1029
SUDBURY RACER SET TO RUN LUSKVILLE AND NAPA SERIES: JUNE 6/2016
When you live 5 hours too your closets race track, its no small feat to get your self too the races a few times a year, and usually means that all you get to do is run some races. Its hard to be part of a tracks points series which usually falls to those that race every weekend and live with in an hour or so of the race track. Well this season one racer hopes to change that thinking as Danny Sproule of Sudbury, Ontario over five hours from Luskville Dragway has joined not only the Napa Auto Parts Tour but also the Luskville Dragway TDL Series as well. Danny is a very good racer as you can see by the first weekend of racing at Luskville Dragway as he currently sits in the number 4 spot heading into t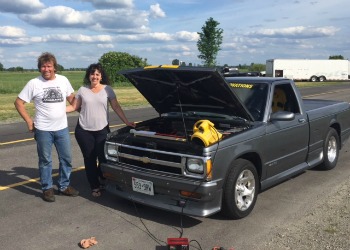 he second points weekend. And with the forecast for not so good weather for June 5, everyone would have understood had he not rolled through the gates, however late Friday night there came the little motorhome and the open car trailer with the famous little silver S-10. Sproule is someone who will do very well, as he has shown in the past he can win races and has won some big ones including a $1000. shootout at Elliot Lake a few years back. Elliot Lake has a lot of meaning too Danny as this is where he got the bug. Being a ice sled racer for years, when he heard about the drag racing at Elliot Lake he decided to take his son and take it in, well the next year he was racing at it and the rest is history, as now the bug has bitten. So these days he and wife Christine of 20 some years travel the roads in the motorhome, pulling their S-10 drag truck to drag races across the country, and this summer many times too Luskville Dragway. Having someone from so far away join the points system is not something that happens often, so we thought we would let many of you know a little bit about the racer from Sudbury who will chase the Points.
SUPER TOUR POINTS SHOWS WELL FOR LUSKVILLE DRIVERS: JUNE 6/16

Well the first race in the richest bracket points program in Canada is behind us now so their is lots to look back on and comment on. First of all I a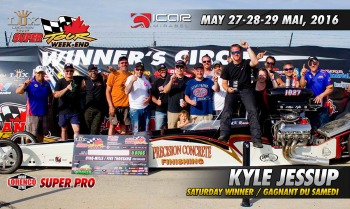 m going to be very honest and say that we are not completely happy with the turnout even though it was good, however wont lie we thought it would be great. We know the weather man and some breakage did affect us, but this is a TREMENDOUS series, and hats off to those that did come out. Last Sept with our four first ever race at Icar and the Napa Auto Parts Money tour we had 72 Super Pro Cars where this year we only had 58, and we have the best points fund in the country. Semi Pro was 40 cars last year and 40 cars this year, but there also we were expecting a lot more, with many more than that signing up for the series. We fully believe we will have more Super Pro and Semi Pro when the Tour Touches down in Naipreville in the middle of June for our trip back their in over 25 years. Not that being said we do want to say very clearly that we do appreciate and are thankful for those that did come including 16 Jrs. which was a very good turnout for them. We would also like to point out that we are very proud of our regular Luskville Dragway and semi regular competitors did so well, and have 6 of the top ten spots in the points series heading into race #2. Kyle Jessup and Dale Gauthier both with big wins, and Derek Malcolm with a runner up spot shows the caliber of our racers, going up against some of the very best. Our Jr. contingent showed very well with Landyn Urslak, Ashley Ogilvie and Ryan Clarmo filling up the winner and runner up spots in the class all weekend. So now its off too Naipreville Dragway where thing will be a little different for drivers coming in, You will not fill out your entree card or pay your entree fees at the gate you will do that at a designated spot to be announced shortly, but we will probably have our lady in the tower doing that. Crew Members and spectators will pay their fees at the gate when entering Naipreville Dragway.
2016

JAN

FEB

MAR
APR
MAY